It went smashingly. So much so that I think I'll completely clone the menu and general procedure and repeat it every time I have people to Dinner. And this will be happening a lot more now that Mr. Buxom and I are empty-nesters. Yes, dinner guests are a lot of work. But they have this charming habit of eating their food without complaining, scowling, or asking what the icky green stuff is.


The Menu
World's Most Fattening Salad
Mashed Potatoes
/
Asparagus
with Lemon Butter
Rolls
Chocolate Chocolate Chip Bundt Cake
Mixed Berries / Whipped Cream
Coffee
Liqueurs
Because I'm helpful, I used italics to indicate the items that were fully prepared and ready to be served. As you can see, there really was very little to cook once the meat went into the oven.
We started with drinks and snacks in the living room. I decided to be retro and not offer a cornucopia of yummy things before the meal. I wanted people to be a little hungry, because God knows I'd spent enough on groceries.
But first, cocktails
I like to offer easy things, pour-and-go stuff like red or white wine, champagne, or whiskey, because they're simple. (I'm going to keep stressing simplicity in this post because when it's you and one other person doing the work, you need to find a way to make things easier on yourselves.)
We also like to offer a house cocktail. I'm very observant, and I've noticed from attending various fundraisers that if a waiter walks up to a guest with a tray of drinks, chances are the guest will accept one, even if noxious ingredients like chartreuse or green cherries are involved.
We've had good luck in the past with Planter's Punch and Singapore Slings. Lately we've been serving Red Roosters as a house cocktail because they are festive, but easy--you make them ahead and freeze them. Also, all that Vitamin C, antioxidants, and phytonutrients will protect our guests' health against the barrage of butter and cream that awaits them once they step into the dining room.
A Handy Tip
Try to avoid asking vague questions like "What can I get you to drink?" You never know--your guest might want you to drop everything to make a pousse café or a Flaming Tahitian Lady. On Saturday night, one person requested a gin and tonic. In my opinion, Gin and Tonic is not in season in the Northern Hemisphere, but one does what one can to accommodate. I had remembered to buy a lime (rolling my eyes, because REALLY, PEOPLE, it's February) so we had the necessary ingredients to make G&Ts, and did. Still, that kind of thing can interrupt one's flow.
Remember, your guests used to be children. Thus, when you're dealing with guests, child-rearing techniques come in handy. For example, if you're smart, you never give a child too many choices. You ask him, "Would you like wine or whiskey?" Try to keep this in mind so that you don't act so gracious and hospitable that you're stuck somewhere fiddling with absinthe and sugar cubes while the meat overcooks.
Tidbits
The before-dinner snacks were simplicity itself, because I felt truculent. And retro. I made Chex Mix. Yes, the stuff off the back of the cereal boxes. I actually make it pretty frequently, because as ridiculously old-fashioned and processed-food as it is, people love it. I always add a few extra nuts, and make sure to buy really good ones. Other than that, the only thing I change is substituting Bugles for bagel bites. Bugles turned 50 years old in 2014; for Heaven's sake, let's celebrate!
That's one hell of a festive looking box.
Timing is crucial
The tenderloin of beef went into the oven as soon as the first guests arrived. There would be none of this waiting around for the meat to finish cooking. I run a Tight Ship.
The salad
We started dinner with Fran Drescher's World's Most Fattening Salad, which I served as soon as the tenderloin came out of the oven to rest.
I tossed the salad and plated it and Mr. Buxom put the salads at everyone's place. Meanwhile I heated up the Madeira Sauce and the water in the asparagus pan.
The main course
I made the mashed potatoes earlier that day and put them in a microwave-safe container. I had also prepped the asparagus.
I cook asparagus by laying the spears in an open frying pan filled with boiling water. I bend each stalk and throw out the part that snaps off. Then, when I'm being fancy, I peel the bottom inch or so of stalk. This is not really necessary, but it looks prettier. I bought a massive amount of asparagus, and by the time I had prepped it, I was left with these very
nouvel-cuisine
sized stalks, but they cook quickly and evenly, and only take about five minutes, once the water was boiling.
The mashed potatoes went into the microwave and asparagus went into the pan at the same time. By the time the tenderloin was sliced, the potatoes were out of the microwave and the asparagus was drained and buttered.
Once again, I plated and Mr. Buxom waited on table. Then I strolled out with the Madeirra sauce in a sauce boat and ladled sauce on everyone's beef.
Wine
We drank a 2008 Shafer One Point Five that Mr. Buxom brought up from the basement. I use the term basement advisedly. I don't want you to think I live a Frontgate lifestyle, with a fully-done-up wine cellar complete with tasting tables.
No.
Admittedly, that's the dream, but I don't really care
that
much about wine and anyway, I'd be drunk all the time, and then how would I blog?
We had a bottle at either end of the table and everyone refilled as necessary. We went through five bottles. Pretty good for a party with seven people, one of whom freely admits that she doesn't care that much about wine.
Let Them Eat Cake
Dessert went on the sideboard and everyone helped themselves. We had a Chocolate Chocolate Chip Bundt cake, a big bowl of fresh berries, and an equally big bowl of whipped cream. Everyone fixed their own to their liking. Again, it was about making it easy on the host and hostess. Also, a dessert buffet allows dieters the pleasure of eating berries and feeling terribly superior as the rest of us chow down on cake and whipped cream. And I don't mind--in fact, I strongly advocate--plating the salad and main courses, but I draw the line at serving uniform slices of cake to a room half-filled with women. I can't stand the horror of plates of cake just sitting there, uneaten and feeling unwanted, or even worse, pecked at only grudgingly.
Coffee (decaf) and liqueurs were offered, but people just continued to drink wine.
Mistakes, I've made a few
I messed up my champagne bar. I set out glasses, cocktail napkins, and a tray to keep the cooler from sweating condensation all over the table, then got distracted before we could open a bottle and put it out. That would have been a nice, serve-yourself touch. Next time.
In case you overcook the roast
Lots of high quality alcohol will keep your guests from noticing that you've reduced pounds of excellent beef into something a stray dog would shun. Another useful distraction is a pretty table. Mine looked lovely, and was worth every minute of silver polishing and chandelier exfoliation.
I bought a dead stock (i.e., new and unused in the original packaging) Irish damask tablecloth and napkins on eBay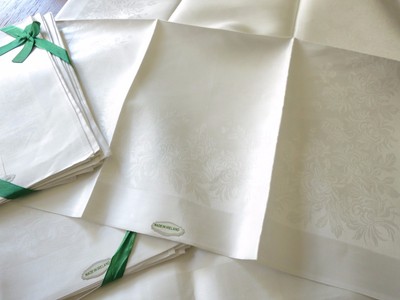 and layered some faux Imari place mats on top
so that even the most red-wine-happy guests couldn't mess things up too much.
I found some darling miniature orchids in the floral department at the local supermarket. And of course, there were the crucial Chinoiserie tole candle holders.
Absolutely essential.
The end result
Today, Mr. Buxom and I have enjoyed the smug sensation of having acquitted ourselves well, as well as lots of leftovers. Including chocolate cake for breakfast, and a dinner of beef tenderloin sandwiches on little pretzel rolls.