When installing Tile, it's important to have the correct tools. Having the right tools not only makes the installation easier, but helps it go faster – and who doesn't want to save themselves time and effort?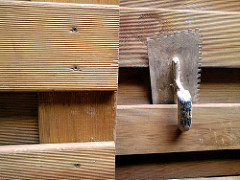 To do a proper tile installation, you need a proper Trowel. A trowel's purpose is to provide a way for installers to control how much thinset they're putting down. The use of a trowel ensures that you're laying down the same amount of mortar every time – leaving you with a level surface to install tile over.
The perfect scenario for a trowel is to lay down the best possible coverage of mortar – not too much and not too little. There are a number of factors that go into achieving the golden ratio of mortar to tile, and they are as follows:
The size of the tile being installed;
the thickness of the tile being installed;
how large and deep the grooves on the back of the tile are;
the type of mortar you're using (and its consistency); and
the type of surface you're installing the tile over.
Differently sized tiles require different amounts of mortar, so a one-trowel-size-fits-all approach won't work. Different trowel sizes are needed depending on the size of the job. But, with so many sizes, how do you know what the best trowel size is?
First, it's necessary to understand how trowels are measured to understand what size to select. Trowel measurements are determined by their length, depth, and the spacing between the notches (also known as teeth). There are three different types of notches used to spread thinset, U notches, V notches, and square notches, though the type of notch you use is dependent on your personal preference.
Here is a list of the most common trowel sizes and what they're used for:
1/8'' x 1/8'' notch: this size is used for thinner membrane installation and not typically used for tile.
1/4'' x 1/4'' U notch: this size is good for uncoupling membrane.
1/4'' x 1/4'' square notch: this size is the most common size in the tiling industry. Use it to install cement board on floors, heat membranes, small ceramic tile, and small mosaics.
1/4'' x 3/8'' square notch: this size is good for 8'' x 8'' tiles, some builder grade tiles, and bigger subway tiles (around 4'' x 12'').
1/4'' x 1/2'' square notch: this size is good for installing 12'' x 12'' and 13'' x 13'' tile. You could work up to 16'' x 16'' as long as it isn't more than 3/8'' thick.
1/2'' x 1/2'' square notch: this size is great for larger tiles, like 24'' x 24''.
Smaller than 1/8'': sizes smaller than 1/8'' are usually used for glues and not mortar.
Slant and euro notch: slant and euro notches are known for giving more of a complete coverage and forming notches in the mortar that are easy to collapse and have fewer air pockets. They aren't incredibly commonplace, but are still good options.
At Tile Pro Depot, we have a variety of trowels and trowel sizes for every tile job you can imagine. We know how important it is to use quality tools, so we only provide the best for our customers.
Visit our website to place an order and to view our wide selection of products. If you have any questions, feel free to contact us online or by phone at 844.751.2625.
The post How to Select the Best Trowel Size appeared first on Tile Pro Depot.