Are you living in a tiny Apartment but don't want to feel like you're living inside a box? If you've been dreading this for quite some time now and you're thinking of decorating your small space, keep on reading because this article will walk you through every facet of small apartment decorating ideas and tips! As an interior designer, I will share with you some color palette ideas, proper furniture layout, and creative tips and hacks for furnishing your new dorm room, studio or apartment.
You can check us out at FROY for pieces that'll furnish your small space. Click on the image link below and you might just score some great finds!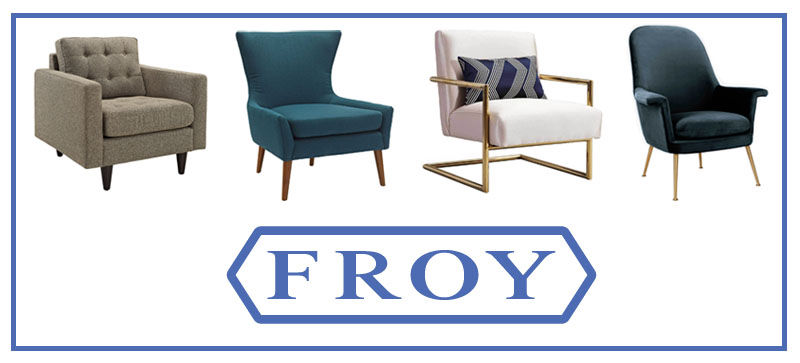 Without further ado, here's a comprehensive guide for decorating small spaces:
1. A light color palette
Choosing a color palette for small spaces is usually overlooked because, more usual than not, you pick colors for individual furniture or decor. It's always a challenge to approach your interior design's color scheme in a holistic fashion. However, when it comes to small apartment design, your color palette should help you create an illusion of a bigger space. Generally, you should consider light colors such as white, off-whites, pastels, or muted colors for your apartment. These colors help create an open and expansive feeling.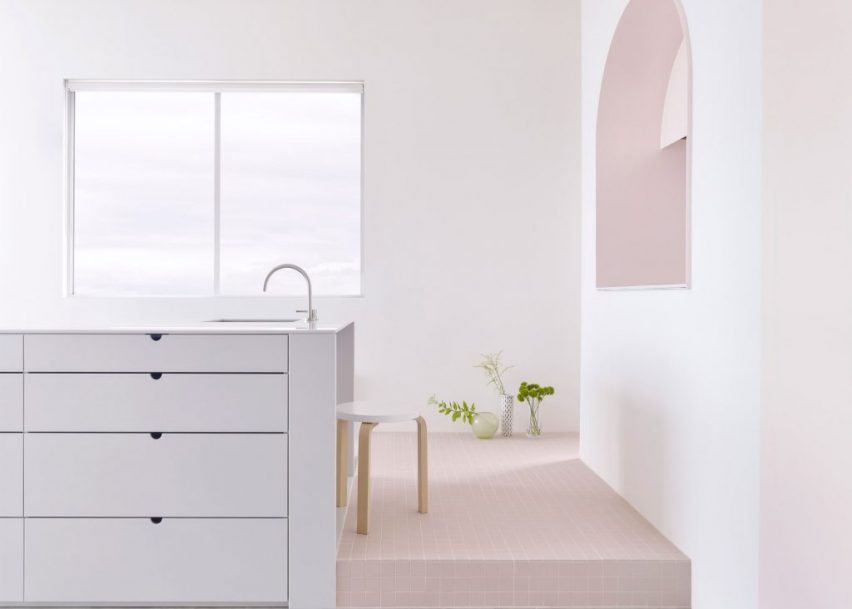 source
Pastels might appear to be feminine for some – if you're a guy, you might not like using this in your apartment. Do not worry though, because although pastel colors will bring in some airy and softer feel, you can consider using muted colors instead because they bring in the same ambiance.
Pastel colors are colors that belong to the milky and desaturated family. These are colors that have enough white mixed in to offer a colorful yet soft look.
source
Muted colors are highly saturated hue that are more subdued and are less bright because tint, shade, or tone is added in.

source
Essentially, when it comes to small spaces, your color palette should be light colors as they are more reflective than dark colors, thereby making the space more open and airy. They also make a room look larger and brighter. You can then splash some bolder colors for highlights and accents.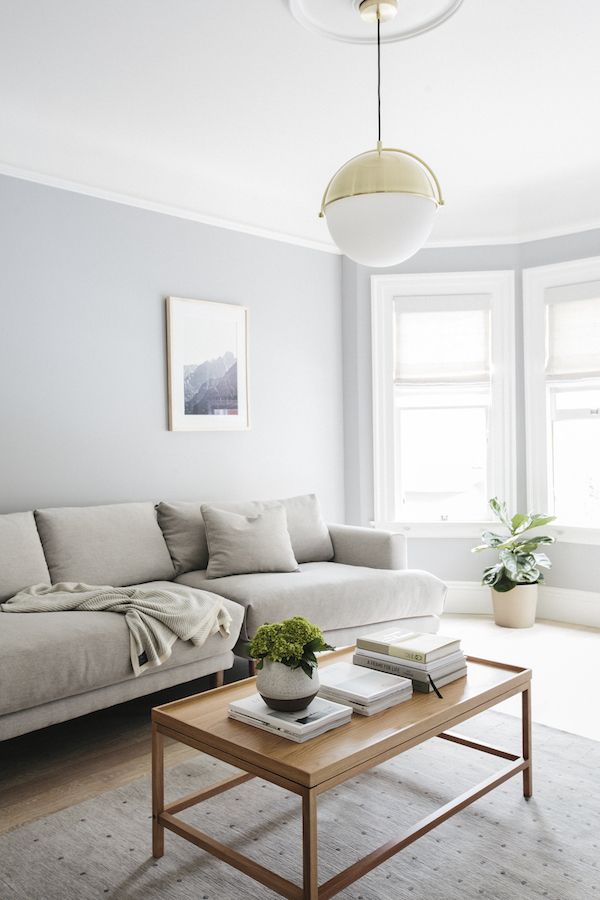 source
2. Tiny Apartment Layout Dos and Don'ts
Laying out furniture in a tiny dorm or apartment can make or break the space because furniture often consume substantial space. Here are a few dos and don'ts when planning your furniture layout:
Dos:
Do use multi-functional furniture pieces (will discuss more about this in a bit).
Do consider expandable/stackable tables that can be tucked away to save up space when not in use.
Do consider customizing your furniture pieces for smaller dimensions because readily-available furniture pieces in the market usually have standard dimensions.
Do create an open space layout. As much as possible, place larger pieces of furniture against the wall, even if sometimes that's bad interior design.
Don'ts:
Don't block pathways and walkways with furniture and accessories because if you do, you'll create a cramped layout.
Don't visually display your stuff all throughout your space. If you own a lot of things, either declutter or develop an organizing system to hide them and to have a very sleek and clean interior.
source

source
3. Use oversized wall or floor mirrors
Evidently, mirrors can make your room larger. They create an illusion of depth as they bounce light deep into the room. Place oversized Wall mirrors on large blank walls to visually expand limited space. Take a look at these two design projects I did for small condominium units so you can see the effect of oversized wall mirrors: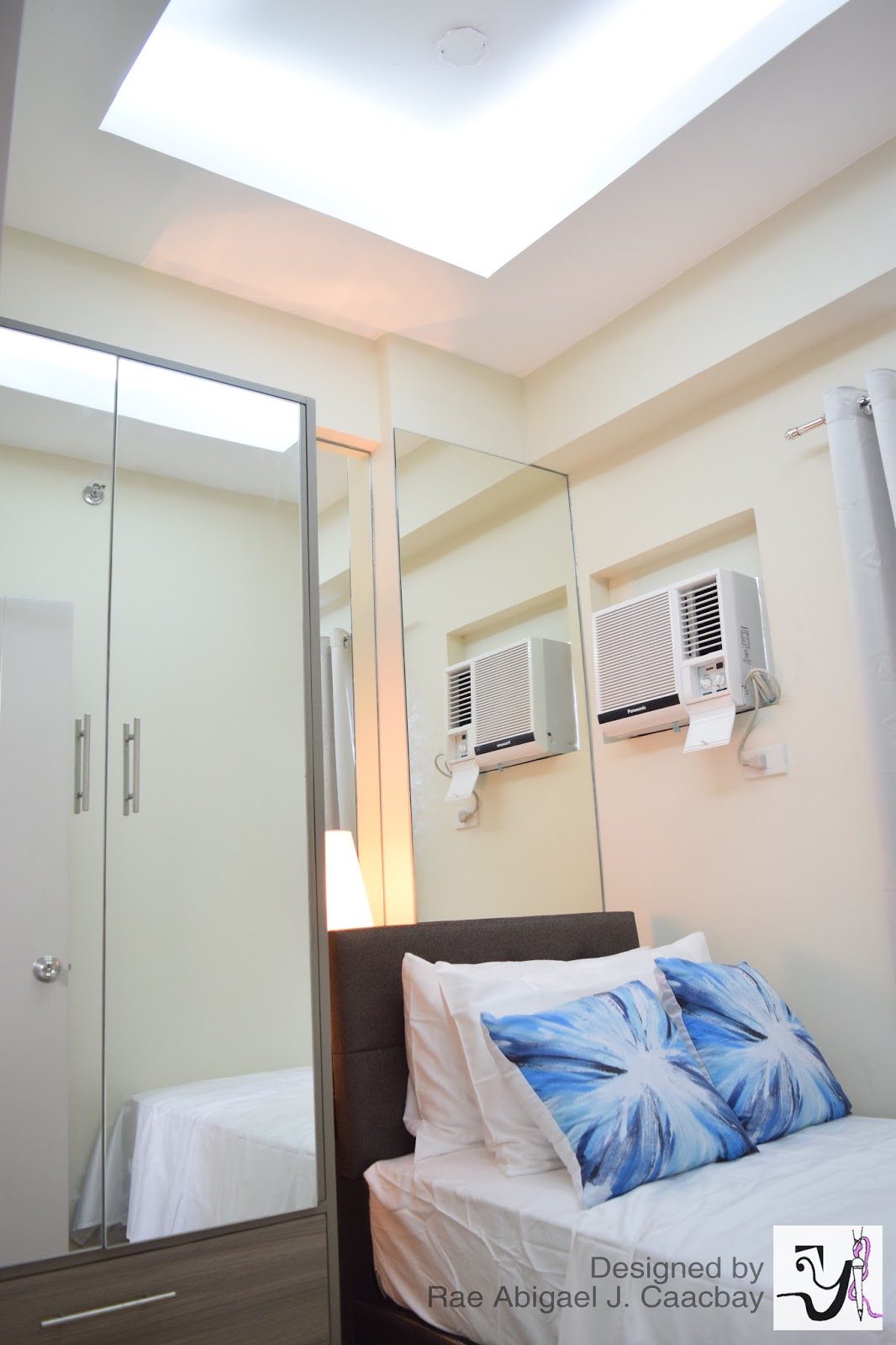 source
This bedroom is only 5.5 sqm and the floor plan is basically just a bed and a closet cabinet. But by installing wall mirrors and placing a closet with mirrored doors, it creates an illusion of a much bigger space through reflections.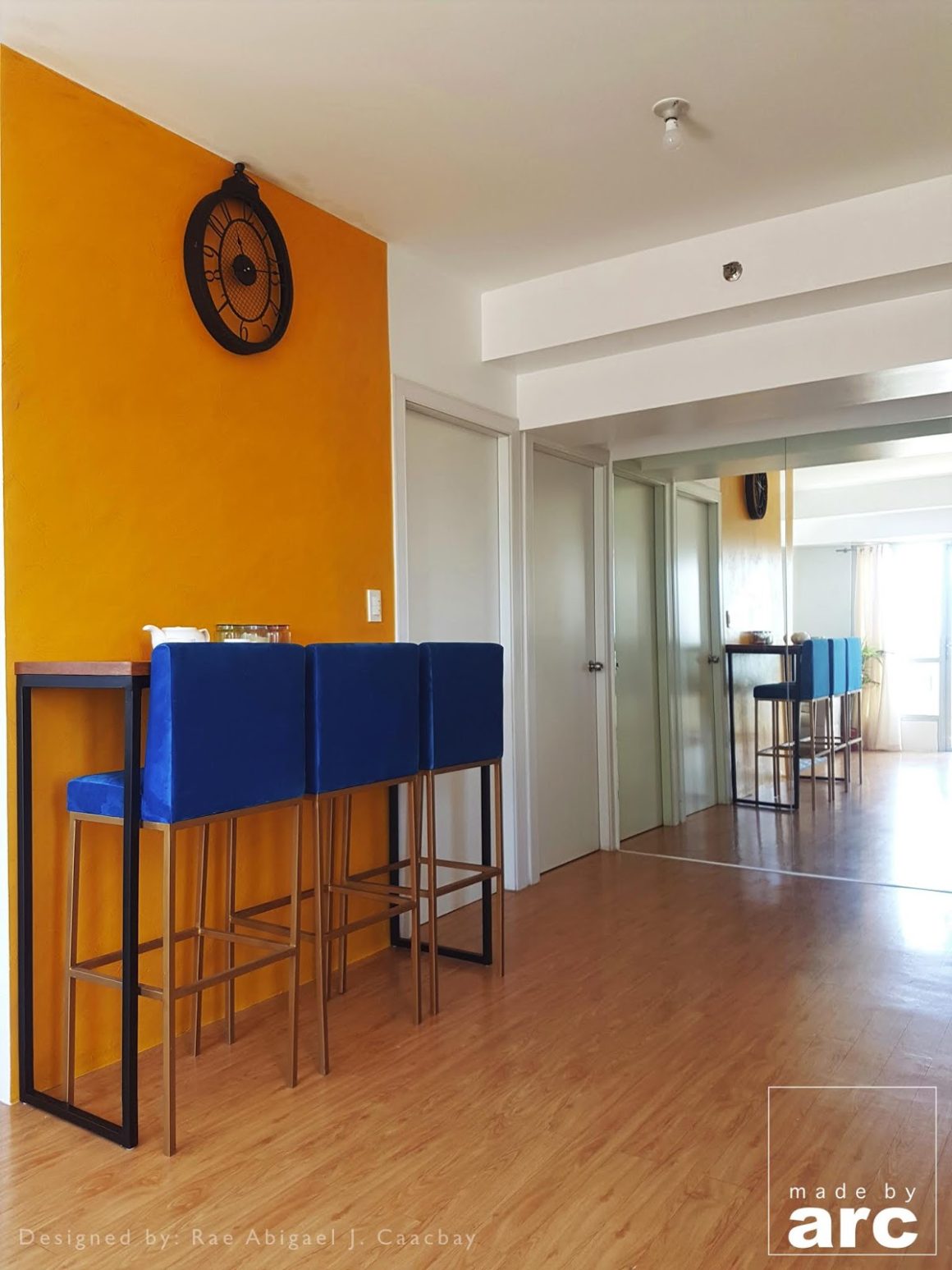 source
In this small apartment interior, the two doors beside the bar table are doors going to the bedrooms. The wall mirror then creates depth and illusion of space, especially because it's in the opposite side of the balcony door and windows, reflecting ambient natural light.
On the other hand, floor mirrors, aside from being a standalone accent piece, can also give your room a more open feel. I know that huge wall mirrors can be expensive, so if you're under a budget, you can opt for floor mirrors. Do check out FROY's mirror collection if you're on the hunt, because we carry a variety of styles:
Lawson Floor Mirror

Alex Floor Mirror

source
4. Hang wall art or tapestry with simple designs
Decorating small spaces with hanging wall art or tapestry will give some personality to the space. Remember to pick ones that are simple and light in design as to not avoid overcomplicating walls.
You can choose to hang a single large piece or a combination of a few smaller pieces. Either way, art and wall hangings have the ability to elevate the visual interest of your small apartment above ground. This helps lift the focus away from the clutter of your floor and to the much cleaner walls. If the art piece or tapestry are simple enough in design, it can act almost like a window and expand visual space.
5. Glass table and transparent decor
Willow Coffee Table

Keen Coffee Table
Consider using a glass or transparent acrylic table instead of solid wooden pieces. The see through aspect of the material allows them to inconspicuously blend in with your room. It's an extremely simple way to inject an open and airy vibe. As a plus, the molded acrylic is an extremely robust material, allowing it to even act as a bench or extra seating if necessary.
6. Rug should blend with floor (or omit entirely)
Don't put too much texture, colors, and patterns as this can appear chaotic in a small room. As much as I love the artistry of Oriental rugs, they are best used in larger living rooms. So if possible, use an area rug that shares a similar color to your floorboard.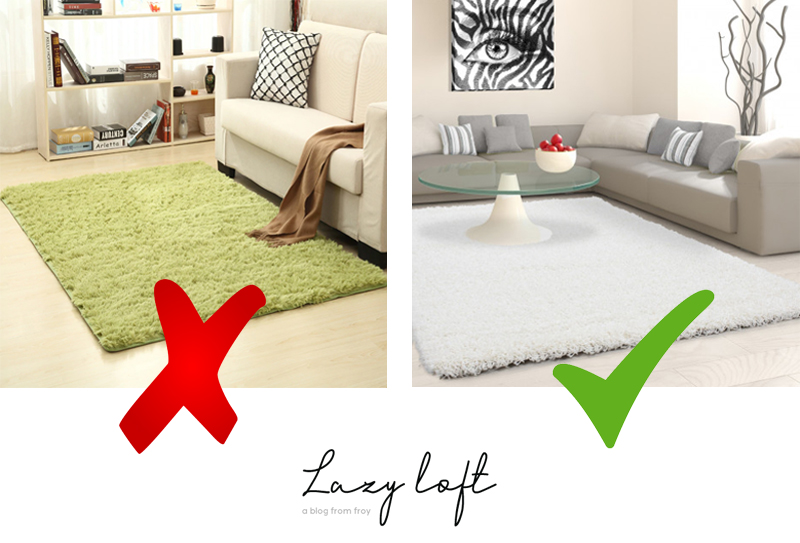 source: 1, 2
Finally, consider forgoing an area rug entirely. If you have a chic floorboard or tile, you can consider omitting a rug and just leave your floor bare. This has the ability to greatly expand the visual area of your space, especially when used in conjunction with a transparent coffee table as mentioned in the previous tip. Remember, the key to small space decorating is minimalism whenever possible!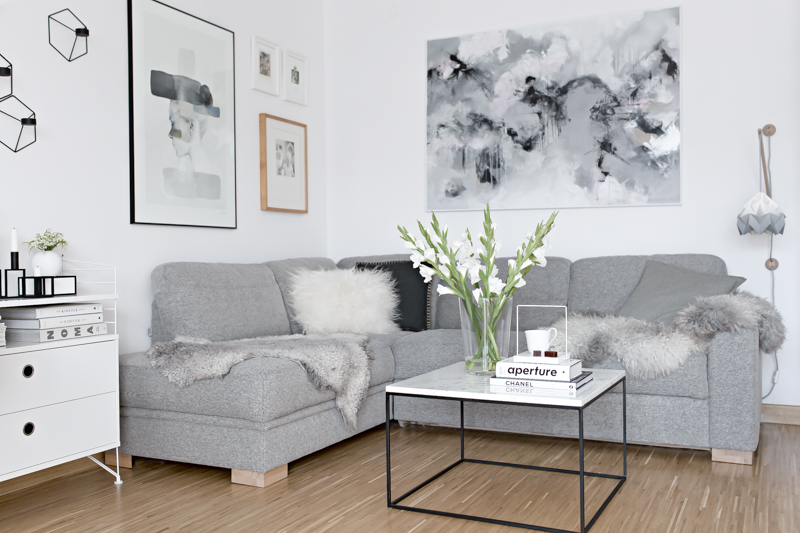 source
7. Pick a sofa with low height and profile
As mentioned earlier in this article, readily-available furniture pieces in the market usually have standard dimensions. So if you can't customize your couch to be a smaller size, pick a sofa with low height and profile to provide your apartment with more visual clearance. If possible you should pick a couch that doesn't have armrests as it's often a luxury that is better omitted when space conservation is a priority.
Galio Blue Linen Sofa


Arnold Gray Velvet Sofa

In order to further release space, you can consider alternatives for traditional sofas, such as oversized daybeds, chaises, and sofa beds. So long as it has an adjustable backrest and can function like a regular sofa, these alternatives can often provide immediate savings at a fraction of the sacrifice in terms of function.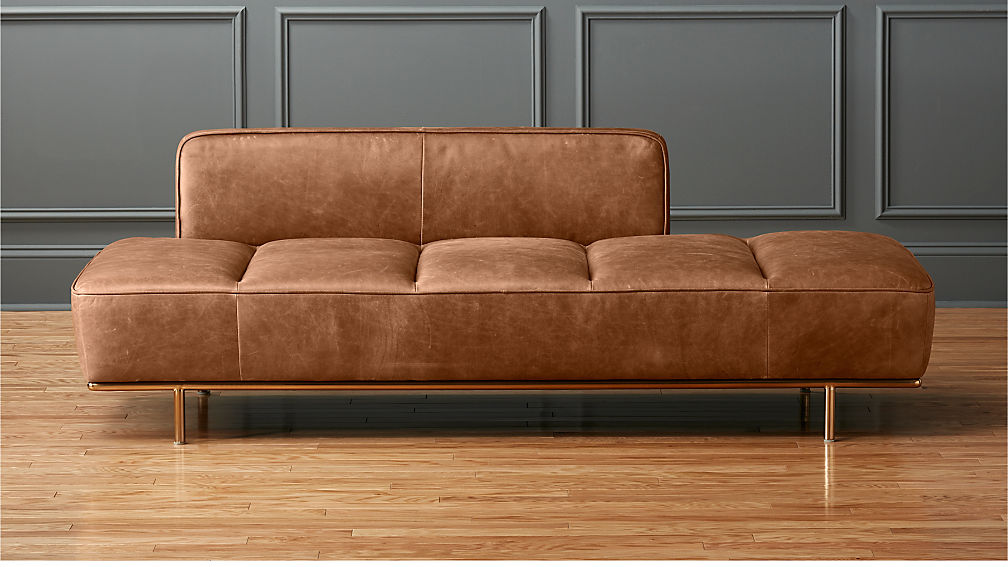 source
8. Tuck storage boxes under large furniture
If you have a lot of stuff and other small knick knacks, storage boxes will be your best friend! Use storage boxes, baskets, and ottomans with storage to eliminate visual clutter while decorating small spaces. You can then tuck them underneath the sofa, bed, table, or wall ledges. Doing this will not only help you stay organize, but you will also save up some space!
source

source
9. Use tall bookshelves and wall shelves
In a tiny apartment, it's already given that the floor space is small. So use tall bookshelves and wall shelves to maximize your storage options while minimizing clutter. It's also a great way to show off wall art and memorabilia. Books, if not showcased on shelves, would end up taking up precious space in your storage boxes or closet. With the help of bookcases or wall shelves, you free up space in your boxes and cabinets while personalizing your decor with your favorite literary classics.
10. Blend color of bulky furniture with walls
Choose a bed or sofa that shares a similar color as your walls so that the bulky furniture will not visually steal your attention. By gently blending these bulky pieces to the architecture, you are able to prevent your oversized furniture from being a visual elephant and instead create a soothing and relaxing atmosphere.
11. Multi-purpose furniture
Functionality is very crucial in decorating small spaces so consider using multi-purpose furniture pieces to save up space. You can use coffee tables with storage, a futon or sofa bed instead of a traditional couch to serve as extra sleeping bed for guests, and a convertible folding desk (or you can have a foldable desk in tall shelves so as to hide them when not in use). You can also use an ottoman or a pouf in lieu or traditional coffee table to both maximize space and provide some warm cushiness – ottomans also commonly come with included internal storage.
source

source
12. Taller and wider curtains
Curtains and draperies are often overlooked by many but this actually has a great impact in interior spaces. Instead of following the actual measurement of your windows, you should expand and lengthen the measurement of your curtains. By doing so, you provide more height to your small apartment and extend the visual space of your windows.
For example, if the ceiling height of your space is not high, you can do a floor to ceiling drapery. You can also make your windows appear wider by extending your curtain rod to at least about 300-400mm both sides.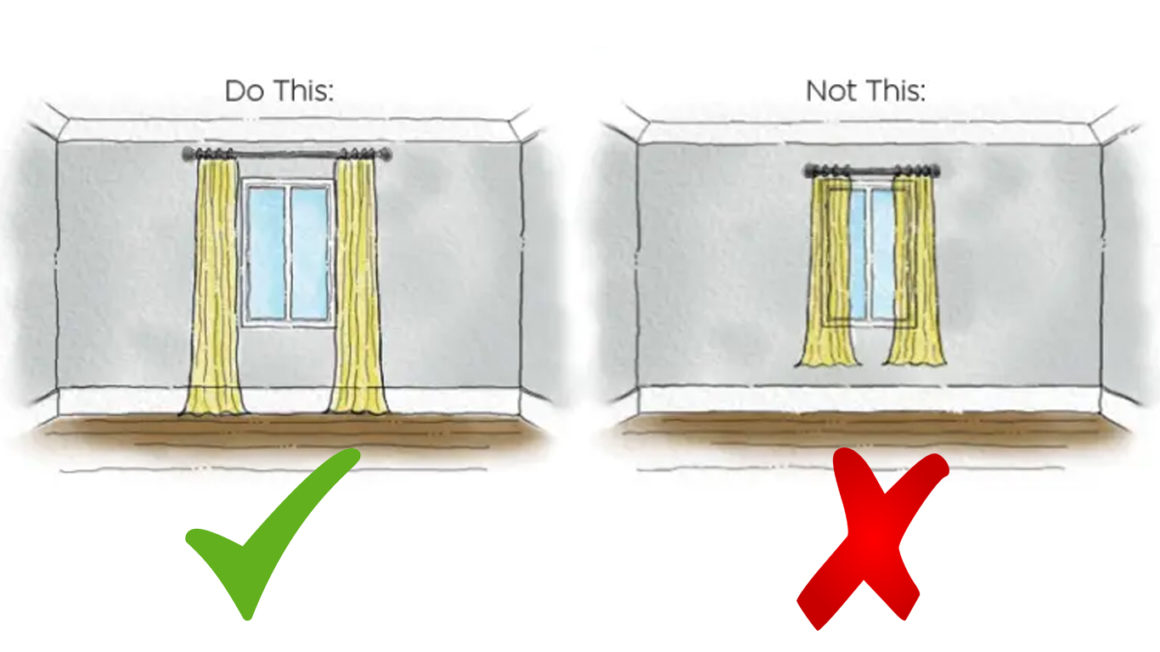 source
13. Make it a well-lit space
Allow natural lighting to enter the room to make it look larger – a well lit dorm or studio is a bigger apartment. If your space doesn't have a lot of natural light, consider placing lighting fixtures that will brighten up your space in a similar fashion. Just make sure to choose a warm yellow light bulb instead of the bright white variety.
You can also do cove lighting in your ceiling to have an illusion of higher ceiling.
source

source
14. Small apartment decorating ideas
To give you more small apartment decorating ideas, here are design samples for you to take a look at for inspiration:
source

source

source

source

source