Solar Shading Solutions for minimal windows® Systems

From blinds to electrochromic glass, there is a wide variety of solar shading options to use alongside minimal windows glazing systems

Our slim sliding doors can reach impressive sizes whilst maintaining ultra slim framing by utilising modern architectural glazing advances.
The minimal framing and large glass panes have a wide range of benefits including maximising natural light within a home, complementing luxury interior designs and blending in with modern and minimal building finishes.
With large glazing elevations some may be concerned about the level of sunlight and Solar glare inside the property. minimal windows have a range of Solar Shading options to choose from to suit specific design requirements.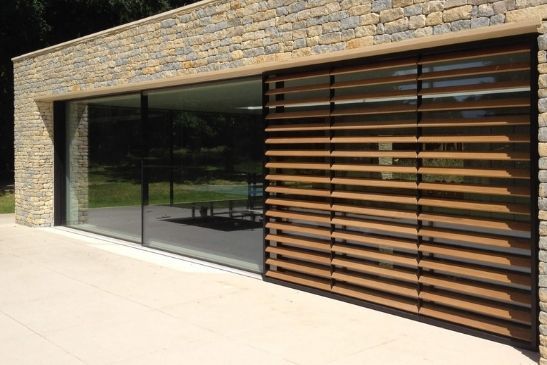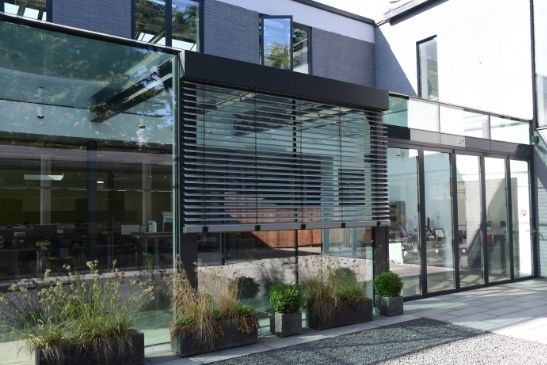 External Solar Shading Options
There are many external shading solutions available for slim sliding doors including shutter screens and brise soleil. External shutters can be manually operated or incorporate motorisation for ease of use. Timber or aluminium brise soleil systems are available and can be fixed or motorised depending on the project specification.
Automated external shading systems from Contrasol enhance comfort and control of the atmosphere while increasing privacy and enhancing your decor. Joining minimal windows with a high specification external shading system sets a new standard for luxury, with automated shading systems offering a reduction in glare and lower heat gain.
External Blinds are a popular choice for minimal windows glazing systems. These external blinds are designed to fall to the bottom of the windowpane offering maximum sun protection no matter the height of your sliding doors.
A range of different blind designs are available including beaded slats, flat slats, and dim-out slats, which can be integrated easily into the existing structure.
The system is designed to have outstanding performance levels and offers options to slide neatly back into the blind box with full control offered from a remote control.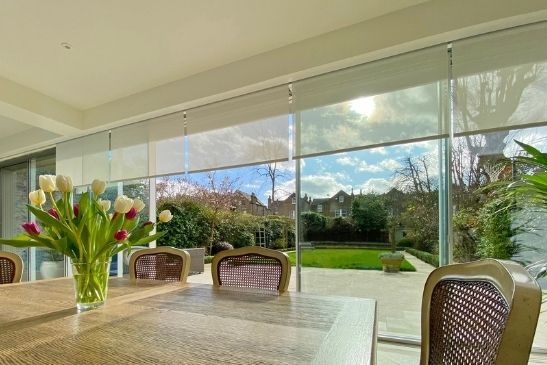 Internal Solar Shading Options
Curtains are used in many buildings to protect internal living spaces from solar glare. It depends on the interior design of the property as to whether they are the most suitable design choice for your window dressing.
An alternative solar shading option for slim sliding glass doors is using internal blinds. Grants Blinds have a wide range of internal blind systems that can be automated or operated manually, and modern blind systems can be concealed within building finishes when not in use.
These new internal blind systems that retract into concealed cavities in the ceiling don't disrupt the aesthetic of the interior.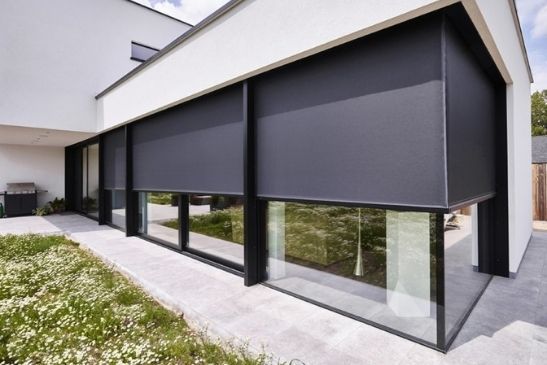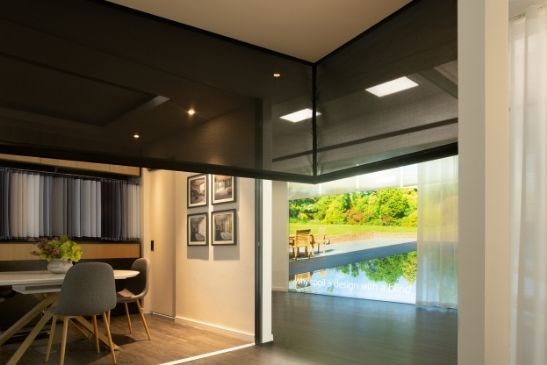 Blinds for Corner Opening
When it comes to incorporating corner opening sliding doors into a building, finding the right solar shading solutions can be difficult.
Many corner-connected blinds use a wire to guide the blinds, meaning that when the blinds are up, and the doors are open the guide wire is still in place at the corner. This reduces the open nature of the opening corner design.
Grants Blinds have designed a new corner blind that is automated and requires no wire. The vertical blinds on both elevations are connected at the corner and move together, meaning that corner of the room and be fully opened up without obstruction, to create a stunning and functional indoor-outdoor living area.
Space permitting, a dual roller blind that zips together when lowered can be installed to avoid having a gap between the two blinds. The corner zip blind can be concealed within head boxes and side boxes, hiding the vertical side channels at the two sides.
Certain restrictions in the design and accessibility need to be considered for these blinds so speaking to a member of our technical team can help ensure you get the right solar shading solution for your project.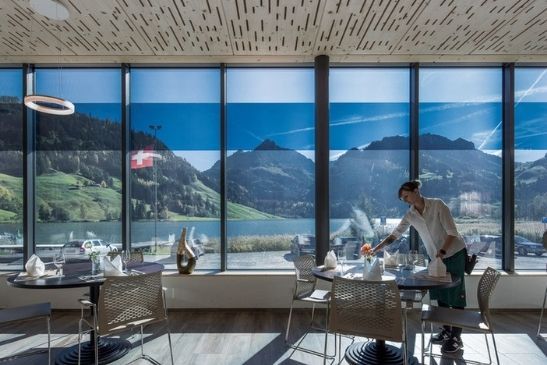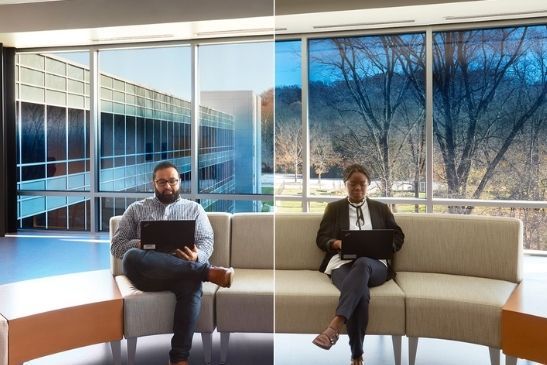 Solar Shading Glazing Options
Solar control glass can be used to minimise solar radiation coming through your slim sliding doors however, it will not provide a full level of solar shading.
Electrochromic glass is a unique solar shading solution that renders blinds unnecessary and offers light transmissions as low as 1% when the glass is fully activated.
Electricity is applied to a coating within the glass unit, where an ionised coating is attracted to one face of the coating. The particles then build up, creating a tinted coating that provides a high level of solar shading.
The electric glazing system is designed to fully replace the need for blinds for shading purposes.
In rural locations this glass technology is used to reduce light transmission out of a building, helping the property to adhere to light pollution planning requirements.
For more information about solar shading options for minimal windows luxury glazing systems, get in touch with the team today.
01494 722 880
Solar Shading Solutions for minimal windows® Systems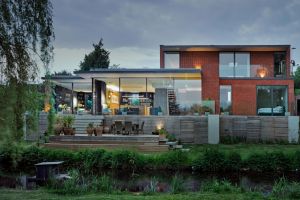 Water Meadow
Glazing Options for minimal windows® Systems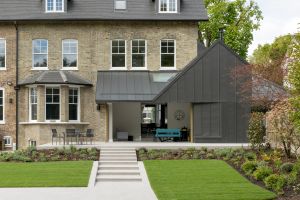 Carlstone Lodge
The post Solar Shading Solutions for minimal windows® Systems appeared first on minimal windows.