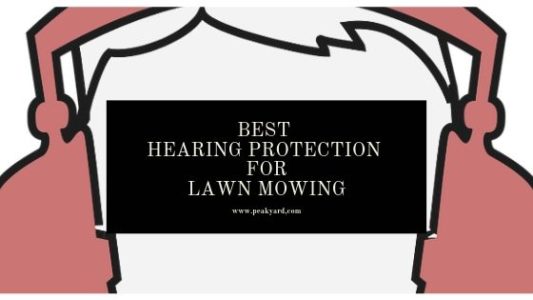 I worked several years maintaining the lawns and landscaping of residential and city properties. Daily, I would operate noisy equipment including leaf blowers, air compressors, weed wackers, Lawn mowers, tractors, and snow removal equipment.
Being a foolish and teen to young adult, I failed to routinely use Hearing Protection despite it being readily available by my employers. There is no doubt that my hearing has been impacted by my poor decision not to protect my hearing.
Some twenty years later I still suffer from ringing in my ears (tinnitus) and noticeable hearing loss. The ringing is bearable and not always present, but it is an annoyance nonetheless.
Please learn from my mistake and protect your ears every time you anticipate being around loud noises. This includes every time you mow your lawn.
Here is a selection of some of the best hearing protection for lawn mowing for your consideration.
Best Headphones for Lawn Mowing that Play Music
3M WorkTunes Wireless Hearing Protection with Bluetooth
3M WorkTunes Connect + AM/FM Hearing Protector with Bluetooth technology
List Price:
$68.42
Price:
$68.42
Price Disclaimer
These highly-rated 3M WorkTunes wireless headphones provide the ability to listen to music while also offering noise reduction.
These headphones are wireless and can connect to a Bluetooth device such as a mobile phone or tablet. The manufacturer recommends to be within 25 feet of the Bluetooth device for the best performance. If you use these for mowing the lawn, you may want to carry the connected device in your pocket if you have a large yard.
In addition to the Bluetooth Technology, these headphones can play AM/FM radio. Stations are changed via a rotary tuning dial on the side of the headphones. Additionally, stations can be stored and accessed through a function button.
These headphones come with a cord that can hook from the headphones into the headphone jack of a music playing device. This is a nice feature if you have older devices that you want to use which are not equipped with Bluetooth Technology.
The Noise Reduction Rating (NRR) helps determine how well a hearing protection device blocks out sound from the surrounding environment. These headphones have an NRR rating of 24, which will greatly help to reduce the lawn mower noise in your ear. Click this link to learn more about NRR.
The headphones have 2-hour auto shut-off to help preserve the battery life. It runs off 2 AA batteries (not included) and is equipped with a low battery indicator.
3M also make a non-Bluetooth version found here.
---
PROTEAR Bluetooth Hearing Protection Earmuffs with Digital AM FM Radio
PROTEAR Bluetooth Hearing Protection Earmuffs with Digital AM FM Radio,NRR 25dB Electronic Noise Reduction Headphones
List Price:
$99.99
Price:
$70.99
You Save:
$29.00
Price Disclaimer
This Protear headset is another solid option for people looking for ear protection with built in Bluetooth Technology.
The Bluetooth not only allows the user to listen to music from a Bluetooth enable device, but also answer calls hands free.
There is also a digital AM/FM radio with the capability of presetting up to 40 channels. You probably don't need this many presets. but it is nice to have options. An auto search feature allows the headphones to search for potential stations of interest. You can also manually search as well.
The headphones are powered by 3 AAA batteries (not included). The batteries will last about 20 hours of use before replacement is required.
Keep in mind that the lack of sufficient battery life is a cited problem by purchasers. You may want to stock up on AAA batteries if you buy this headset. Click here for a pack of 100 for a reasonable price through Amazon.
The headphones have a certified NRR 25 dB.
---
ISOtunes Pro Bluetooth Earplug Headphones
ISOtunes PRO Bluetooth Earplug Headphones, 27 dB Noise Reduction Rating, 10 Hour Battery, Noise Cancelling Mic, OSHA Compliant Bluetooth Hearing Protector (Safety Orange)
List Price:
$89.99
Price:
$89.99
Price Disclaimer
The ISOtunes Pro headphones are a good choice for those looking to avoid the bulkiness of a headband style headphones. These fit directly in the ear so there is nothing to potentially annoy other areas of your head.
These are earplug headphones so they do block out noise in the environment. They have a 27 dB Noise Reduction Rating, which is the best NRR for our selection of the best lawn mower headphones that have music playing capabilities.
The headphones have Bluetooth 4.1 technology for wireless music or calls up to 30 feet from the device. The microphone used for taking calls helps cancel out loud background noise to promote a clear conversation.
They run off a Lithium ion battery that is included with the purchase. The battery provides approximately 10 hours of life before needing to be charged.
There are over 1,000 reviews of these headphones on Amazon. We encourage you to check these out because they will give a good indication if they are right for you.
---
Stanley Sync Stereo Earmuff with MP3 Connection
Stanley Sync Stereo Earmuff with MP3 Connection (RST-63011)
List Price:
$51.94
Price:
$51.94
Price Disclaimer
The Stanley Sync headphones connect to an existing device such as an MP3 player or mobile phone via cord (AUX input jack) that is included with the purchase. The headphones do not control the sound and do not supply audio. That is done through your existing technology. They simply, but effectively, supply high-quality audio to the ears.
In addition to supplying audio from a connected device, these headphones provide a noise reduction rating of 25. When the muffs are placed firmly against the ears, they will provide strong hearing protection against a noisy lawn mower.
We love the the thinner profile of the earmuffs, which reduces their bulkiness. The headphones conveniently fold down for a more compact storage.
Overall, these are a good choice for someone who wants to connect to an existing device through a cord and does not want to pay the extra money for built-in radio or Bluetooth Technology.
---
Best Hearing Protection for Lawn Mowing (No Music Capabilities)
3M Peltor Optime 105 Earmuffs
3M Peltor Optime 105 Over the Head Earmuff, Ear Protectors, Hearing Protection, NRR 30 dB
List Price:
$36.56
Price:
$21.98
You Save:
$14.58
Price Disclaimer
3M Peltor is often cited to be the best of best for hearing protection. It is difficult to beat these earmuffs in regard to overall quality and noise reduction capabilities.
The headphones provide hearing protection for noise up to 105 dBA. The dBA of a typical home lawn mower is 90, which falls well below the protection these earmuffs offer. In other words, these earmuffs will have no problem making operating a noisy lawn mower a much more pleasant experience.
The twin-cup earmuff design provides comfort and assists in keeping the muffs comfortably against the ear. Additionally, the liquid and foam filled cushion allows for extended use.
With a typical price under $25, these should be considered as a hearing protection option in most homes that deal with loud noises on occasion or routinely.
---
Decibel Defense Professional Safety Earmuffs
Professional Safety Ear Muffs by Decibel Defense - 37dB NRR - The HIGHEST Rated & MOST COMFORTABLE Ear Protection for Shooting & Industrial Use - THE BEST HEARING PROTECTION...GUARANTEED
List Price:
$21.67
Price:
$21.67
Price Disclaimer
The Decibel Defense ear muffs are what you are looking for if comfort and highly effective ear protection is your concern.
No, these do not have the ability to play music, answer calls, or do any other tasks electronically. However, their noise cancelling ability is superior to other products out there.
At the time of this article, the manufacture states that these ear muffs reduce more sound than any other ear muff product out there.
Their NRR is an amazing 37 dB (OSHA rating of 34). Most people will undoubtedly not be bothered by the noise of the lawn mower with these ear muffs on.
One thing that we love about this product is that they fold in to allow for easy storage. While the black color ear muffs are featured above, they are also made in pink, blue, orange, and white. Click here to see the various colors.
---
Hysqvarna 531300089 Professional Headband Hearing Protectors
Husqvarna 531300089 Professional Headband Hearing Protectors
List Price:
$22.95
Price:
$22.95
Price Disclaimer
These Husqvarna protectors are an excellent value without the bells and whistles of music/phone connection capabilities.
The headband is adjustable up and down to accommodate most head sizes. It is also padded to add the necessary comfort for extended use.
One downside to these protectors is that they are not designed to be used with a hat. For example, they are not large enough to fit over a hard hat and they will potentially be uncomfortable with a baseball hat due to the padding pressing down on the top hat button.
The NRR is 25dB The protectors will block out a sufficient amount of lawn mower noise to making cutting the lawn more enjoyable.
---
ClearArmor 141001 Ear Muffs
ClearArmor 141001 Shooters Hearing Protection Safety Ear Muffs Folding-Padded Head Band Ear Cups, Black
List Price:
$29.85
Price:
$14.95
You Save:
$14.90
Price Disclaimer
The ClearArmor earmuffs qualify as our pick for the best value. They have a current 4.6 rating out of 5 stars with over 7,000 reviews on Amazon. Additionally, they are priced under $20.00, which currently makes these the most affordable on our list.
These headphones are excellent for not only effectively blocking out lawn mower noise, but also things such as saws, leaf blowers, and loud music.
They are praised by many for their comfort and ability to adjust to the head.
---
Mpow Noise Reduction Safety Earmuffs
Mpow [Upgraded] Noise Reduction Safety Ear Muffs, SNR 36dB Shooting Hunting Muffs, Hearing Protection with a Carrying Bag, Ear Defenders Fits Adults To Kids with Twist Resistant Headband- Black
List Price:
$14.99
Price:
$14.99
Price Disclaimer
These Mpow earmuffs are our value pick on this list of the best hearing protection for lawn mowing.
The lightweight of the earmuffs at well under one pound will make you forget you are wearing these at times. The headband adjusts to fit the majority of head sizes so any uncomfortable loose or tight fit will not be a concern for most.
The NRR of 29 dB provides ample noise protection for lawn maintenance tasks the typical homeowner will take on.
These Mpow earmuffs are foldable for simple storage and transportation. The earmuffs come with a carrying bag, which is a feature not often found with ear protection in this price range.
---
Finding the Best Headphones for Mowing Lawn
Below are a few things to look for before purchasing headphones. This criteria should help weed out some of the inferior products available out there in the market.
Comfort – You should expect the headphones to provide comfort for the duration of your maximum usage time. Look for products that are adequately padded on the headband and nicely cushioned at the ear. There should be an option to adjust the headband to fit your head size. Confirm with reviews that the headphones provide a reasonable amount of comfort for your needs.
Battery Life – You don't want to be replacing batteries or charging them on a routine basis. You also don't want to worry about the batteries dying during mowing. Look for headphones that will last several mowing session before a battery charge or replacement is required.
Technology – There are a lot of variations between the technology lawn mower headphones offer. Ask yourself if you really need the technology such as Bluetooth, device connection, and built in AM/FM radio, instead just ear protection which is much cheaper. For example, if you are mowing a small lawn, it may not be worth spending the extra money on headphones with a lot of technology. Of course, you also do not want to regret not having sufficient technology.
Sound – The quality of sound (if applicable) is important even if you are using the headphones for a limited amount of time each week. You want clear audio without static from your favorite radio stations. This is especially true in an environment where there will be at least some background lawn mower noise.
Ear Protection – Review the Noise Reduction Rating (NRR) to determine the amount of reduction of noise the headphones will provide. The higher the NRR, the better the product is at reducing sound exposure. You can read more about NRR here.
Cost – Of course, the price someone is willing to pay will vary based on the individual. However, the selection of the best headphones for lawn mowing outlined above are all under $100. You should be able to purchase a quality headphone for lawn mowing without breaking the bank.
---
Lawn Mower Headphones – Q&A
Are earphones or headphones more comfortable?
Earphones (earplugs or earbuds) insert into the ear. They can be uncomfortable for some people if the shape of the earphone does not fit comfortably within the ear. Headphones tend to be a much better option in terms of ear comfort assuming quality ear padding is used in manufacturing. Headphones can be uncomfortable when wearing them with a hat or if they are not sufficiently padded on the headband or ear.
Do I need to spend a lot of money on lawn mower headphones or earmuffs?
If you want quality headphones with Bluetooth, AM/FM radio and noise noise protection, you are going to have spend about $50 or over. However, if you are just looking for something to protect your ears from the lawn mower noise, you only have to spend around $25 or under. We recommend buying affordable, but high-quality headphones for the sole purpose of using them around the yard. Spend more money on your indoor/everyday headphones which you will likely use more often.
Can't I just mow with my normal headphones on that play music?
We do not recommend this because you will have to crank up the volume to compensate for the loud lawn mower. This can be damaging to the ear. If you want to listen to music while you are mowing, you should purchase one of the best headphones for lawn mowing found above (or something similar) that provides ear protection and offers the ability to play music.
Can't I just use cheap foam earplugs instead of using ear muffs or noise reduction headphones?
Yes, your author personally uses these Mack's Ultra Soft Foam Earplugs. They are NRR 32 dB, which provides a superior level of noise reduction. I have never been bothered by the lawn mower or leaf blower noise while wearing these doing yard work. If you have never used foam earplugs, they do take a little getting used to since you have to insert them into the ear. The benefit of using earmuffs instead of foam earplugs is that the ear muffs will last years, while the foam earplugs need to be replaced/repurchased. Over the long haul, the ear muffs are a better deal.
Are there safety concerns with listening to music and mowing?
Listening to music can be a distraction so there is a potential safety concern there. However, many people navigate the road, for example, and have no issue operating a vehicle while listening to music. If you are easily distracted, we recommend just using ear muffs or foam ear plugs that solely block sound.
Can I sleep with hearing protection on?
If you are a side sleeper, earmuffs will be uncomfortable since they will press hard into the ear. However, back sleepers generally have no trouble using earmuffs if they are able to stay on their back through the night. Foam earplugs are often the preferred choice for noise reduction while sleeping. These are insert into the ear and generally allow the sleeper to flip into any position without discomfort.
The post Best Hearing Protection for Lawn Mowing appeared first on Peak Yard.