There's something so timeless about a room decorated in black and whites. It will never be out of style, black and white is transcendent. I'm pretty sure it was Coco Chanel who made black and white so chic and elegant. She put it on the map.
An outfit, or a room, looks so put together and purposeful when there's such high contrasting colors and finishes paired together. This inspired me to do a blog post on how to design using black and white. Below are 20 ways to implement high contrast into your room today.
Click on image for source
1. Gallery Wall
This is such a dramatic way to update a wall in your room and bring in some black and white
Love
. All you need to do is paint one of your walls black (usually its the wall you see when you walk into the room, or somewhere unexpected) and then hang up some neutral artwork pieces with a white background. Here they used a black picture rail to display their art, but you can also just hang the pictures directly on the wall. Lay your pictures on the floor in front of the wall first, in the order you want to hang them in. That way you can see how you want the arrangment before you hang them.
2. Use one large piece of artwork
Your whole room doesn't have to be black and white. You can incorporate a large painting behind the sofa or a focal point to bring that chic feel into your space. I also really love the dark hair on hide rug that they used in this room.
3. Paint your fireplace surround black
Wow, what a dramatic space. I actually love EVERYTHING in this room. But we will focus on the fireplace mantel and surround. It looks like they used a dark stone or possibly a
Wall Paper
to look like stone on this fireplace. But you could easily just paint it instead, and keep your walls white. Simple but you get a big bang for your buck.
4. Black and White can also be casual
I wanted to show this image because I like that they used a slip-covered chair here with a black and white striped pillow. If your furniture and/or room is casual, don't be afraid to spice things up with black and white contrasting fabrics! Even a casual room can pull it off.
5. Use a simple black leading edge on a white drape
I'm all for leading edges on drapery panels. I think this feels very Chanel, but for a room. Don't you think? Enough said..
6. Or frame out your white Roman Shades in black
Don't forget about the shades! You don't have to have long drapes in a room to bring some extra drama. Love how they framed the Roman Shades in black here. It really draws your eye to the windows.
7. Black and White patterned floors are always classic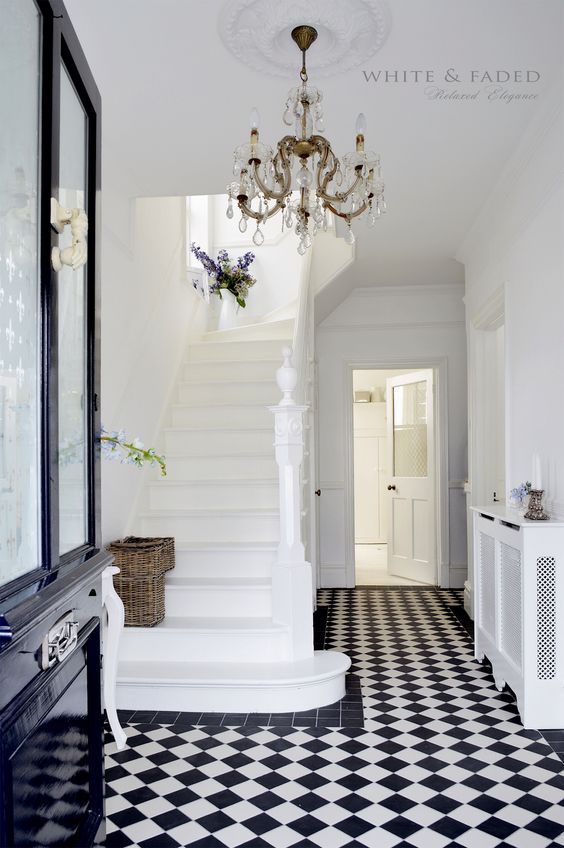 Even if you don't live in France, you can still get this look. If you have some tiles in your foyer that you hate, consider painting them in high contrast black and white diamond pattern. Timeless. And I guarantee that everyone who walks into your home will be impressed.
8. Go black in the hallway!
Most people are afraid to go dark in a small space. But look at how fun and surprising this is. Can you imagine turning the corner from a bright, white room into this hallway? It awaken's the sense's doesn't it? The white trim, doors and baseboards give your eye a place to rest and also directs you to where you need to go.
9. Go chic in the laundry room!
Love. It. The floor tile, the black sink, the freshness that this space embodies. I kinda feel like my laundry would come out cleaner in this laundry room, is that weird? Don't be afraid to go bold in an otherwise forgotten space.
10. Create a graphic wall feature
This is an easy way to really change a room. I love that they used this technique in a kids room. All you need is some masking tape and some paint. This room would be so boring without this graphical wall!
11. The bathroom deserves some love
The mix of patterns in such a small shower space is amazing here! I love the chevron pattern on the walls, it plays tricks on the eyes since its so starkly black and white. This would take a bit more effort than paint, but man, what an upgrade!
12. Wall paper that wall
This is pretty self explanatory, but choose a wall in any room and then choose your favorite black and white wall paper pattern to apply to the wall. The rest of the room can have white walls and you would still be golden. Throw in some black and white accessories and you'll have a complete room.
13. Update that kitchen window
Sometimes just updating your curtains in your kitchen can make all the difference. Again, it doesn't need to be fancy. This checkered pattern is totally casual and it makes this otherwise ordinary kitchen feel special.
14. Use an area rug to bring in some contrast
Painting, tiling, sewing, it's all a little more time than you are willing to invest? What about just using an accent rug in black and white? Especially if you find one with a busy pattern like in this image, you don't need much else going on in the room.
15. Don't forget about that bathroom
Don't have a shower? No problem! Updated your bathroom tiles with dark contrast. Or update your tub and try using black. There's many other ways to update that bathroom.
16. Paint black above that wainscot
Love, love, love this. Painting black above your wainscot updates this otherwise traditional look to be more modern. Add some bright artwork to make the wall pop. I also really love the red rug in here, its adds a richness and weight to this room.
17. Or paint your Kitchen cabinets black
WOW. Usually it's the reverse, right? You usually have your white cabinets with dark counters (or light counters). I love that they flipped it here. And notice- the room still feels bright and airy (the large plentiful windows help). This reminds me of something I might see on flip or flop, but more high-end.
18. Don't be afraid of using black drapes
Whenever I suggest going dark with drapery people always give me that "are you outta your mind" look. Won't the room feel to dark and heavy, they ask. It's all about the balance my friend. If you don't want to paint your walls, consider going dark on the drapes for some high contrast.
19. Use black in that nursery, momma!
Isn't this just so cool? Waiting to find out if you're having a boy or a girl? Black with whites and cremes is the perfect nursery color choice. Once your baby arrives you can add in pops of color. The trick to making it an interesting room is to use different textures and materials.
20. Black and White patterns can be so dramatic!
Okay so, who doesn't love this? Seriously! Tell me! This patterned black and white wall paper is to die for and I am so keen on dramatic powder rooms. The whole wall has become a painting. And that mirror though?!
There you have it- 20 ways to add more contrast to your home. Are you like me, and you can't get enough black and white? Check out my Pinterest board with more high contrast images. I'm always updating my Pinterest account so check back periodically.