"One of my earliest memories is of seeing my mother in her beach chair, reading a book under an umbrella by the water's edge while my sisters and I played beside her. Of all the life lessons she taught me, that is one of my favorites: to take time at a place I love, restore my spirit with books and the beach." — Luanne Rice, author of several novels, including Follow the Stars Home.
My annual vacation starts with a large selection of books loaded onto my e-reader. Before the e-reader came into my life, I had at least 12 paperbacks, in two tote bags, ready to take along to the lake.
For two weeks, I'm blessed to park myself in a comfortable spot at the family cottage and immerse myself in literary suspense, intrigue, romance and adventure. And, sometimes, I take a dip in the lake to cool off. The cool breeze can sometimes accelerate the cooling process. A towel can be a good stop-gap measure, but what if the sun starts to set and you're not quite finished the chapter? The chill can set in.
That's the idea behind my Day at the Lake throw. Made from waffle weave cotton, with quilted bands top and bottom, let's think of it as a "quiltowel". It's a soft and cozy cover for a day spent lakeside.
This project is a great scrap buster, and you can also use orphan blocks from other projects.
It's also embellished with sweet little yo-yos for fun and fancy free reading or dreaming at the beach. You'll be getting requests for these from your fellow beach readers and dreamers, I promise.
Let's get started on your quiltowel.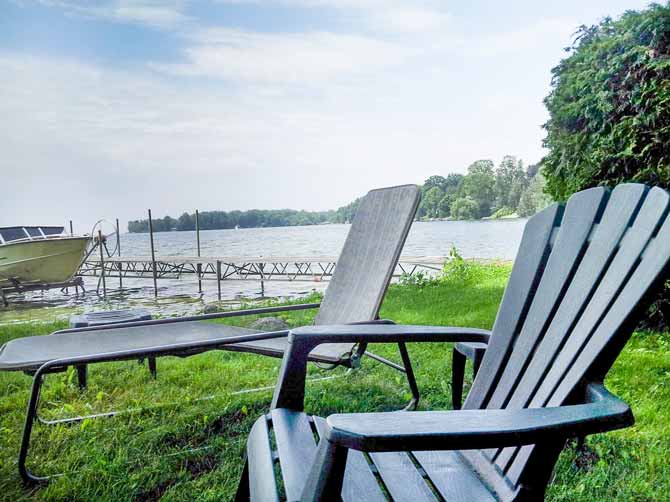 All set up for a day of reading at the lake, where cool breezes call for a lightweight throw.
Waffle weave know how: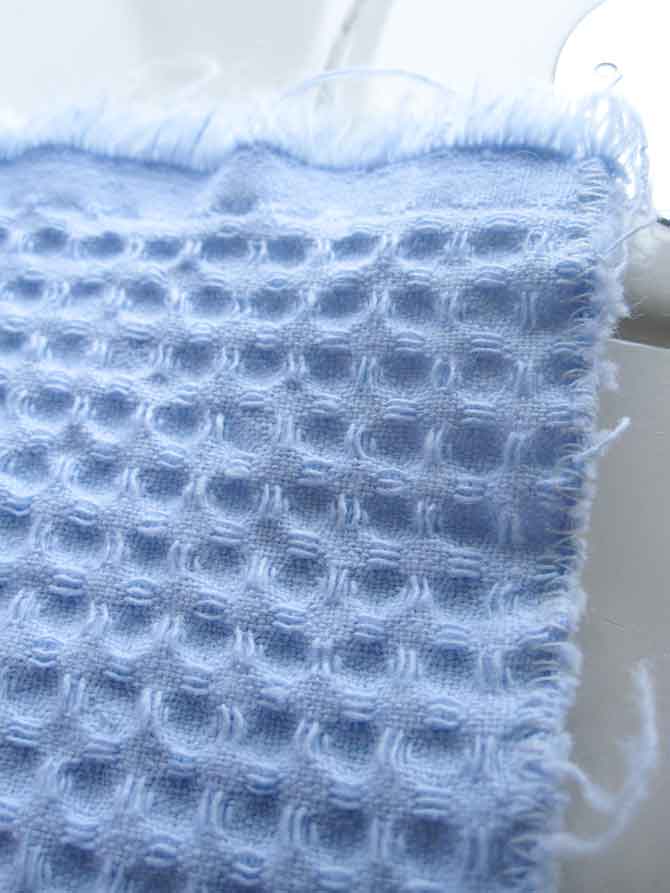 The waffle weave fabric has ragged selvage and the cut edges will need to be zigzagged before washing. Washing is important before you begin because it will shrink.
Gather up these supplies:
1yd waffle weave cotton
various cotton scraps and/or orphan blocks
quilter's muslin or backing fabric
lightweight fusible interfacing
12½" x 12½" quilting square
Soak laundry soap
Clever Clips
cotton quilt batting
circle templates
template plastic
quilting seam guide
505 spray baste
non stick applique mat
6 color retractable marking pencil
hot ruler
finger pressing tool
Flatter Pressing Spray
Gϋtermann silk thread
Gϋtermann 100 per cent cotton quilting thread
Fold over the selvage edge, pin, and then press before sewing. These pins have heat resistant heads and won't melt under the heat of the iron.
Use Clever Clips to turn under the side hem of the waffle weave. Space them wide enough so that …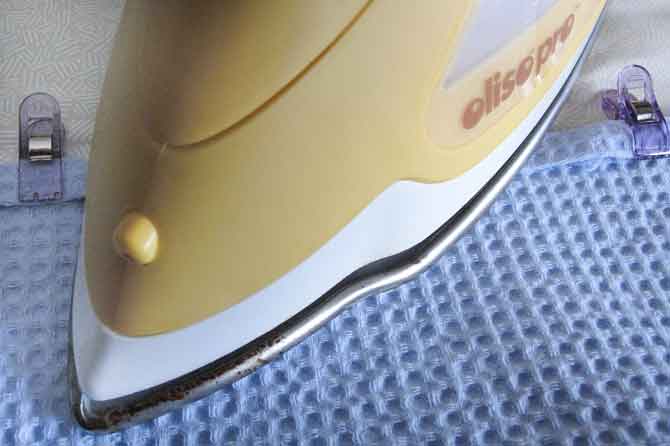 …the iron can pass through, while avoiding the Clever, but somewhat melt prone, Clips.
Finish the side hem close to the folded edge.
The waffle weave MUST be prepared and washed before beginning this project. It will shrink and become more puffy after washing and drying.
First, square off and straighten the cut edges, top and bottom. Then, set your machine to a wide zigzag stitch. Zigzag the top and bottom of the waffle weave.
(You don't need to zigzag the salvage sides.)
Wash the waffle weave in a gentle detergent like Soak in Lacey (it's a softly girly scent. I'm kind of in love with it.)
Dry the waffle weave on a warm dryer setting. Remove the dried fabric promptly from the dryer.
Turn under a ¼" hem on both salvage sides and press. Stitch the hem. Press. Turn under a second time, press and stitch close to the turned under edge. Press again.
Now you'll have a piece of waffle weave that will stay true to its measurements.
Come back tomorrow when we get on with making the quiltowel bands.
This is part 1 of 5 in this series.
The post Essential sewing tools for any quilting project appeared first on QUILTsocial.