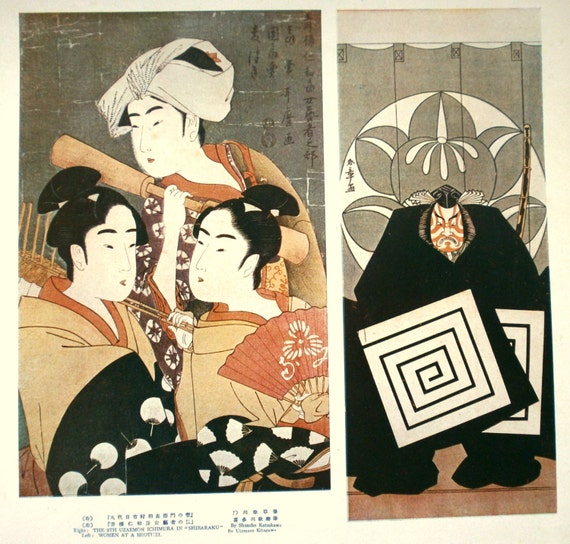 12.00 USD
I was so happy to find this print! It is a Art Magazine page about Ukiyoe Paintings in Edo period (1603-1868). On the front page, there are 2 ukiyoe paintings (left - "Woman at Brothel and right - The 9th Uzaemon Ichimura in Shibaraku). On the back, there are also 2 ukiyoe paintings (top - Bustle at Nakano-cho Yoshiwara and bottom - Elopement of Umegawa and Chubei).

The articles talk about Nishiki-e (nishiki-e?) (literally "brocade picture") refers to Japanese multi-colored woodblock printing; this technique is used primarily in ukiyo-e. It was invented in the 1760s, and perfected and popularized by the printmaker Suzuki Harunobu, who produced a great many nishiki-e prints between 1765 and his death five years later.

Previously, most prints had been in black-and-white, colored by hand, or colored with the addition of one or two color ink blocks. A nishiki-e print is created by carving a separate woodblock for every color, and using them in a stepwise fashion. An engraver by the name of Kinroku is credited with the technical innovations that allowed so many blocks of separate colors to fit perfectly onto the page where they ought to, relative to one another, in order to create a single complete image.

This style and technique is also known as Edo-e (江戸絵 edo-e?), referring to Edo, the capital city of the time.

It is in excellent condition but it is vintage so there are some imperfections.

This would be beautiful framed and displayed but it could also be used in mixed media art.

It measures 38 cm x 25 cm.