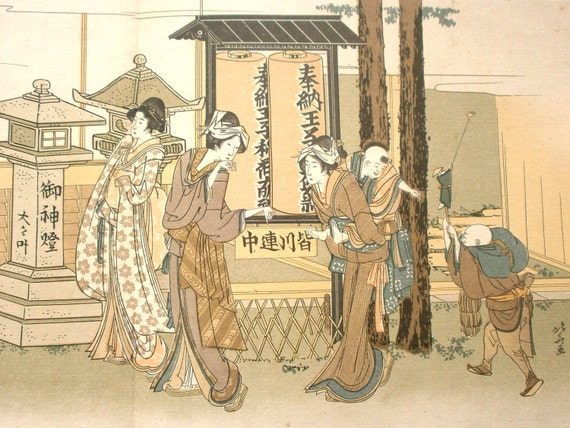 12.00 USD
It is a Print from Art magazine insert. In this print, There is a group of beautiful woman going to the Inari Shrine at Oji for Pilgrimage. There are also cute baby on the back of one of women and baby-sitter behind them.

An Inari shrine (Inari Jinja) is a shinto shrine to worship the god Inari. There are many Inari shrines in Japan. The deity is worshiped also in some Buddhist temples.

The original painting was made by Katshushika Hokusai.

Katsushika Hokusai (October 31, 1760 – May 10, 1849) was a Japanese artist, ukiyo-e painter and printmaker of the Edo period.[1] He was influenced by such painters as Sesshu, and other styles of Chinese painting. Born in Edo (now Tokyo), Hokusai is best known as author of the woodblock print series Thirty-six Views of Mount Fuji (Fugaku Sanjūroku-kei?, c. 1831) which includes the internationally recognized print, The Great Wave off Kanagawa, created during the 1820s.

Hokusai created the "Thirty-Six Views" both as a response to a domestic travel boom and as part of a personal obsession with Mount Fuji. It was this series, specifically The Great Wave print and Fuji in Clear Weather, that secured Hokusai's fame both in Japan and overseas. As historian Richard Lane concludes, "Indeed, if there is one work that made Hokusai's name, both in Japan and abroad, it must be this monumental print-series...". While Hokusai's work prior to this series is certainly important, it was not until this series that he gained broad recognition.

It is vintage so there are some imperfections. There are paper cuts and discolorations on this print. The 4th and last photo show those parts.

This would be beautiful framed and displayed but it could also be used in mixed media art.

It measures about 51.7 cm wide x 38 cm long.


******************** When we bought this it was already folded in three (because it was a magazine insert). Unfolded it is too big to send so we will send it folded.