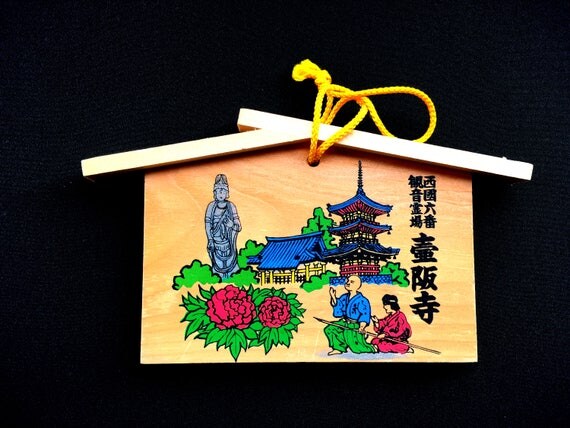 15.00 USD
This is an "Ema". "Ema" are small wooden plaques on which Shinto worshippers write their prayers or wishes. The ema are then left hanging up at the shrine, where the kami (spirits or gods) receive them. They bear various pictures, often of animals or other Shinto imagery, and many have the word gan'i (願意), meaning "wish", written along the side. In ancient times people would donate horses to the shrines for good favor, over time this was transferred to a wooden plaque with a picture of a horse, and later still to the various wooden plaques sold today for the same purpose.

Ema are sold for various wishes. Common reasons for buying a plaque are for success in work or on exams, marital bliss, to have children, and health. Some shrines specialize in certain types of these plaques, and the larger shrines may offer more than one. Sales of ema help support the shrine financially.


********This Ema is from Tsubosaka-dera Temple in Nara prefecture. According to Japan Travel (japantravel.com), Tsubosaka-dera AKA Minami Hokkeji Temple, literally "Jar on the Hillside Temple" got its name through its founding legend. Supposedly, the ascetic shaman Benki Shami came to the site in 703 and built a hermitage. One night his evening prayers were interrupted by a beautiful voice chanting from the Buddhist Senju darani scripture. An intense blue light emanated from the ground at the source of the voice. Benki dug up the spot where he saw the light and found a golden Senju Kannon, thousand armed Buddha Statue, inside a lapis lazuli jar. Many years later after the story of the Buddha statue and of Benki Shami's healing skills had spread and grown popular, Benki was summoned to the Imperial Palace because the Empress was suffering from an eye disease. After placing his prayer beads over the Empress's eyes and reciting the Senju darani, the Empress's eyesight was restored. She rewarded Benki by building Tsubosaka Temple and enshrining the Senju Kannon in the Hakkaden (octagonal hall) in 717. Tsubosaka Temple has been known as the temple for eye cures and eye health ever since.

It measures about 17cm (bottom part - 13cm) x 9.4cm x 1.4cm (bottom part - 0.7cm).