After his wife Kirron Kher's commendable weight-loss, it's now Anupam Kher's turn to prove that 'age is just a number.' The veteran actor has broke the stereotype of 'being fat in the old age'. He played a 60 year old in Saaransh, when he was just 28, but the 61 year old can now put most 20 year olds to shame. Anupam Kher weight loss and his fit physique is an inspiration for everyone. Let's have a look to his journey which he admits to be quite "torturous".
Weight loss & fitness has a lot to do with your 'WILL' to do so. One year result. Here is a Before & After pic.:) pic.twitter.com/SykDApjyuT

— Anupam Kher (@AnupamPkher) July 8, 2016
Anupam Kher Weight Loss "WORKOUT"
Anupam kher took a break from his life and went to America with his trainer, Anthony Jadhav where he was touring for his play. Anupam believes, Jadhav is such a great inspiration and a hard task master too at the same time.
My trainer Anthony Jadhav really is a great inspiration & hard task master. Lost 14kgs.:) #JaiHo #KuchBhiHoSaktaHai pic.twitter.com/SzLvIpXwpV

— Anupam Kher (@AnupamPkher) July 8, 2016
Instead of walking on the treadmill, Anupam used to take a walk on the street. He walked for, at least, an hour every day and took 10,000 steps daily. Along with this, he used to do some light exercises. He said, "I feel that the process of losing all this weight helped discipline me as a person as well. All I can say is, there is no bigger high than seeing the change for yourself."
Showing Off.:) #Training #AnythingIsPossible #ReInvention #HardWork #KuchBhiHoSaktaHai
Anupam Kher Weight Loss "DIET"
Rujuta Diwekar has also played a great role in his transformation. She encouraged him to eat home-cooked meals, which Anupam Kher and his wife Kirron Kher apparently follows religiously.
Anupam said, "I knew I had to get rid of three things in my diet — potatoes, rice and sweets. I didn't touch any of these for six months." He firmly believes in having smaller and more frequent meals instead of the traditional three large meals a day. This boosts metabolism and helps in losing weight more rapidly. "As per Rujuta's instructions, I include plenty of local produce and seasonal fruits in my diet as this helps regulate blood sugar levels and boosts energy levels too," adds the actor.
He said that sustainability is the most important aspect of any diet plan. If you hate what you eat, you will only be setting yourself up for failure. So, always love what you eat.
Anupam Kher Weight Loss "MOTIVATION"
At 61, this veteran actor has lost a whopping 16 kg of weight in less than two years. The actor vowed to a strict fitness regime and credited few people who were his source of inspiration for this incredible transformation – actors Akshay Kumar, Salman Khan and Anil Kapoor.
Time to thank people who inspired me to be fit. @AnilKapoor @BeingSalmanKhan @akshaykumar & @RujutaDiwekar.:) pic.twitter.com/KYlmPigLzq

— Anupam Kher (@AnupamPkher) July 8, 2016
To maintain his fitness, this doting daddy of Bollywood has put his horrendous, fat picture right next to his bed. "Every morning, I get up and look at that picture and that motivates me! I have put the picture so that I get stressed looking at it and maintain my weight", said the actor.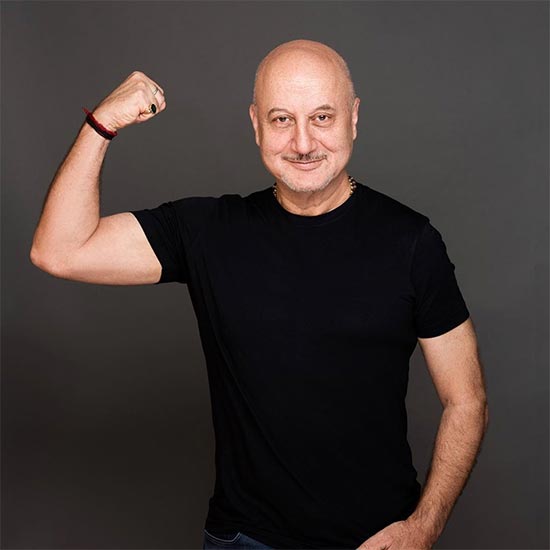 The post Anupam Kher Weight Loss Journey Is Truly An Inspiration appeared first on Be Fit And Fine.