The mother of two, and grandmother of one, Neetu Singh, also known by her marriage name Neetu Kapoor, gave up acting at the peak of her career. Although she is no longer in the limelight but she's looking better than ever. This timeless beauty has managed to look gracious with every passing year. She is 58 years old but don't look a day over 40 years! So what are Neetu Singh fitness mantras…check out!
Thank u all for the wishes Feel blessed
Neetu became aware of fitness after her children, Riddhima and Ranbir, were born. During each of her pregnancies, she gained 25 kilos. She said, "I feel fitter than when I was younger. I weighed 68 kilos when I was in the movies. It was Zeenat (Aman) and Parveen (Babi) who popularised that thin figure. People started getting aware of their form in the '80s."
Neetu Singh Fitness Mantras : WORKOUT
Neetu believes exercise is as important as brushing your teeth or taking a shower. No doubt, woman gains maximum weight during pregnancy and especially after menopause. But you can get rid of that stubborn fat through healthy lifestyle. "Life is not over at 50 despite menopause. The only way to deal with hormonal changes is to keep exercising," she beams. Earlier, she used to search the internet for ways of losing weight but nowadays she gives credit to Yogesh Bhateja, her personal trainer. Yogesh has shared her workout plan which is quite intense. It involves –
Pilates

Yoga

TRX Suspension Training

Free FORM Board

Body Blade

Wiper Kettle Bell
TRX best form of functional training
He said it is what we call VIIT (Variable Intensity Interval Training). High Intensity Interval Workout incorporates a variety of functional training movements where you train at 80-100 percent effort for a short period of time, followed by an adequate rest and recovery period. It's always better to mix cardio with strength and core exercises.
Neetu Singh do 'plyometric workouts' (explosive movements to power up fat- burning and enhance bone-density), and include core activities as well. "When it comes to her core, she is super strong. I make sure she burns a good number of calories, so her metabolism does not drop," says Yogesh.
"Fitness is my priority. I work with Yogesh half the week and on other days, I walk at least 10,000 steps. The days I don't workout, I stay mobile, don't just sit and watch TV," says Neetu who luckily doesn't have any medical problem.
I have family history of diabetes !!! Have been taking tulsi leaves fused in water – few drops of lime – Cinnamon Pd (1/8) tsp first thing every morning since many years .. I don't hve diabetes !!!Fight your genes !!!
Neetu Singh Fitness Mantras : DIET
"I'm a Punjabi and I come from a family of food lovers. We eat typical Punjabi dishes which are very oily and spicy," says Neetu. Being health conscious, she firmly believes in the golden rule that 'whatever goes into your mouth shows on your skin'.
Neetu don't follow typical diet fads but recommends to 'reduce oil' and 'eliminate refined atta.' "My meal is cooked in three teaspoons of oil. One teaspoon of ghee is allowed and I boil or saute my veggies in olive oil. Today, everything is becoming refined. I get my wheat ground at the chakki with my driver watching. I couldn't digest quinoa, I got bloated," says Neetu.
She believes in eating after every two hours. Here is her daily diet plan :
Breakfast at 10 am: A bowl of papaya, two egg whites on toast and sugarless tea.
12 noon: Watermelon and a glass of buttermilk.
2 pm: 1 roti, dal or chicken or fish, dry sabzi.
4 pm: 5 almonds and 2 walnuts.
6 pm: 2 cream crackers.
8 pm: A vegetable juice and a fruit.
Dinner at 10 pm: 1 roti with dal or anda bhurji.
Cinnamon Tulsi tea papaya !!! ideal way to start your day
FOR SWEET CRAVINGS : She loves to gorge on diet oats cookies and sugar-free chocolates. "At night, I have to have two pieces of dark chocolate. Minimise sweets, don't delete them."
Neetu suggests everyone to give up on fatty foods. "I don't want to lose that one hour of hard work I've done by having parathas. I drool over healthy non-fattening Gujju food. I love Japanese food. I like Lebanese food too." She tries to have atleast three fruits and two cups of vegetables a day as it provides enough fibre.
HER PIECE OF 'ADVICE'
Try to be happy always as happiness is the key to a glowing life.

Age is just a number. You can be a good 60, a good 50 or a good 40 years old – it all depends on you. Be disciplined and consult your doctor for supplements.

Teach your child to eat well. It doesn't mean you don't indulge once in a while. But try to have

ghar ka khana

five days a week.

My mother had a lot of health issues at the age of 50 – high BP, diabetes and high cholesterol. We tend to imitate our parents, and then we say it's genetic. If I imitate my mother, and eat and drink what she used to, I'd suffer the same. So be sure to balance life and make fitness your priority.

I believe besides eating healthy we need 10,000 steps for fitness. Invest in a good pedometer!!! 45 minutes of walking and you have already done about 5000 steps! Pedometer pushes and challenges to reach your daily goal. Eat healthy, walk and be FIT and FINE.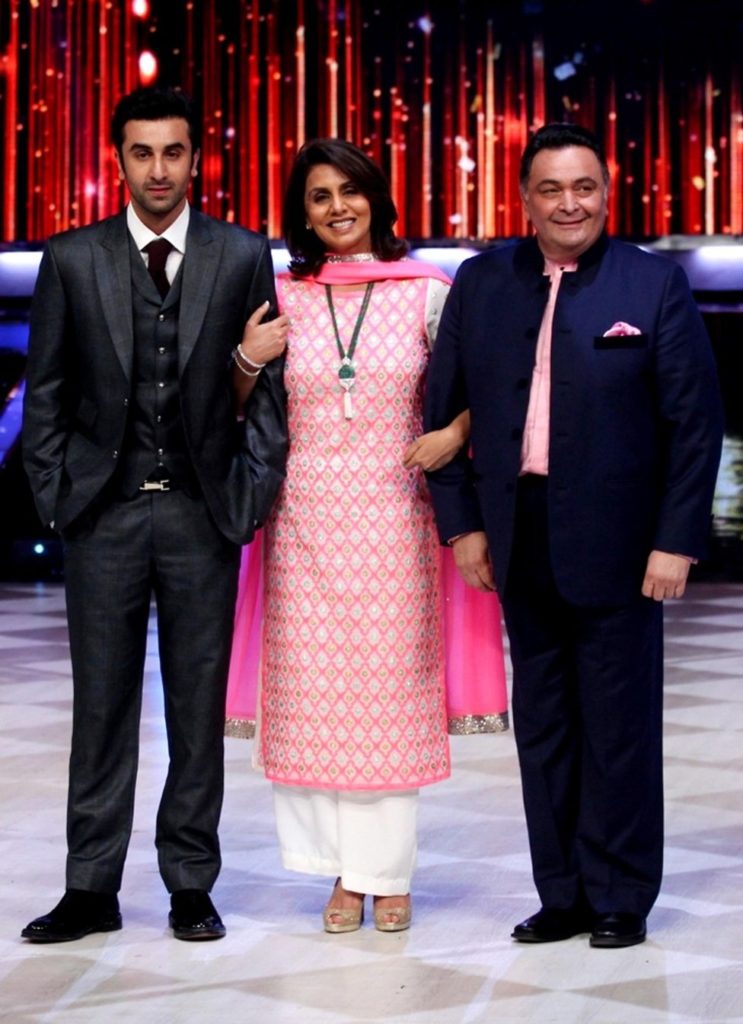 The post Neetu Singh Fitness Mantras To Look Young And Stay Fit Forever appeared first on Be Fit And Fine.