Here are 5 tips to help you learn to fall asleep on your back.

RELAX THE BODY before going to sleep. Take a warm shower or bath (you may add Epsom salts or bubble bath). Try stretching for 10 minutes to alleviate muscle tension prior to going to sleep.
CALM THE MIND. Use calming music, an audio book, relaxation, breathing or meditation exercises while laying on your back before going to sleep. There are now many apps available for general meditation/relaxation or progressive muscle relaxation.
ADD PHYSICAL PROPS
Add a

gentle weight on top of your stomach

while on your back. This is to replace the pressure sensation that one would get while lying on the stomach. Try using a hot water bottle, a dense cushion/pillow, a book or a weighted blanket.

Try placing a

small pillow, bolster or roll under your knees

. This may also make it more comfortable for your lower back.

Support the arch of your

neck

with your pillow. You may roll up a hand towel lengthwise and place it at the long end inside your pillowcase for support.
PRACTICE laying on your back during the day. Take a 5-10 minute rest during the day, or when you get home from work, so you get comfortable being on your back. You could even try laying on the floor with your feet up on a chair or sofa.
START SMALL. Try laying on your back ready for sleep just for 2-5 minutes before you change to your side sleeping position. Each week try and increase the amount of time on your back (in 1-5 minute increments) before you change positions. Over time – you may just fall asleep on your back. When you wake up during the night in a different position, just roll back onto your back if you are able to.
Leah Segelov, PT, MA is a Physical Therapist for over 19 years and owner of Segelov Physical Therapy, PLLC in Manhattan, New York. She may be contacted via e-mail at [email protected]
Leah specializes in musculoskeletal and orthopedic conditions, TMJ disorders and facial paralysis.
Blog updates can be emailed directly to your inbox. Please subscribe on the home page www.segelovpt.com
Disclaimer: The entire content on this blog is for educational and informational purposes only. No responsibility is taken or assumed for any action taken by the website user as a result of information on this website. Website users should seek their own professional advice regarding their individual situation as to whether a specific or general treatment, remedy or exercise is appropriate for their condition.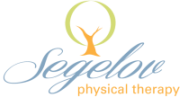 The post Trouble Sleeping? 5 essential tips to help you fall asleep on your back appeared first on Segelov Physical Therapy.