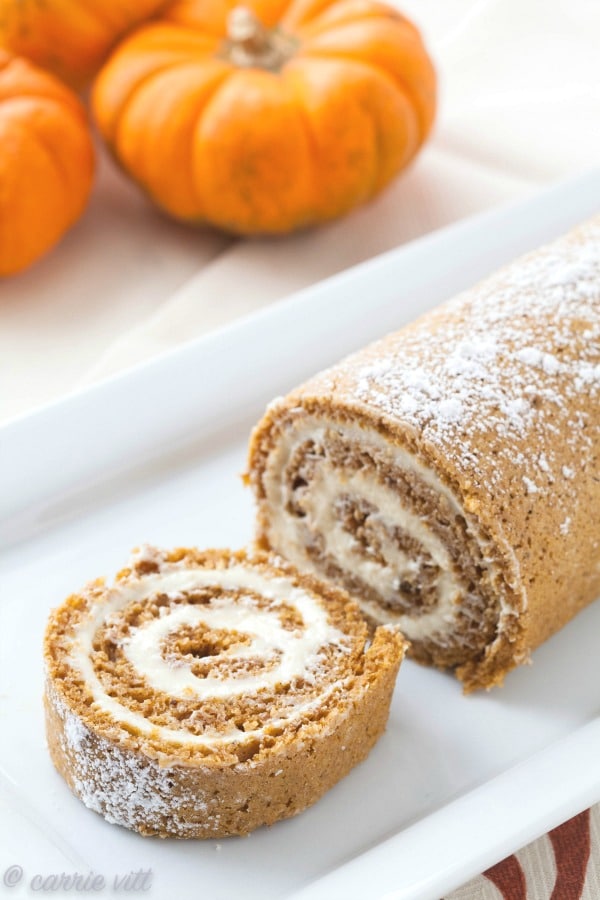 Pumpkin Roll Cake is a surprisingly easy-to-make classic fall recipe! The key is to make sure the pumpkin cake is just out of the oven when you flip it and roll it into a dishcloth. After the cake completely cools, it will unroll easily so you can spread the cream cheese filling overtop and roll it back up.
In this recipe, I brought the sugar down as low as I could without losing flavor, and of course, it's grain-free!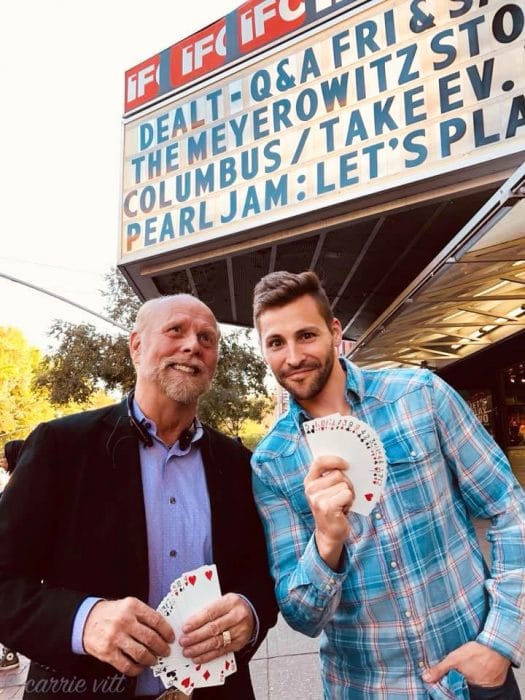 On a different note, I'm thrilled for my brother, Luke Korem. His new film, Dealt, a Sundance Select, just released last week in select theaters and it's the #1 documentary on iTunes! Dealt has received glowing reviews from The Hollywood Reporter, Variety, and The New York Times, while winning awards at film festivals all over the world. It's a must-see film (and I'm not just saying that because he's my brother)!
Dealt is about sixty-two year old Richard Turner, who is renowned as one of the world's greatest card magicians and also happens to be completely blind. Richard's blindness is unique, but he doesn't let it define him. It's both a tantalizing, up-close look at the secretive world of magic and a candid, awe-inspiring portrait of a man who lives beyond his limitations. If you've been looking for an uplifting and inspiring film to watch, Dealt fits the bill!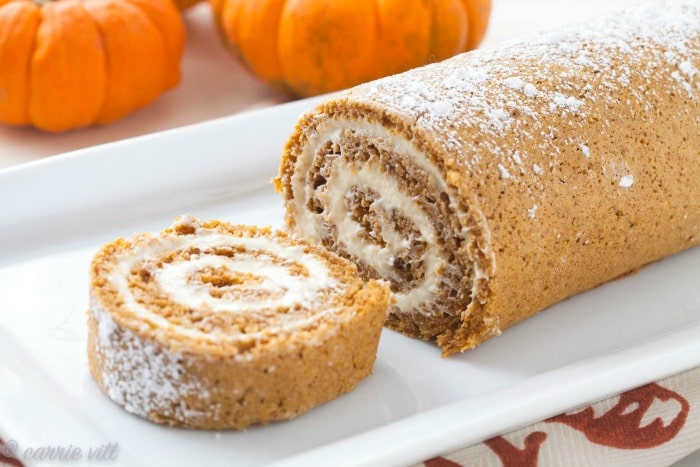 Can I make a suggestion? This weekend, make this Pumpkin Roll cake, enjoy a slice with a cup of tea and sit back and watch a good film.
Carrie Vitt
Pumpkin Roll Cake Recipe (Grain-Free)
30 minPrep Time
12 minCook Time
42 minTotal Time
Ingredients
For the Cake:

3 large eggs, room temperature
1/2 cup maple or coconut sugar
2/3 cup organic pureed pumpkin
1/4 cup coconut flour
1/4 cup tapioca flour
1/4 cup arrowroot flour
1/2 teaspoon baking powder (make sure it's gf!)
1/2 teaspoon baking soda
1 1/2 tablespoons pumpkin pie spice
1/8 teaspoon Celtic sea salt

For the Filling:

1/2 cup maple sugar
2 teaspoons arrowroot flour
8 ounces cream cheese, room temperature
2 tablespoons unsalted butter, room temperature
1 teaspoon vanilla extract
Instructions
Preheat the oven to 350ºF and adjust the rack to the middle position. Using a pastry brush, butter or oil a 13x18-inch cookie sheet and then line it with parchment paper . Place the eggs and sugar in the bowl of a standing mixer with the beater attached. Mix on medium-high for 8 minutes until thick and pale yellow. Fold in the pumpkin.
Place the coconut flour, tapioca, arrowroot, baking powder, baking soda, pumpkin pie spice, and sea salt in a medium bowl. Whisk to combine and remove any clumps. Fold the flour mixture into the egg mixture.
Pour the cake batter onto the prepared cookie sheet and gently spread the cake batter with a spatula so it's even across the pan. Bake for 12 minutes. Remove from the oven and let sit for 5 minutes. Sprinkle the cake with a small amount of arrowroot and then place a large dishtowel that covers the entire cake over the cake. Grasp both ends of the pan and dishcloth (make sure to wear oven mitts) and quickly turn the cake upside down onto the dishcloth. Carefully peel off the parchment paper. Roll up the cake and the towel together, starting at one of the narrow edges. Cool completely.
Place the ½ cup maple sugar and 2 teaspoons arrowroot flour in a coffee grinder and grind until it's a fine powder. Place the cream cheese, sugar mixture, butter and vanilla extract in a bowl and beat with a mixer until fluffy, about 2 minutes.
Carefully unroll the cake. Using a spatula, spread the cream cheese over the cake and then reroll the cake. Serve immediately, or cover and refrigerate until ready to serve.
7.6.4
4572
https://deliciouslyorganic.net/pumpkin-roll-cake-recipe-grain-free/
Copyright 2016 Deliciously Organic
The post Pumpkin Roll Cake Recipe (Grain-Free) appeared first on Deliciously Organic.