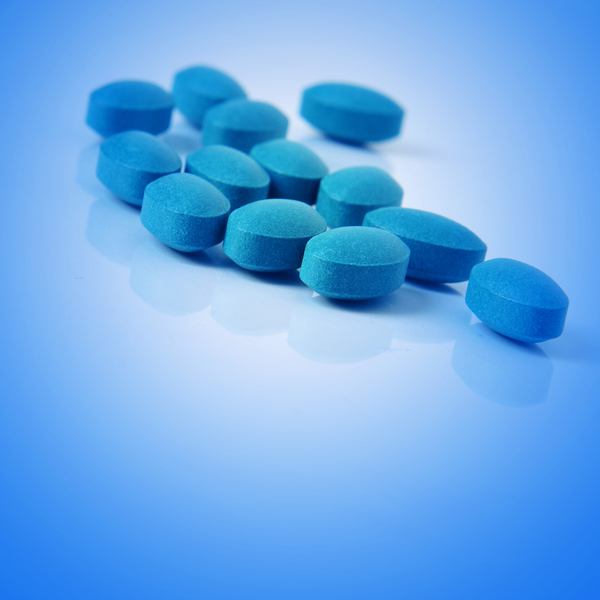 Generic Viagra, scheduled to hit the U.S. market in late 2017, may bear little, if any, resemblance to Pfizer's iconic little blue pill, but it should work just as well as the original.
In the closing days of December 2017, nearly 20 years after Pfizer first introduced Viagra on the American market, a generic formulation of the popular Drug will hit U.S. drugstore shelves. Not surprisingly, the company that will be the first to sell generic Viagra to Americans is Teva Pharmaceuticals, the world's largest manufacturer and marketer of generic drugs.
Pfizer, the U.S.-based pharmaceuticals giant that developed Viagra and brought it to the U.S. market in 1998, has a patent on the little blue pill that remains valid until April 2020. However, under a special licensing deal Pfizer struck with Teva in late 2013, the latter won the right to make and sell generic Viagra beginning in December 2017. For this privilege, it will be required to pay Pfizer a royalty until the expiration of the U.S. drugmaker's patent on the drug in 2020.
Downtrend in Prices Likely
The introduction of a generic formulation of the popular erectile dysfunction drug is expected to signal the beginning of a downtrend in prices for the medication. To compete with the brand-name drug, Teva's generic version will undoubtedly be priced more attractively than the Pfizer original, although the initial difference in prices may not be all that dramatic.
As the first drugmaker to offer a generic version of Viagra on the U.S. market, Teva will enjoy 180 days of market exclusivity, during which no other generic formulation of the medication can be sold here. However, at the end of that period, sometime in June 2018, other generic manufacturers will be free to offer their versions of the drug, subject to approval by the Food and Drug Administration. As more companies compete for a slice of the Viagra market, prices are likely to drop further.
Sells Generic Viagra in EU

Teva has been selling generic Viagra in most countries of the European Union since 2013, the year in which Pfizer's patent on the drug expired in that region. And its generic formulation won FDA approval on March 9, 2016, more than 21 months before the drug's scheduled introduction in mid-December 2017.
Sildenafil citrate is the active ingredient in Viagra, which is currently sold in tablets of 25, 50, and 100 milligrams. The FDA gave the green light to identical dose levels of the drug in its approval of Teva's abbreviated new drug application (ANDA) for its generic formulation.
Although Teva will be first to tap the U.S. market for a generic version of the oral impotence drug, a handful of other companies have ANDAs for their Viagra generics pending before the U.S. drug regulatory agency. Among those other contenders for a piece of the U.S. market for generic Viagra is Mylan N.V., which also sells a generic version of the drug in the European Union.
Teva's US Subsidiary
The headquarters of Teva Pharmaceuticals U.S.A. is in North Wales, Pennsylvania, a northern suburb of Philadelphia. The U.S. branch of the company, a wholly owned subsidiary of the Israeli-based parent corporation, employs about 9,500 workers at more than 30 facilities across the United States and its territories.
The parent company's world headquarters is in Petah Tikva, a bustling industrial center in east-central Israel. The company got its start in 1901 as Salomon, Levin, and Elstein Ltd., a Jerusalem-based distributor of imported medicines. Over the intervening years, the company has grown into a major manufacturer of generic drugs and specialty medications.
Employs 46,000 Worldwide
Active in more than 60 countries worldwide, Teva has an estimated 46,000 employees globally. Based on information available at Teva's website, roughly one in every six of the 3.8 billion generic prescriptions written in the United States is filled with a Teva product. Teva's generic medications include analgesic, antimicrobial, and anti-inflammatory drugs, as well as anticancer, antidiabetic, cardiovascular, dermatologic, respiratory, and women's health medicines.
While it is undoubtedly best known for its wide range of generic pharmaceutical products, Teva also produces a number of specialty medications. The company's net revenues for all of 2016 totaled $21.9 billion, up from about $19.7 billion in 2015. However, its cost of sales was significantly higher in 2016, producing a gross profit of nearly $11.9 billion, up only about 4 percent from $11.4 billion the previous year.
FDA's Standards for Generics
Men with ED who are wondering what they can expect from Teva's generic version of Viagra might be interested to learn more about the FDA's standards for generic drugs. According to the regulatory agency, a generic drug must be "identical — or bioequivalent — to a brand-name drug in dosage form, safety, strength, route of administration, quality, performance characteristics, and intended use."
The FDA points out that while generics must contain the same active ingredient as the brand-name drug they're replacing, the generic's inactive ingredients — such as fillers and coloring agents — need not be the same.
If you would like to stay abreast of the latest developments on the consumer health front, check out our blog.