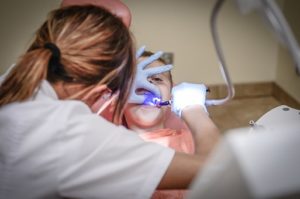 Born with Teeth that are not straight? Have a chipped tooth from playing baseball? Worried about stains on your teeth from drinking tea or coffee? Porcelain Veneers are a great solution for these problems. Veneers offers you a way to correct misshapen tooth or eliminate stains. Why are they so popular now? Porcelain veneers give you the freedom to get a beautiful smile with just one procedure. And with an improved smile comes an improved confidence and self-esteem.
Anyone who has a history of good oral hygiene can be a good candidate for porcelain veneers. Veneers is a great alternative to straightening your teeth. Invisalign or conventional braces can take months or years to perfect your smile. With porcelain veneers, your teeth can look straighter with just a few visits to your dentist. Veneers are made of a thin layer of dental porcelain so it will be very hard to tell that you got them; you will just see people noticing your bright and beautiful smile.
During your consultation, your dentist will examine the current state of your teeth and discuss what you want done about your smile. This would be the perfect opportunity to talk about the color, shape and overall appearance that you want to have for your teeth. You can opt to pick a shade or have a custom color made. After the consultation, your dentist will take a dental impression that the laboratory will use to make the veneers and ensure that they fit like a glove.
Porcelain veneers are very easy to apply. Technological advances have allowed for minimal treatments on the teeth before the veneers are bonded. Once the veneers arrive from the laboratory, your dentist will start applying them to the front halves of your teeth. After they are bonded, you should be good to go. Take note that the veneers are permanently bonded to each tooth so they will not be a bother to you after they are applied. Veneers last long and can easily be applied in as little as two visits.
For people with a busy schedule, it is good news that porcelain veneers are very easy to maintain. You just need to brush your teeth twice daily and floss once a day. But to make sure that they stay pristine for longer, it is recommended that you minimize consuming food and beverages that are known to stain the teeth. If you have any more questions about porcelain veneers and if this will be a good option for you, contact a reputable dentist in your area now.
The post Why Porcelain Veneers Have Gained So Much Presence Since the Last Decade appeared first on D. Dental.