A new report, commissioned by the South African Government, outlines three scenarios for tackling HIV/Aids in the country over the next two decades. Political will and donor funding will determine which the government opts to pursue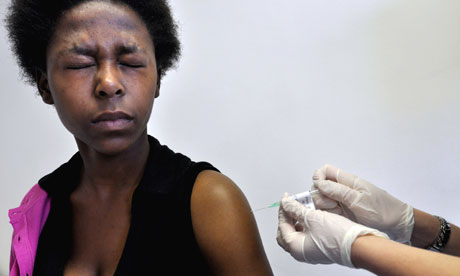 A volunteer is injected with an African-produced HIV vaccine during trials in Cape Town earlier this year. Photograph: Rodger Bosch/AFP/Getty Images
There are more people living with HIV/Aids in South Africa – 5.7 million - than anywhere else in the world. It hasn't got the highest prevalence – that unfortunate title goes to Swaziland, with one in four people infected (among women that amounts to a shocking 31%, compared with 20% among men). But South Africa has a huge mountain to climb to treat its people and protect those who are not infected – half a million become HIV positive every year.
There is every sign that the South African government is going to do all it can. Gone are the doubting days of Thabo Mbeki and his lemon and garlic-advocating health minister, Manto Tshabalala-Msimang. The present government has allocated increasing amounts of money to HIV prevention and treatment and obtained some grants from the US president's emergency fund for Aids relief (Pepfar) and smaller amounts from the Global Fund to fight Aids, TB and malaria.
South Africa is a middle-income country, not poverty-stricken on the scale of much of sub-Saharan Africa. It can fund some of its own response to the epidemic, but clearly the costs could be enormous at a time when every government is struggling to make ends meet. How to tackle it and how much money to spend, not just immediately but for the future, are huge issues.
A major inquiry has now been carried out by the aids2031 South Africa project at the request of the South African Government. This is an investigation by the Cape Town-based Centre for Economic Governance and Aids in Africa with the Results for Development Institute from Washington DC. South African government officials sat on the steering committee. Their report paints three different scenarios for South Africa. It's not the good, the bad and the ugly. Nothing is so simple. The options on offer here are dubbed narrow, expanded and hard choices and it takes the long view, examining what shoould happen over the next 20 years.
Essentially, the narrow option is where South Africa's current Aids plan will take it. Between now and 2031, that will cost R658bn, which is US$88bn. The number of new infections will fall, but only gradually, to about 350,000 a year.
The expanded option is ambitious and has greater focus on prevention. Male circumcision programmes would be introduced, but also behavioural change initiatives, to reduce violence against women and empower commercial sex workers. There would also be some initiatives to reduce poverty and an increase in condom distribution and voluntary HIV counselling and testing. The total cost over the 20 years could reach R765bn, or US$102bn, but new infections would fall to less than 200,000 a year.
The hard choices programme envisages the government taking the difficult decision to focus on what works best, at a time of financial austerity. Male circumcision would be rapidly scaled up, but some other interventions, for instance to help orphans and vulnerable children, would be curtailed. It's the cheapest option, at R598bn, or US$79bn, but new infections would still fall to 225,000 a year, the group says.
The expanded scenario is clearly the best. This is what the report says:
"If considerably greater political will and financial resources can be mobilised and the South African society can be motivated to adopt important social and behavioural changes... a powerful change in the epidemic could occur, with lower rates on infection and mortality.

"If the financial resources for HIV/Aids are highly constrained and political backing remains strong but more moderate than under the expanded... scenario, then the more targeted approach under the hard choices is still an attractive alternative to the status quo."
Robert Hecht, one of the authors and managing director of Results for Development, pointed out that South Africa funds 70% of the US$2bn spent on HIV/Aids in the country itself. But South Africa will need donor help to get through a substantial scale-up, and donors, in these straitened times, may feel they should be helping the poorest countries more. The report offers a powerful argument for helping South Africa too.
"They need to get through this period of rapid increase in spending need, allow the donors to feel they are addressing the most significant HIV/Aids epidemic anywhere in the world and justify to their own population that the money is well-spent," he says, adding: "We don't want this to be a report that sits on the shelf."
On the government side, Mark Blecher, acting chief director, health and social development at the Treasury, who was co-chairman of the steering committee, said he thought it was "a valuable report... it suggests we need to keep accelerating our programmes quite rapidly".
He hopes that Pepfar and the Global Fund can be encouraged to support South Africa's scale-up of treatment and prevention for the next five years. If they do, the report suggests that the epidemic may level off to a point where the South African government can find most of the resources itself.
So which scenario will the government choose? Blecher hedges. "We need more thinking on that," he says. Undoubtedly. This is about political will as well as persuading the donors to help and there are few governments that engage in policies for the long-term. Twenty years is a very long time in politics. So even thinking about it should be warmly applauded.