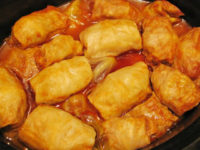 Halupki, also known as stuffed Cabbage in the Russian/Ukrainian world, is a dish made of rice, beef, even grains of several types and even pork wrapped in cabbage. My grandma Opal Stroud (German name of course said the horse,) taught me how to make this delicious food for the poor people we were. Every family has their own version of this traditional/cultural dish (all over the world.) I hope you enjoy these with mashed potatoes, corn and or even green beans, just as we always did in my family and the family I have now! Wrap it in cabbage leaves and call it Halupki…
Ingredients
1 head cabbage…
enough water to cover cabbage cut up…
1/4 teaspoon salt/pepper…
3 pounds lean ground beef, pork, and or whatever…
1 1/2 cups cooked white rice, even buckwheat (In Russia гречиха (grechikha))…
1/4 cup finely chopped onion a little bit of chopped garlic if desired and or leave this out completely…
2 tablespoons chopped fresh parsley (Who cares really for this?)
2 complete eggs, shelled and slightly beaten…
salt to boil with…
1 (28 ounce) can tomato sauce or even tomato paste will do…
2 2/3 tablespoons white sugar (Really could do without…)
Directions
Place the cabbage in a stockpot with enough water to cover. Add 1/4 teaspoon salt to the water and cabbage. Bring water to a boil over medium-high heat. Turn cabbage every 2-3 minutes and remove leaves that separate from cabbage and place in a strainer to cool. Boil until all the leaves have cooked, about 15 minutes. they start to become translucent and flexible….Reserve aside 16 oz. of cabbage water…
Preheat the oven to 350 degrees F (175 degrees C). While waiting to cook cabbage…
Trim thickest bottom vein off of bottom of each cabbage leaf. Before using…
In a large bowl thoroughly mix together, ground beef, ground pork, rice, chopped onion, fresh parsley, egg lightly whipped, garlic powder and or real garlic, salt, and pepper…
Lightly pack a small amount of meat mixture and place in the center of the cabbage leaf. on a board…
Fold sides over the filling and start at the stem and roll the cabbage up until the meat is covered with the whole leaf….Repeat with remaining leaves and filling…
Toss the leftover leaves that are pieces and place into the bottom of a nonstick roasting pan.
Layer the stuffed cabbage rolls over the cut/chopped/broken cabbage leaves.
In a bowl, mix the tomato sauce, reserved cabbage water, and white sugar…
Pour the tomato sauce mixture over the cabbage rolls…
Cover roasting pan with aluminum foil. Or a lid that fits if oven proof…
Bake in preheated oven until the ground beef mixture is no longer pink in the center, about 2 hours.
Baste stuffed cabbage rolls every half hour or better…
I like to cut baking time into half, by cooking the mixture first. Your choice…
In a large bowl thoroughly mix together, ground beef, ground pork, rice, chopped onion, fresh parsley, egg lightly whipped, garlic powder and or real garlic, salt, and pepper…
Take above and fry in skillet until done and browned and use to roll up in the leaves of the cabbage…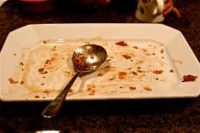 Can't tell the difference in taste and definitely saves time. You also just adjust flavors in your mind to what tastes good to you. More salt, more pepper and tons of garlic. Yummy!
Add a can of corn, green beans and or what ever and cook at the same time. Just use your imagination and go for it. I will say this, "It is easy to make, cheap to make and leftovers are never a problem."
Make a huge batch and freeze half of it for next week…
Now you know what to do with that giant head of cabbage?
WtR
PS: Variations in the world:

Grandma called them Kohlrouladens and used a brown gravy to smother them in… but they are called many things and eaten to the last many places around the world…
Balandėliai (little pigeons) – Lithuania
Галубцы[Halubcy] – Belarus
Голубцы[Golubtsy] (little pigeons) – Russia
Gołąbki (little pigeons) – Poland
Голубці[Holubtsi] – (little pigeons) – Ukraine
Tīteņi – Latvia
Holubky – Czech Republic and Slovakia
Holishkes – Ashkenazi Jewish
Prakas – Ashkenazi Jewish
Krouv Memula – Israel
Kåldolmar – Sweden
Kaalikääryle – Finland
Kapsarull – Estonia
Töltött káposzta – Hungary
Japrak or Sarma (Sarma me lakër të bardhë) – Albania
Сарма (sarma) – Republic of Macedonia
Сарма (sarma) – Serbia
Sarma/Сарма – Bosnia and Herzegovina
Punjeni kupus or Arambašići – Croatia
Сарми (Sarma) – Bulgaria
Sarmale – Romania, Moldova
Sarma – the Balkans and Turkey
Lahana dolması – Turkey
Lahanodolmades (Λαχανοντολμάδες) – Greece
Kələm dolması – Azerbaijan
Kaghambi tolma (կաղամբի տոլմա) – Armenia
Tolma (ტოლმა) – Georgia
Dolmeye Kalam (cabbage dolma) – Iran
Malfoof mahshi (محشي ملفوف) – the Levant
Mahshi kuronb (محشي كرنب) – Egypt and Sudan
Kohlroulade[Kohlroulade] and Krautwickel – Germany and Austria
Chou farci[Chou farci] – France
Cigares au chou – Quebec
Involtini di cavolo – Italy
Capuns – Graubunden, Switzerland and Lombardy, Italy
Bragioli – Malta
Niños Envueltos – Argentina, Dominican Republic, Ecuador, Mexico and Chile
Charuto de Repolho – Brazil
Aluske – Paraná, Santa Catarina, and Rio Grande do Sul (Brazil)
Bai Cai Juan (白菜卷) – China
Rōru kyabetsu (ロールキャベツ) – Japan
Cải bắp cuốn[Bắp cải cuốn thịt] – Vietnam
Another recipe to use from WtR
Recipe From Russia: Simply a Golubtsy!