Courtesy of the Daily Mail:
A fellow porn star has backed up Stormy Daniels' claims that she was once threatened to stay silent about her alleged affair with Donald Trump. Daniels claims she was once threatened in a parking lot in 2011 after she told a tabloid about her affair with the then-real estate mogul. Now Jessica Drake, who claims she turned down a $10,000 offer to have sex with Trump after meeting him at a Lake Tahoe golf event in 2006, says that Daniels told her about the alleged threat on two separate occasions. 'She actually told me about the threat twice,' Drake said, during her appearance on Good Morning America on Monday. 'So the first time she told me about the threat was shortly after it happened. She relayed the experience to me. I said something like, 'I'm so sorry, I can't even imagine. What are you going to do?" The adult movie star described how she and Daniels met Trump at the 2006 golf event. Drake says they, and a third woman, were invited back to his hotel suite where he allegedly kissed them and asked them a number of questions. 'We were ushered into the room,' Drake said. 'And I remember he was wearing pajamas. And he kissed all of us on the lips and kind of, you know, one of those real close, full-body contact hugs. I do believe 100 percent that he was vetting us to see which one or how many of us he liked.' Drake said the trio left but she later got a call from a Trump employee asking her if she would come back for $10,000. She says that while she refused, Daniels went back to the future president's room.
I think this is at least the third, or perhaps fourth, woman who has come forward to say that Donald Trump offered them money for sex.
And she just one of over a dozen to accuse Trump of grabbing her and kissing her without permission.
Donald Trump clearly only thinks of women as sexual objects that he can use as he pleases any time he feels the urge.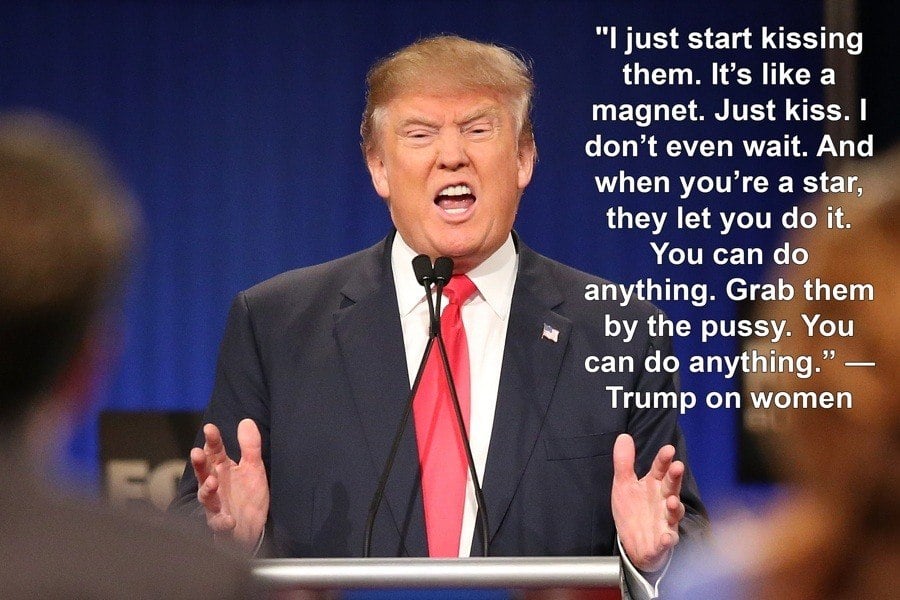 But then we already knew that, didn't we?