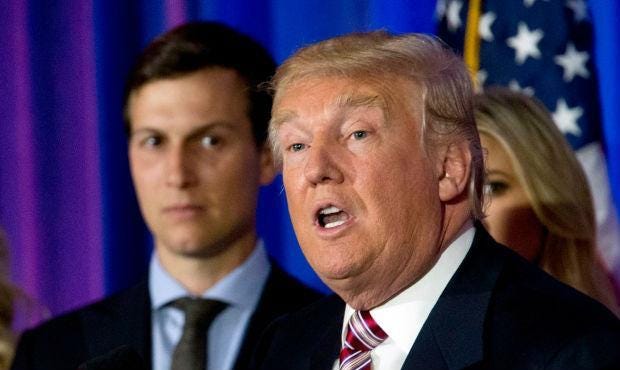 Courtesy of New York Magazine:
Apparently the Trump administration is worried that despite the president calling CNN "fake news" at every opportunity, the network isn't aware that he doesn't care for their coverage. The Wall Street Journal reports that during a recent meeting with a top Time Warner Inc. executive Jared Kushner, Trump's son-in-law and adviser, complained that the network's coverage is biased against the president. Kushner is a longtime friend of Gary Ginsberg, who's an executive vice-president of corporate marketing and communications at CNN's parent company. During a wide-ranging discussion at the White House, Kushner reportedly complained about specific anti-Trump CNN contributors, including Van Jones, a Democrat who worked in the Obama administration, and Ana Navarro, a Republican strategist.
Of course both Van Jones and Navarro are non-whites so how dare they disrespect Herr Fuehrer.
Wonder when he will send Kushner to bitch about Fox's Shepherd Smith or CNN's Jake Tapper who both described his last press conference as "unhinged" and "crazy?"
These were the responses from Van Jones and Navarro to hearing they were singled out for criticism.
"Got a lotta people tryna drain me of this energy." :) But y'all know @CNN has our backs. Do you? RT if yes! (@jaredkushner, u can RT, 2!) https://t.co/DQzfY15f9m

— Van Jones (@VanJones68) February 17, 2017
Really, Little Jared complaining about me cuz I get under

President

Daddy-in-Law's skin? Oh, baby boy, I'm so sorry. https://t.co/4W8Sh9sHxy

— Ana Navarro (@ananavarro) February 17, 2017
Does not sound like they are too terribly intimidated. Interestingly enough in the third paragraph of the New York Magazine article they reveal what Trump might be using to intimidate their bosses however:
They did not discuss Time Warner's proposed $85.4 billion sale to AT&T, which is awaiting government approval. In an October speech, President Trump said his administration would not approve the merger "because it's too much concentration of power in the hands of too few." Bloomberg reported that Trump's opposition to the deal actually comes "partly from his frustration with CNN, which is owned by Time Warner."
In other words Trump seems to be willing to use the power of his presidency to get back at the MSM, or as he labels them "America's enemies," by blocking business deals and damaging their ability to make a profit.
These are of course the techniques he used as an unscrupulous New York businessman, but they have no place in the White House.
The president is supposed make decisions based on what is, or is not, good for the country,
Not on his own personal vendettas.