Longest stint of unrest in Kashmir continues
01 Jan 2017
Kashmir has been embroiled in turmoil since July, 2015.
On July 8, 22-year old Burhan Wani, a local Hizbul Mujahideen commander, part of a resurgent terrorist group in Kashmir, was shot dead by security forces.
50,000 people attended his funeral procession; Kashmir continues to endure aftershocks triggered by Wani's death.
Could Mehbooba Mufti finally bring a ray of light to Kashmir in 2017?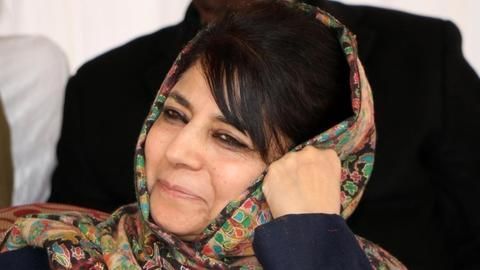 Is there a glimmer of hope?
Diffusing situation
For Kashmir to trudge back to normalcy, all eyes are on J&K CM Mehbooba Mufti.
Mufti took on CM's mantle in March post her father's death, has urged people to give her an opportunity to prove herself.
Her promises of developing Kashmir and increasing employment have yet to take shape.
If in 2017, Mufti can move closer towards these goals, there maybe some hope.
59 Kashmiris have joined militancy post Burhan Wani's death
06 Jan 2017
After the killing of Hizb-ul Mujahideen commander Burhan Wani, 66 weapons including 17 AK rifles and 7,000 rounds of ammunition have been looted by militants and mobs in Kashmir.
Weapons also included 23 SLR rifles, 14 INSAS rifles, 6 pistols, 1 .303 rifle, 1 carbine, 3 UBGL thrower and 1 taser gun.
16 loot incidents took place last year with 59 youth joining militancy.
Surge in militancy in J&K
FACT
There has been a spike in the number of militants in J&K, with about 450 terrorists actively operating now. More locals are taking up arms compared to foreign ones. At least 25 terrorists have managed to escape in the last year with help from stone-pelters.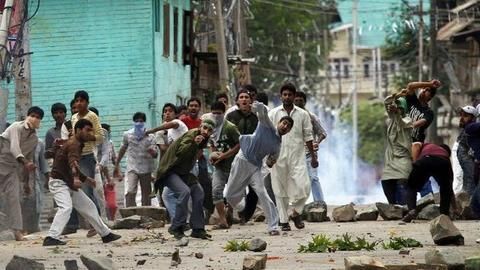 Terrorist killed in Tral near Srinagar, curfew clamped
05 Mar 2017
A terrorist was killed in an encounter with security forces in Tral near Srinagar. Special forces troops were conducting combing operations when they encountered 4-5 LeT terrorists.
The body of one terrorist has been recovered, while search is on for the others. Curfew is imposed in the area.
Protesters had gathered in the area, and even snatched the rifle of a CRPF jawan.
J&K DGP warns terrorists against attacking families of police personnel
FACT
After terrorists ransacked the house of a police officer and threatened his family, Jammu and Kashmir DGP S.P. Vaid on March 8 warned terrorists against attacking families of personnel. "If you harass our families we will do same to your families," he said.
J&K: Fierce encounter in Pulwama's Padgampora, second in four days
09 Mar 2017
A fierce encounter broke out between security forces and Hizbul Mujahideen terrorists in Padgampora of Pulwama district in Kashmir. Two-three terrorists are believed to be holed up.
CRPF and Special Operations Group personnel have cordoned off the area and launched search operations.
This is Padgampora's second major encounter in four days.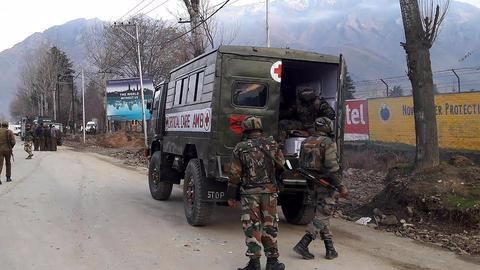 Ceasefire violation in Poonch kills 1
10 Mar 2017
The Pakistan Army from across the Line of Control started firing on the Indian forward positions in the Poonch sector; 1 army jawan was killed.
The ceasefire violation took place on Thursday afternoon.
27-year-old Sepoy Deepak Jagannath Ghadge was shifted to a hospital, but he succumbed to his bullet injuries.
He hailed from Borgaon in the Satara district of Maharashtra.
Ceasefire violated in Poonch
12 Mar 2017
The Pakistani army has violated the ceasefire in Poonch, and has resorted to mortar shelling in the region.
The army has begun retaliating and so far there has been no casualty on the Indian side.
Defence ministry spokespersons said Pakistan resorted to "unprovoked ceasefire violation in Krishna Ghati Sector in Poonch district from 1200 hours, using 82 mm mortars and automatic weapons."
Pakistan repeats ceasefire violation along LoC
13 Mar 2017
Continuing their spate of ceasefire violations, Pakistan violated the ceasefire for the second time in 24 hours along the LoC in Poonch. The Army said Pakistan used 82mm mortar shells and automatic weapons.
Indian army troops responded to the ceasefire violation with equal force.
There has been no casualty on the Indian side and the firing is going on intermittently.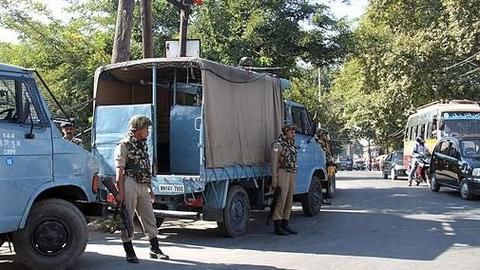 3 terrorists killed in J&K encounter
15 Mar 2017
Three terrorists were killed in an encounter with J&K police in Kupwara. One policeman was also injured in the encounter.
Forces had launched a search operation in the area following intelligence inputs about the movement of terrorists in the region. The terrorists are yet to be identified.
Search operations are still underway to see if there are more terrorists in the area.