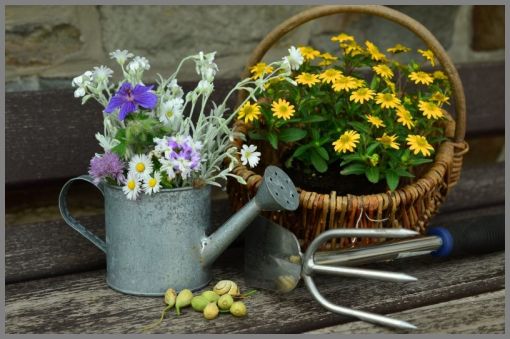 So, i went out for a stroll in the garden and realized the plants were scorched and limp from the sudden rise in temperature. It was past sunset and while i contemplated Watering or not, it occurred to me how many new gardeners are confused about watering (I was there once!).
It may seem like the simplest garden task BUT contributes significantly to plant health.Hence, in the simplest language possible, here's a
NEWBIE's GUIDE TO CORRECTLY WATERING PLANTS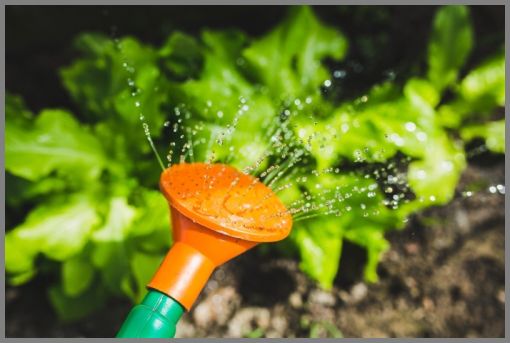 WHAT IS THE BEST TIME TO WATER PLANTS – MORNING OR EVENING?
This is the trickiest! The basic requirement is that the roots get ample time to soak up the water before it is evaporated by the sun. e.g. In summers water early in the morning so that the planters do not dry out immediately or in the evening after the glare has lessened.
In winters, watering in the morning is the best choice for reasons stated below.
P.S. I have been known to water mid-noon in the glaring sun out of desperation either when a plant seems almost dead or i am travelling. Not a good habit at all but works in an emergency ONLY.
HOW MUCH TO WATER PLANTS?
If the soil looks dry or the leaves appear wilted, water it! All plants have varying watering requirements. To fix a schedule, water a plant thoroughly once and note after how long does it demand water again.Do this for a few days to figure out its schedule. Group plants with similar timings together.
Generally planters require water once a day in summers and once every 2 days in winters with moderate sunshine. Rainy and cloudy days are obvious exceptions. Gardening does benefit from a bit of
common sense, isn't it?
If it leaves appear dry, crumbly or shrunk, the plant needs water.
If they appear yellowing and wilted, over-watering may be one of the causes.(Because it may also be a deficiency)
If you notice thinning or rotting at the base(specially annuals like gerbera), either you are watering too much or it isn't draining properly. Plants must never float or stand in water! (unless you are growing rice
)
This applies to perennials- Water thoroughly then wait for the soil to almost dry out before watering again. This strengthens the root system of the plant. Too much watering weakens the plants just like too much pampering spoils kids *just saying*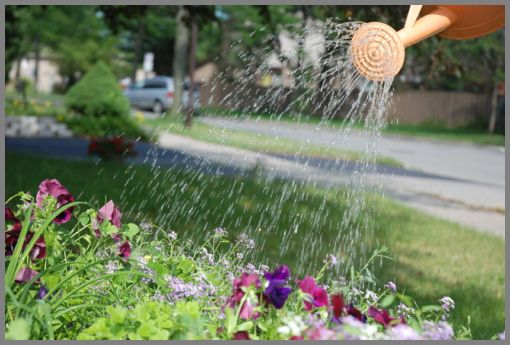 WATERING CORRECTLY TO PREVENT DISEASES
IF you like to wash the leaves of perennials, watering early in the morning is the best choice so that the leaves can dry out.
Damp and dark breeds diseases so NEVER water after sunset or in the dark.
With the abundance of delicate annuals in winters, it is important to let the wet leaves dry out else they may rot. This is the most common reason for annuals dying. This is specially true for plants that are grouped together with less air circulation.
Subscribe in a reader
WATERING PLANTS ACCORDING TO PLANTER TYPE
Porous(terracotta, cement) planters allow water to evaporate more quickly than plastic.
Smaller ones(obviously) dry out much more quickly than larger ones.
For most annuals, i like to use small to medium planters. In winters, i pick terracotta since it helps with drainage and prevents fungus. In summers, my choice is plastic to retain water OR terracotta kept in partial shade. (Did you read it again? I bet you did!)

WATERING PLANTS ACCORDING TO SOIL TYPE
Yellow or clayey soil compacts easily and isn't the ideal. It does not allow water to even pass through when completely dry, forget retention, so before you worry about watering, amend it with some compost or cocopeat.
Sandy soil allows quick drainage and demands more water.
Cocopeat, perlite(read more here) retain water and reduce the need. Take care of drainage with these.
Compost helps soil retain adequate amount of water along with providing adequate amount of nutrients. If visible on the surface it must appear rich, dark brown.
Now, if all of the above was too much to handle, here's a summary:
The basic aim is to provide water to the roots for a sufficient amount of time so that they may absorb the required quantity. The excess must drain out or evaporate slowly. Leaves, if wet, must dry out in the daylight because dark & damp means disease. That's it!
Hope that helped(well, i tried!)
I would love to hear your views and inputs. What do you think is the best way and time to water? Do comment!
JOIN OUR GARDENING COMMUNITY ON FB FOR MORE TIPS AND TRICKS!

Subscribe in a reader