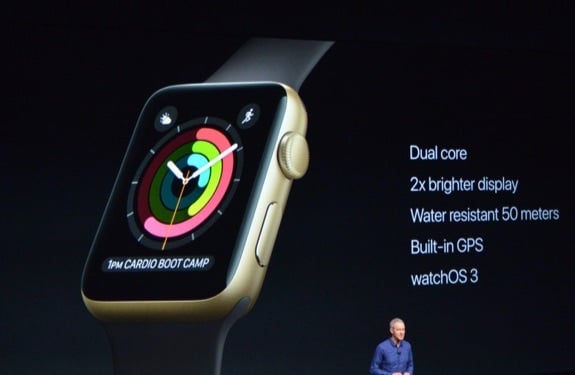 During today's iPhone 7 event, Apple announced the new Apple Watch Series 2. The new Series 2 Watch is now swim proof, and can withstand depths of up to 50 meters. The display tech has been improved as well, with a 1,000 nit brightness level, and that's paired with the new S2 chip to provide more power to the Apple Watch. It's a dual-core chip that allows for 60 frames per second on your wrist. To keep up with sports watches, there's also a built-in GPS sensor which can work independently of Wi-Fi, so if you're out on a hike, your Watch Series 2 will work for you.
Apple also announced a new ceramic finish for the Apple Watch Series 2, which is a new addition and will sit alongside the Apple Watch Sport's aluminum finish and the stainless steel models.
Theres a new Apple Watch version as well, in the Apple Watch Nike+, which features a perforated Sport band. The Nike+ version of the Apple Watch includes software optimized for runners, including shortcuts for starting a run, custom motivation for runners, and more.
You'll be a ble to pick up the new Apple Watch Series 2 on September 16th, and it starts at $369. You can also pick up the original Apple Watch Series 1, which is updated with the new S2 chip, for $269.
Tags: apple watch, apple watch 2, apple watch 2 battery, apple watch bands, apple watch battery, fitness, iphone 7 event, wearables,
Apple Watch Series 2: Improved fitness tracking, swim proof, better battery, $369 on September 16th originally appeared on Gear Live on Wed, September 07, 2016 - 9:24:50