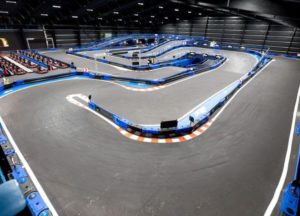 Whether you are on vacation or looking to check some bucket lists, go karting tracks in the US are a site to see. While I haven't been to all all of these, I really got some great input from other karts around the country on which tracks to include. Obviously, when you create a top list of anything there is a lot of debate and discussion around what to include and what to leave off. We considered all things here from about 4000 tracks, Indoor, outdoor, multi-level tracks and then waddled it down to 11. Here is our official list of the best go kart tracks in America.
11 Best Go Kart Tracks in America
1. SuperCharged Entertainment,
Massachusetts
SuperCharged in Wrentham, Massachusetts features world's largest multi-level indoor go-kart track. There are two tracks that can be combined into an 80,000 sqft of driving surface. There are elevation changes, bridges, dips and they have zero emission karts. While these are not the fastest karts on our list, this is on of the coolest track experiences. You must be 4 foot 10 to race and there are other things lo do like video games and trampolines.
2 . Fasttimes, Indiana
For a super cool go-kart track, head on down to Fasttimes Indiana, here you'll find a 900ft indoor track. Those who are looking for a track to test their endurance certainly won't be disappointed; expect speeds of up to 45mph. Roger Wethington wanted to provide a grip track for racers of every caliber, (and boy did he deliver)! Here you can book VIP team building events, bachelor parties, and more!
3. Kart Kountry, Kentucky
Kart Kountry is the largest track in the whole of the country! At KK there are outdoor go-Kart Tracks of five different sizes. Thunder Road is an impressive 1.5 miles long; people travel from all over to put their karting skills to the test! Then there's the epic Thunderbolts track to tear it up on; drivers must have a valid permit and be 16 + years. It's a kid-friendly facility where children aged 5 and up can have some go-karting fun on the smaller tracks. Once you've had enough of go-karting, there are plenty of other activities including bumper boats and miniature golf.
4. Orlando Kart Center, Florida
The Orlando Kart Center boasts two outdoor tracks, a longer track of around 8/10 mile long and a shorter track of 6/10 mile long. These tracks are plenty of fun, with turns and curbs to test your ability! These karts can reach speeds of 45 miles per hour. No license is required; these guys have all that you need to start racing. There's a 60inch height restriction, but no age restrictions to race.
5. Andretti Indoor Karting & Games, Orlando
Andretti Indoor Karting has the longest indoor track in the world. Expect plenty of banked turns and elevation changes for a ride you'll never forget! While you're here, don't forget to check out the arcades, laser tag, and the epic ropes course. Andretti is available to hire for birthday parties, corporate events, and more.
6. Octane Raceway, Scottsdale
Racing enthusiasts won't want to miss out on this ⅓ mile indoor and outdoor track. Come and experience the adrenaline rush of your life, aiming for those top speeds of 45mph. Gaming fanatics simply must check out Velocity VR; the experience is brought to you by Zero Latency, (one of the top pioneers in VR gaming). Thrill-seekers are sure to have a blast here.
7. Kart 2 Kart, Detroit
Looking for a killer race track in the Detroit area? Kart 2 Kart has got the fastest go-karts in the whole of Detroit. Here you'll experience a ⅕ mile indoor track, suitable for seasoned racers and newbies alike. There's plenty on offer, from 2-3 race packages, 8-minute driving sessions, annual memberships, and birthday party specials. For a family day out to remember, Kart 2 Kart is the place to be.
8. Dallas Karting Complex
The Dallas Karting Complex offers an impressive 0.8-mile track; brave the 17 sharp twists and turns to keep you on your toes. DKC is on a mission to popularize go-karting in North Texas; it is suitable for recreational purposes and competitive racing. Details of how to get involved with the league racing are available on the website.
9. Xtreme Go-Karts, Branson
At Xtreme, you'll find high-speed European karts, (the fastest in Branson)! Xtreme has a fantastic 3,500-foot raceway; North America's longest high-speed track. The center has a super sophisticated lap timing system, accurate to .001 secs! The kiddies aren't left out as there's also a junior track. To ride this track, you'll need to be 48" at least, and seven years+.
10. Miami GP Raceway, Miami
Miami GP is home to Miami's fastest go-karts, here you've got a large outdoor track just 20 mins from South Beach and the Airport. You'll have plenty of laughs tackling eleven turns on this intense ½ mile track. Miami GP has an electronic timing system, endurance racing, plus adult parties, and corporate events.
11. K1 Speed, Florida
The K1 Speed center in Fort Lauderdale is really something special. There are three tracks indoors, featuring zero-emission karts. Whether you're a beginner or a pro, you'll just love these karts and the challenging race tracks. The go-karts here can reach speeds of 45mph, and you'll find that the racing surface has an excellent high-grip. With epic traction, you can push your skills to the limit. Available for birthday parties, work events, bachelor parties, and more. K1 Speed also runs a popular junior league; check the website for further info.
Best Go Kart Tracks in America – Final Words
So that is our list of the best go kart tracks in America. This is a mix of indoor and outdoor tracks to establish the best tracks in the US. In the future we make break down the best indoor tracks in a list and the best outdoor tracks in a list. There are always new tracks being built and so we will come back and revisit this list from time to time. If you plan on making a trip to any of these locations, you may want to check out our article on winning strategies for newbies.
The post 11 Best Go Kart Tracks in America appeared first on Go Kart Racing Near Me.