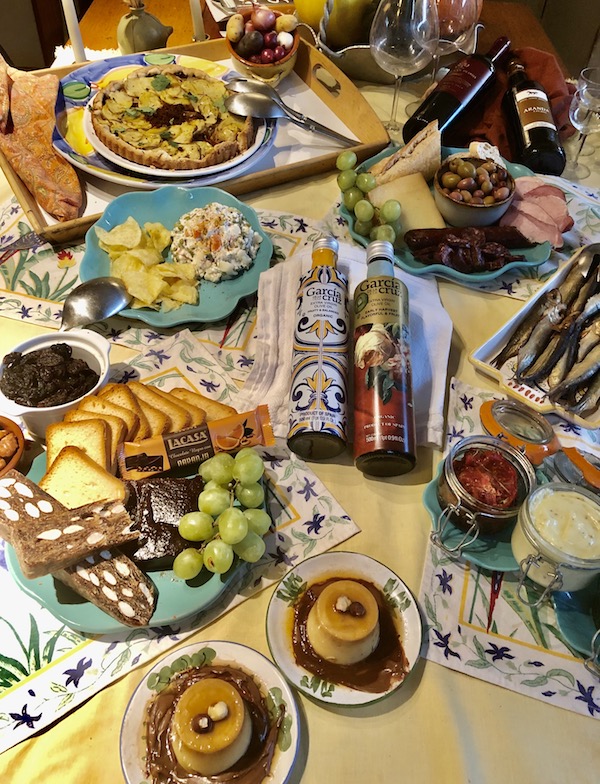 On the menu are: a chestnut soup, Tortilla La Espańola with potato and onion, flavored with wild black garlic. A cheeseboard filled with specialty items from Spain will be offered so guests can choose from savory Salamanca dry-cured Iberico de cebo pork salchichón; Idiazabal do (Craw Sheep milk smoked basque, aged 60 days); Spanish green and black olives; quince paste and a roasted garlic tomato to spread onto barra (like a French baguette), and tomatohazelnuts from Galacia. To choose from on the sweeter side: a dense fig almond cake; almendra garrapiñada (sugar coated almonds), black dried raisins and fresh grapes.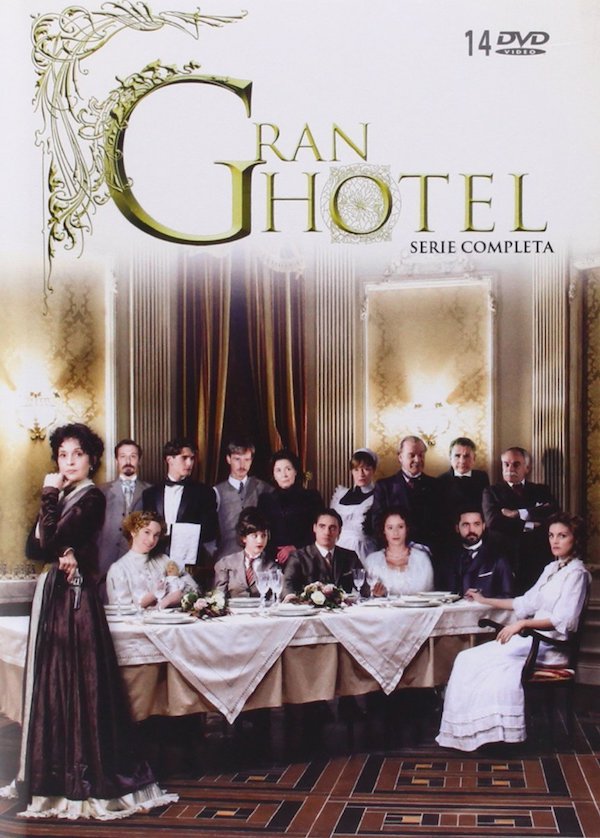 García de la Cruz was founded in 1872, and the table set here is in 1905 so we are sure that our Thanksgiving feast highlighted by the extra virgin olive oil is "Gran Hotel" worthy – and may have even served at the real hotel!
Fine Olive oils should only be used for dipping finishing touches to dishes, and only when they are cool because the flavor of the oil changes when heated. This is especially true with refined García de la Cruz, the early harvest Olive Oil in its exquisite bottle. Even its regal citrus green color reflects the fullness of the fruit at the time of its harvest, giving a hint of the elaborate aromas and flavor to follow.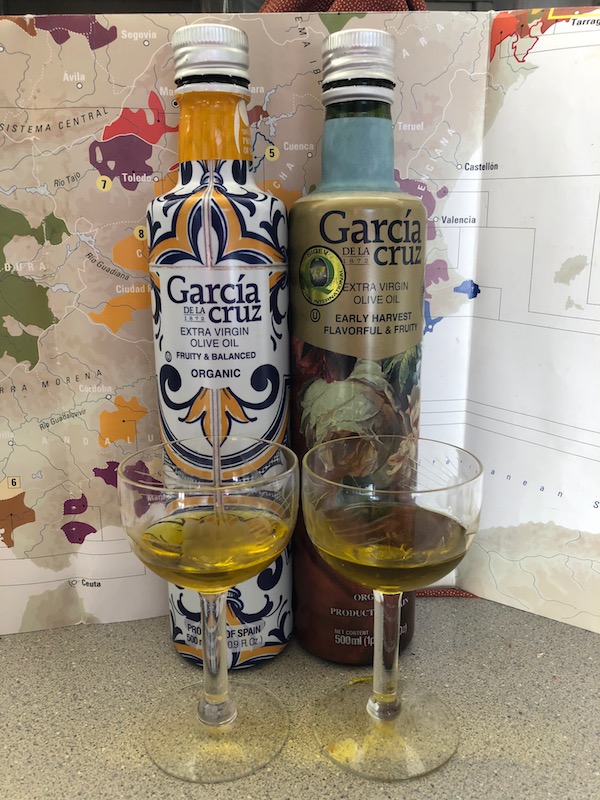 No goblet is too good for the Garcia de la Cruz extra virgin olive oil, which we have on our Spanish-themed Thanksgiving table alongside fresh bread.
And we also loved using a little bit of it to give an added oomph to these homespun classics we make regularly. Just open the bottle and add a layer of the oil to make the flavors come alive and vibrant.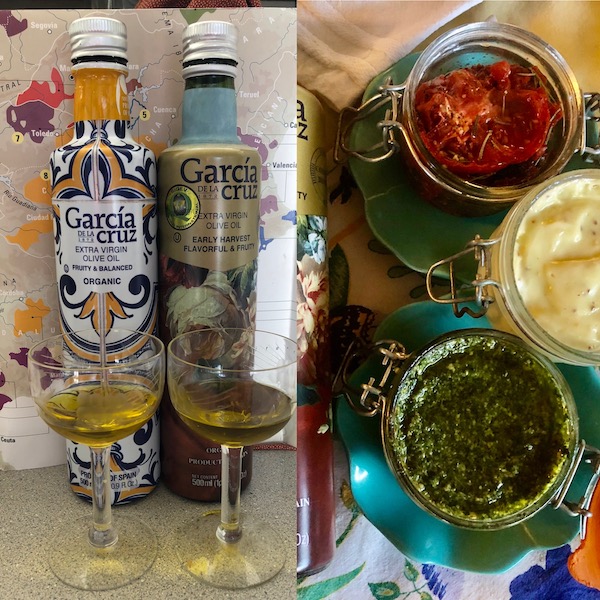 A layer of García de la Cruz olive oil over the roasted tomatoes, homemade mayonnaise and pesto gives it an instant, added vibrancy
Roasted Tomato (www.wimpy vegetarian.com, via shockinglydelish
All you need to make these roasted tomatoes in a bottle are tomatoes, salt, pepper, olive oil, salt, a drizzle of balsamic vinegar and garlic. This is more to a cook's taste than exact amounts. Because the tomatoes are being roasted, it is better to use firm, older one.
Simply slice tomatoes and drizzle them evenly with the rest of the ingredients. Roast at 350 degrees until they look crisp around the edges. Cool and bottle.
Homemade Mayonaise
1 large egg at room temperature
1 tablespoon Dijon mustard
1 tablespoon red or white wine vinegar
1/4 teaspoon kosher salt to taste
1 cup grapeseed oil
generous drizzle of García de la Cruz extra virgin olive oil
lemon juice, optional
Place the raw egg in a food processor and pulse for 20 seconds. Add the mustard, vinegar, and salt, and process another 20 seconds.
Scrape down the bowl sides in the food processor. Slowly add ¼ of the oil in drops to emulsify. Once emulsification begins, gently stream in the rest of the oil. Scrape and process an extra 10 seconds. Taste and adjust with seasonings and lemon juice for taste.
Pesto
Cup of fresh basil leaves
3 cloves garlic
3 tablespoons pine nuts
kosher salt and ground pepper to taste
1/3 cup olive or grapeseed oil
Combine basic, garlic, pine nuts and Parmasan in the food processor bowl. Season with a slow stream of oil until emulsified. Season to taste.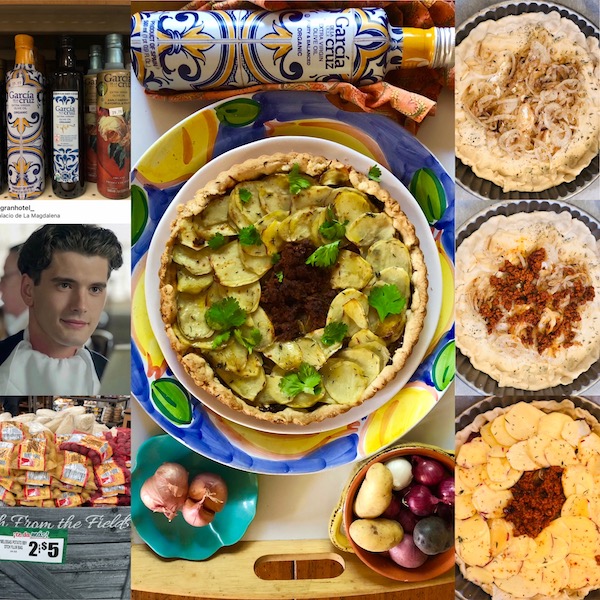 The García de la Cruz inspired tart with a drizzle of the extra virgin olive oil on top. Spanish chorizo lends heat to the potatoes, , shallots, garlic and parsley
García de la Cruz Tart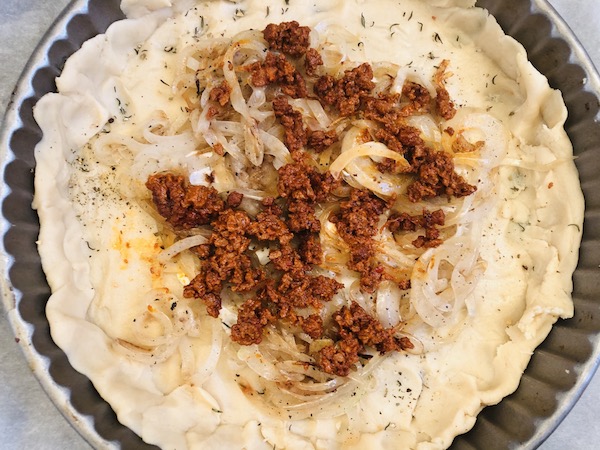 Spanish Sweet paprika gave the country's chorizo its characteristic and now world-famous color.
For the García de la cruz tart filling
2 tablespoons olive oil, divided
1 large red onion, thinly sliced
2 leafy sprigs sage (about 10 medium leaves)
8 ounces basque cheese
1 garlic clove, crushed
1 tablespoon parsley leaves, chopped
black pepper to season
5 small potatoes
1 teaspoon salt
1 tablespoon hazelnuts, chopped
Heat one tablespoon of olive oil in a large skillet until hot but not smoking. Add onion and cook over medium heat, stirring occasionally until softened and golden brown, about 7 minutes. Remove from the heat. Strip the leaves from one of the sage sprigs, chop the leaves, and stir into the onions. Set aside.
Combine the basque cheese cheese, ricotta cheese, garlic, and parsley in a medium bowl. Season with black pepper.
Slice the potatoes thinly. Place another tablespoon of olive oil and salt into a bowl and stir in the potato slices, making sure they are all coated with oil.
Roll out the chilled dough to 1/4-inch thick and trim any uneven edges until you get a circle about 14 inches across. Place the dough circle on a baking sheet lined with parchment paper. Spread the cooled onions evenly over the dough, leaving a 3-inch outer border. Spoon the cheese mix over the onions and fold up the edges of the dough, tucking and pleating as you go a bit rustic.
Arrange the oiled potato slices close to each over the visible cheese mix, overlapping slightly (the crostata will expand), and brush some of the previously reserved egg white, thinned with a splash of cold water, evenly over the crust.
Bake the crostata 40–45 minutes until the crust is golden brown and the potatoes are cooked through. Remove from the oven and cool slightly on the baking sheet before serving. Chop the leaves from the second sprig of sage and sprinkle over the finished crostata. This is quite rich, so I like to serve it with just a simple green salad.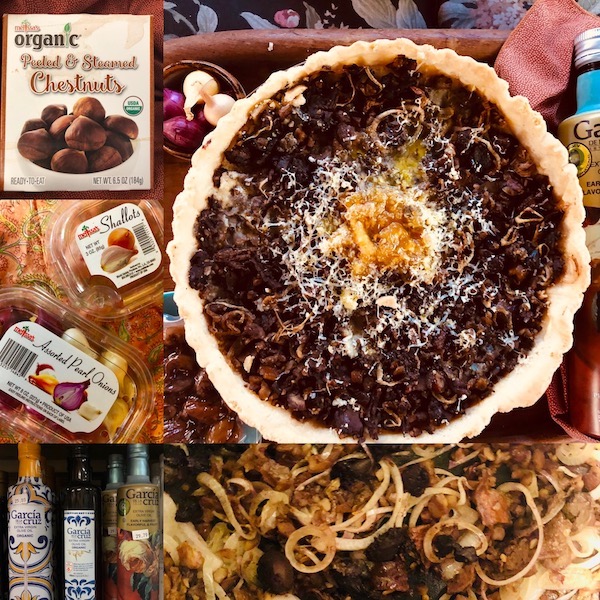 Our Spanish-influenced Rustic Wild Mushroom, Chestnut and Black Garlic Tart features shallots, wild mushrooms and wild black garlic
Rustic Wild Mushroom, Chestnut and Black Garlic Tart
110 g plain flour
50 g unsalted butter, chilled
50 g 3.5 tablespoons unsalted butter, chilled
a pinch of salt
10 small pearl onions
1 large wild black garlic clove
4 cups mixed wild mushrooms
2 ½ Melissa's steamed and peeled chestnuts
3 tablespoons orange preserves with peel, sweetened with grape juice
2 sprigs fresh time
Finely slice the onions, garlic and mushrooms. Smash the chestnuts into a soft mixture close to a puree.
Heat 2 tablespoons olive oil in a large frying pan over a high heat. Add onions, stirring constantly until caramelized. Add the garlic, mushrooms, thyme and chestnuts, cooking until mushrooms are golden brown. Season to taste and cool
Blind bake at 250 degrees and cool for five minutes.
Add the mushroom mix to the pastry case and bake 20 minutes 350F
To serve, drizzle with García de la cruz extra virgin olive oil and sprinkle with thyme.
Comida Feliz!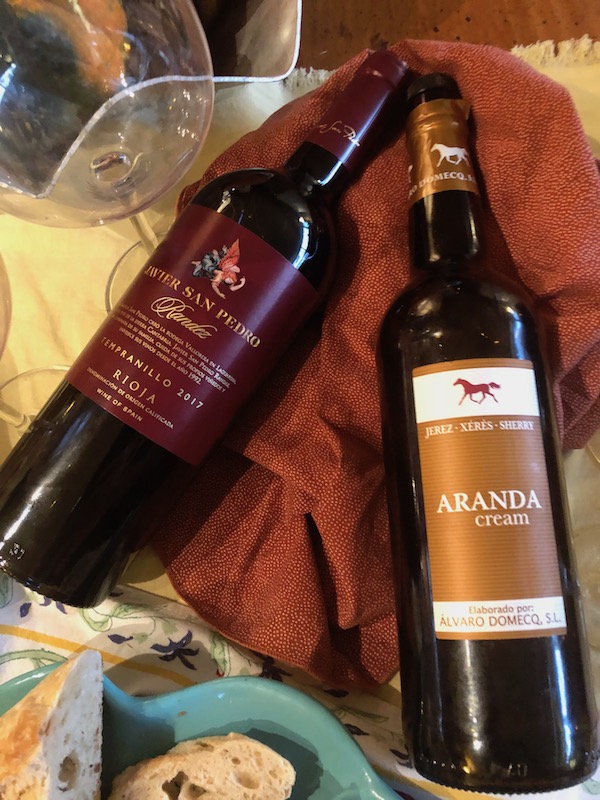 Accompany your Spanish Thanksgiving with a hearty temperanillo from Spain and a cream sherry with dessert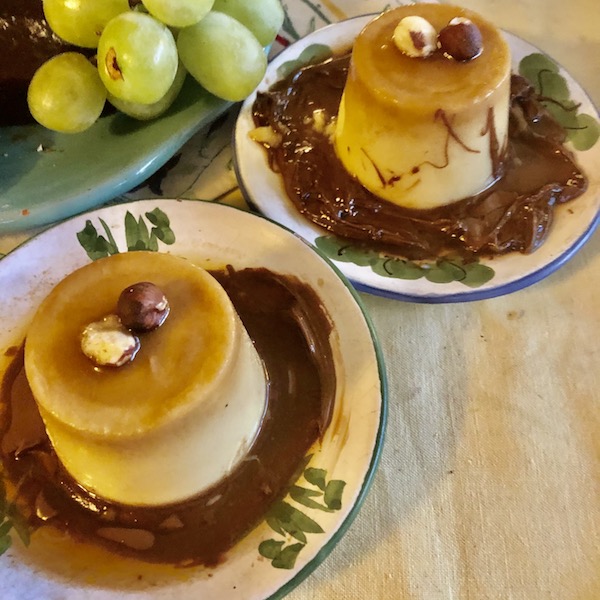 Chestnut flan with hazelnut garnish and in the Nutella couli finishes off a Spanish Thanksgiving feast
The post Tips, Techniques and Recipes for an Authentic Spanish Thanksgiving Feast appeared first on Local Food Eater.