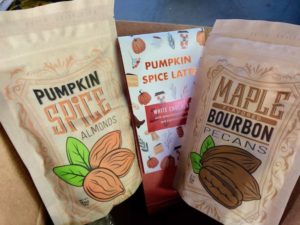 (Gerry Furth-Sides) October's National Dessert Day this year features classic and new desserts, many that can be prepared with healthy snacks designed for the increase in demand due to more at-home lifestyle. This includes a sorbet sundae with healthy, flavor-infused nuts, for example.
Vegan-friendly Maple Flavoured Bourbon Pecans from Sugar Plum Chocolate start this list. Infused with natural maple flavor, they contain no unhealthy fats, oils, or dairy products. Each and every piece of pecan is generously coated with Bourbon Liquor, to bring about a taste so that even a few are satisfying.
We loved the Maple Bourbonand the Pumpkin Almonds and used them in this romesco tart from Tara Teaspoon's book, Living Deliciously.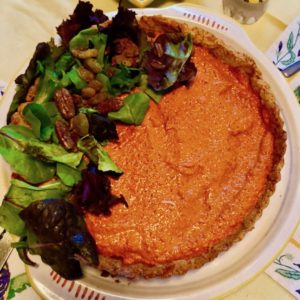 Sugar Plum Chocolates celebrates 20 years in business, with their unique treats enjoyed by thousands of satisfied customers in more than 10 countries. Only the finest ingredients are used for their handmade chocolates, gourmet nuts and other confections.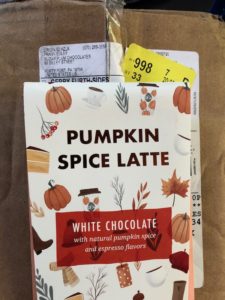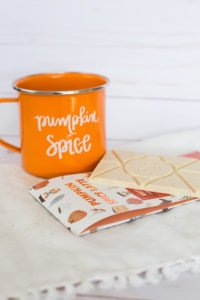 A locally owned business, the company's focus has always been to make a difference in the lives of people by offering high quality and safe products that can be used for all of life's special occasions, including weddings, birthdays, anniversaries and retirement ceremonies.
Coffee is our favorite food and this time of year when the weather is getting cooler, the blend of coffee with seasonal pumpkin shows up in the Pumpkin Spice Latte bar, a light yet indulgent dessert on its own.
Our favorite desserts have stayed fairly much the same for decades. We start in the middle column with start in the right hand column and down with an iced, spiked espresso. Sadly some of them are no longer available, such as the round, individual version of the Lemon Hazelnut Torte, that the Rose Cafe served with an espresso. The cake (upper right) can still be found at double the price at Il Forno Restaurant. The dense, almond Tunisian macaron (right second top) is at times in the pastry case at Harissa Restaurant. Below it is the masterpiece, chocolate ribbon cake that has become the signature of talented pastry chef and founder-director, Cecilia deCastro of the Ace AcademyEducation. Below it are Starbuck's perfect little scones.
On the left column are the cherry almond ball from the now-gone Susinna's magical bakery, the almond merengue from the remarkable le pain quotidien, no longer available and my favorite caneles, rarely available at Proof bakery in Atwater and were once in the counter at the shuttered Bouchon Bakery in Beverly Hills.
Even the name and logo of the Chocolate Fudge Lava Cakes is eye catching, and that little pot in the picture actually is ceramic with a pop-off plastic lid. There are four pots in each box. We were drawn in the minute we saw the endearing pot and gooey chocolate. You simple pop it in the micro for a few seconds or in a proper oven for 14 or so minutes and you have a whimsical, lush restaurant quality dessert.
Pots & Co uses uncompromising, hand-crafted in small batches, using culinary techniques developed by a restaurant chef for a restaurant quality dessert.
Restaurant chef-owner, Julian Dyer, created Pots & Co in 2012. His chocolate lava cake in the little, reusable ceramic pot is an instant classic.Inspired by the best in the world, this six-year-old London based company already has a global reach selling millions of pots around the world. It is available at Costco and online.
Recipes are written and perfected by top restaurant chefs, using only the finest ingredients – like Cornish sea salt, Alphonso mangoes and our sustainable Colombian cocoa. The company has expanded from lava cakes although that is the mainstay in most countries, and in the US, currently. Take a look here to see the wide range of fresh & delicious desserts that we also make.
Chocolate desserts are all handmade with top cocoa, grown in Colombia. The Chocolate Dream support farmers and their communities, making sure the cocoa is grown as ethically and fairly as possible.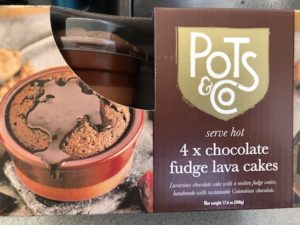 And finally our newest favorite dessert, Faye Levy's Chocolate Applesauce Cake. Food writer, Barbara Hansen, baked this one. It is a surprise because the applesauce only lends the most subtle, delicate touch to the totally dense, chocolaty dessert. It is a cake that can be eaten alone, powdered with sugar, or frosted for a special occasion. And it is the perfect friend to your favorite sorbets or ice creams.
The post Surprising New Treats for October's National Dessert Day or Any Day appeared first on Local Food Eater.