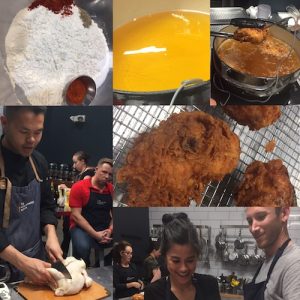 (Gerry Furth-Sides) Without staging at a fried Chicken cafe, Gourmandise Cooking School teaches how to cook this southern regional dish in a commercial kitchen with all the comforts of a restaurant dining room, starting with a class of wine in hand and cheese and cracker plate nearby. It is a BYOB with students ready to share.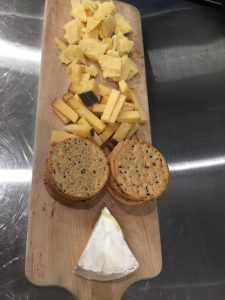 Professional tips for the Fried Chicken Class (which we consider regional southern dishes) covered technique for cutting the chicken, preparing it for an extra crunch, and frying. A professional contemporary, tested recipe. There were also tips for "finishing" the Fried Chicken once it was cooked, and for ways to serve it. We used updated, safe and helpful equipment, which is sold at the school.
(1) Cut the chicken at the joints, and use a whole chicken whenever possible. Use the back for soup stock. Instructor Saang explained that the chicken not broken at the joint at Fried Chicken cafes, such as Gus' Fried Chicken, are machine cut.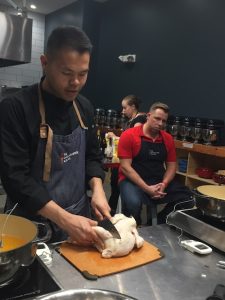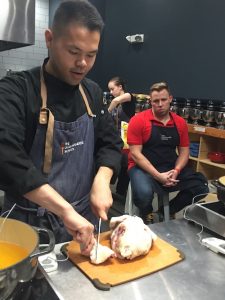 (2) Pros dip each piece twice in the flour, before and after the egg mixture for extra crunch. Spices are right in the flour mixture, and you can experiment with variations of your own choosing (I always used seasoned bread crumbs). You can also use Japanese panko flour for an extra ethnic-based crunch.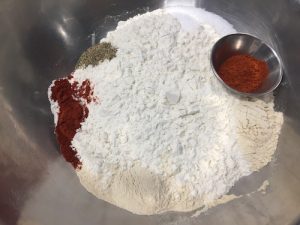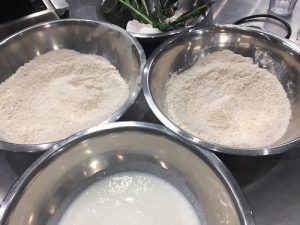 (3) Make sure your frying liquid is hot enough at 320 degrees. And use a liquid that has a high smoking point, such as grape seed oil. We learned to use this remarkable induction stove.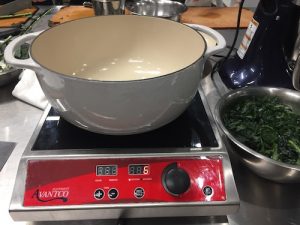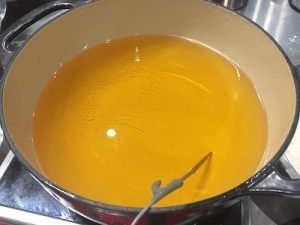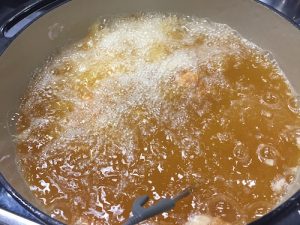 (4) The chicken should be cooked through at 165 degrees — at the bone we remembered afterward. John Pitlado suggested finishing the chicken off for ten minutes in a 200-degree oven after it is done. We found that we had to crisp and warm the chicken for twice this time.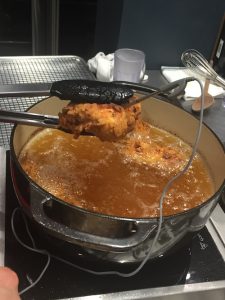 (5) Salt the fried chicken after it is done and/or use fried chicken vinegar to bring out the contrasting flavor and textures of the chicken. The cooling rack is much more professional – and practical than paper towels we always used.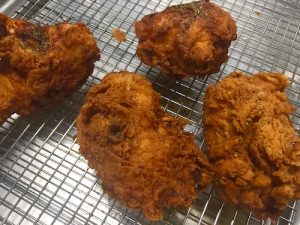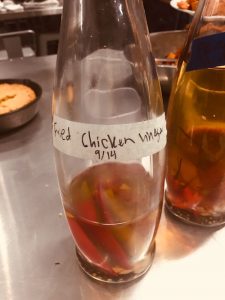 Extra tip: A Menu to go along with the fried chicken
Fried Chicken with Hot Pepper Vinegar Sauce
Glazed Sweet Potatoes
Southern Style Cornbread with Honey Butter
Long Cooked Mixed Greens with Bacon
Classic Banana Pudding
Students can also photograph and video the lesson! Below are Jenn and Brett, who also shared their wine with the class.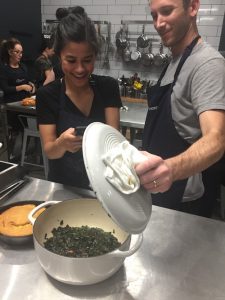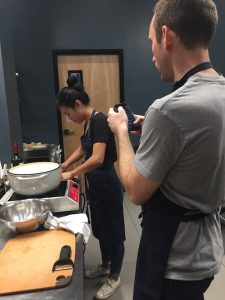 With all the work involved to cook in this classic manner — and we worked with measured ingredients thanks to the efficient sous chef, who also cleaned! – I now understand all the cookbooks advertising "quick and easy" recipes to cut the time from an entire day of shopping, prepping, cooking and serving.
Yes, yes. I "cooked on TV" for 22 years but I am of the sort that my mind is elsewhere. For this I highly recommend Anne Willan's COOK IT RIGHT, which tells you how to correct mistakes.
–and with a sous chef right at your side all the time! Students are there to have a good time and to learn – the focus is in the instruct demonstrating and the students doing actual cooking at his/her own station, and at the prices ($85 to $150) this is serious stuff.
The Gourmandise Cooking School in Santa Monica Place is terrific for their clear instructions, gentle reminders about rules and dates and a warm welcome for class 5138, SOUTHERN FRIED CHICKEN DINNER. "We look forward to seeing you!" read the welcome, along with the rules to arrive on time in comfortable attire and closed-toed shoes and to bring BYOB and BYOC (Bring Your Own Container in the spirit of being "green"). "No cell phones in class, please."
"If you have any questions do not hesitate to call us at 310-656-8800" . They were not kidding. They were friendly right up to the point where I saw the sign with my phone in hand still talking to them. For more information on Gourmandise Cooking School, please see below and visit the website here.
Gourmandise originated with Chef Clémence Gossett, and her love for sweets. Born out of a kitchen in Venice, CA. Gourmandise Desserts began offering home-made delectable sweet to co-worker fans at 20th Century Fox. The Gourmandise School grew out of a passion for teaching her favorite recipes, and she began teaching classes at Culver City's Surfas Supply Store. Six years and many satellite kitchen classrooms later, Clémence joined with student to open The Gourmandise School in the newly remodeled Santa Monica Place shopping center in 2011. The school quickly became one of LA's most respected cooking schools.
The post Fry Chicken Like a Pro at The Gourmandise School appeared first on Local Food Eater.