I have to admit…No Spend January is wearing on me a little bit. I think the big thing is the dishwashing! I am really missing have a dishwasher right now. With all the cooking (and the fact that we've run out of paper plates,) cleaning the kitchen has felt a bit overwhelming.
So…would a meal out if I don't spend any cash be cheating? See I have 4 "free" entree coupons to our local Chick Fil A (just opened this past fall in the next town over.)
Breakfast at Chick Fil A, cheating?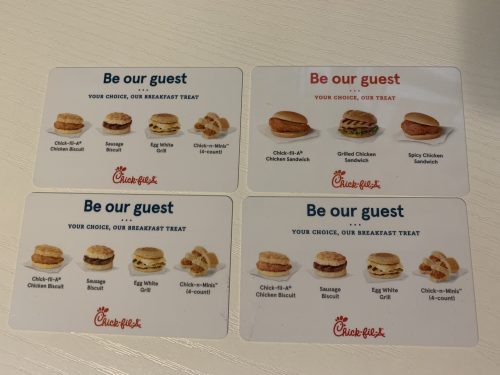 And over the past year or so, I have accumulated over 1195 points by using their app. And we can use these points to purchase things off their menu, no money needed!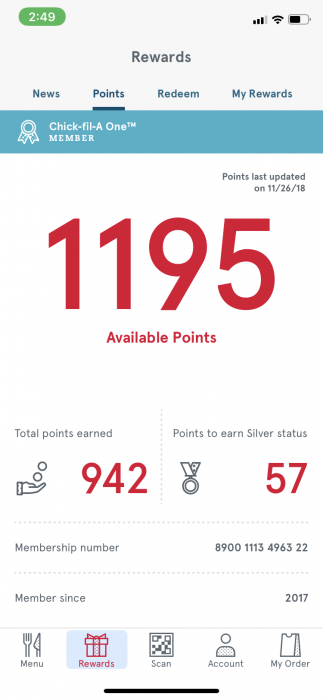 I also have $20 still on that app to spend. (I know the date says January 20th, but this money has been there for months. We stopped going that direction when Gymnast stopped going to gymnastics back in October.)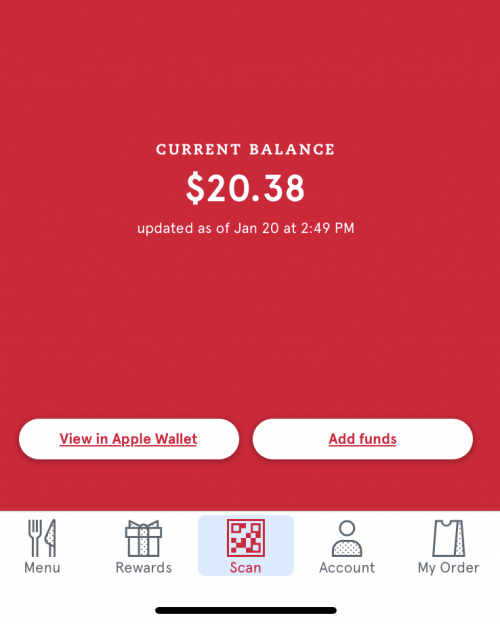 My thoughts are that since tomorrow is MLK Day and the kids are out of school. I might invite them to all get out of bed early (you know how teenagers/young adults are) and join me for a breakfast out. It will be a great way to kick start the day, be some good family time and give me a break from kitchen duty.
So back to my question…would this be cheating as it relates to No Spend January?
I'm not sure when I've been so excited about a breakfast out…a meal out for that matter. But I will say, we have had some amazing meals as I've been really trying hard to spice up our menu these days with items we have on hand. Tonight Sea Cadet is going to try cooking an Asian inspired meal using regular pasta since we don't have any Asian noodles on hand, it should be interesting.
One of the favorite new menu items so far was found on Facebook. I thought I would share.
Creamy Burrito Casserole
Ingredients
1 lb ground beef
1/2 onion, chopped
1 pepper chopped (I did 1/2 a red pepper and 1/2 a yellow)
1 package taco seasoning
6 large flour tortillas
1 can refried beans
2 -3 cups shredded taco cheese or cheddar cheese
1 can cream of mushroom soup
4 ounces sour cream
Directions
Brown beef, onion and peppers; drain.
Add taco seasoning and stir in refried beans.
Mix soup and sour cream in a separate bowl.
Spread 1/2 sour cream mixture in the bottom of a casserole dish.
Tear up 3 tortillas and spread over sour cream mixture.
Put 1/2 the meat bean mixture over that.
Add a layer of cheese.
Repeat the layers.
Sprinkle cheese over the top and bake, uncovered, at 350°F for 20-30 minutes.
The post Would this be cheating? appeared first on Blogging Away Debt.