Summer has hit and we're really trying to find ways to save on Summer childcare this summer. Our schedules have never been more flexible. Hubs' personal training schedule has him doing a split-shift. He works early in the morning and in late afternoon/early evening (the before and after work crowds), so he has most of the middle of the day "off" right now. And as it's summer, I still have work to get done but I'm not teaching any classes and I can completely make my own schedule. There are far fewer meetings and obligations on campus so I've been working predominantly from home. It's worked out well. I'm with the kids in the morning and evening, and hubs takes the mid-day shift while I sequester myself to my bedroom or go to a coffee shop to work for a few hours. Boom! No outside childcare required (note: we are going to do a couple of weeks with childcare 3/week when its needed, but so far we haven't needed it since we've been able to trade-off childcare).
The only "problem" with this situation is that the kids complain that they are bored CONSTANTLY! We've been going to the neighborhood pool literally every single day, but we don't last long as it's been 110 degrees of sweltering Arizona death-heat. I've printed up free first grade worksheets so they've been doing educational activities. We have a closet full of games and craft supplies. But it's still tough to find fun things to add to the mix that don't include anything outdoors (again – see death-heat comment above) and don't cost an arm and a leg.
Enter: Public Libraries!!!
Our public Library system has a great summer time program! We went a couple weeks ago and found out they're doing a whole summer reading program. They had a Scholastic book fair thing set up and every kid got to pick out 1 free book! Plus they received reading logs so they can track their reading and bring it back in to receive stickers as rewards for reading. In addition, the libraries have a variety of activities and special events lined up throughout the summer. We got a schedule and I put things on my calendar. Last week was our first special event of the summer season: it was ZOO day at the library!
The staff brought in many (maybe 8-10??) different animals for the kids to see and learn about. And at the end, they had a "petting zoo" with two of the animals: a ferret and a snake!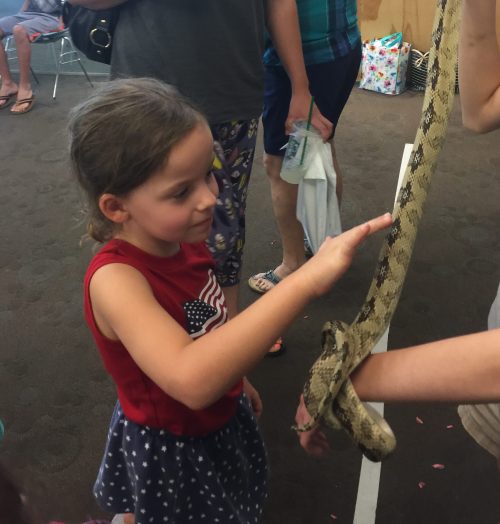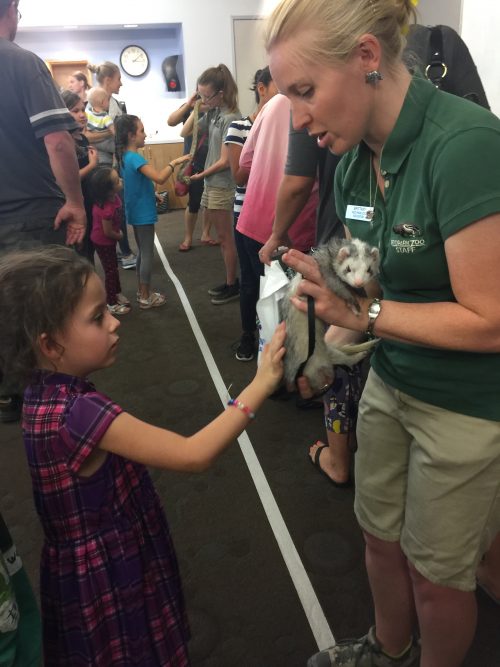 The kids loved it, and it was a fun and educational activity that occurred completely indoors during the worst heat of the day. A great way to spend an afternoon! And a fun free activity in general!
Do you participate in the summer library programs in your area?
What other free kid/family events do you recommend for summer (preferably indoors, due to excessive heat)?
The post Free Library Fun appeared first on Blogging Away Debt.