35 White Nail Designs
There is something so sophisticated about white nails… they instantly glam up that favorite outfit and make your jewelry pop out. This crisp color can be used in so many designs and is extremely versatile as it goes with every outfit and works for every occasion. It is a color that will glow in the summer and brighten those dark winter days later on in the year. Don't believe us? Here are our top 35 white Nail designs!
The Basics
Just white on its own screams elegance and hey, this will definitely go with everything you own! If you want a bright but simple look for that special occasion. We recommend white matte polish for a smooth and professional look!
White Lace
Isn't this look stunning? Plus, it is super easy to do! There are two ways of doing it – for this look in particular, we recommend using a lace-inspired stencil kit to get lace-like patterns, or if you want to add texture to your design and have a realistic look, then use real lace to cover your nails! Click here to find out how to do it yourself!
Marble Effect
Marble designs are so edgy and unique, and add a little splash of color to your everyday look. They are totally flawless on a white base coat. We love using grey, lilac or pastel pink for a timeless and striking pattern!
Gold Manicure
White and Gold give you a sassy and stunning look! Use gold striping tape to get this beautiful and classy look. We think that with some gold accessories, this could be the perfect party nail design! We love the effect of super long tips that it gives, no need for acrylic nails when this design does the job for you!
Black Lines
You can never go wrong with a monochrome look! Black and white will always look lush and don't forget, it goes with everything! For straight and even lines, use tape or a stamping plate, and avoid those yucky splodges!
Summer Shapes
This design makes the perfect summer combination – turquoise, pastel pink and white. These colors are hot right now and with good reason, with the cute white base coat, these colors shine bright! We recommend Essie's shades Cabana Boy (pearly white), In The Cab-ana (turquoise) and Need A Vacation (pink) to achieve this look!
Swirls
White swirls on a lovely basic French manicure change up a traditional style and will go with everything – with that cute burgundy sweater or with a pretty party dress, this will go with anything! We recommend Moyou London's Asian-inspired stamping plates for similar shapes.
Mustard And Cream
We love everything about this design – from the mustard yellow and white combo to the cute Greek-inspired shapes. You will definitely feel like a goddess with this! Mustard is the perfect color for fall so make this part of your back to school (or work) style! This beautiful design is bound to make an impression!
On Fleek
We love the dashes of neon brightening up that white base coat. As well as being refreshing and radiant, this is another easy look to try out yourself. We recommend using a bit of card to perfect those diagonal lines! China Glaze has so many neon colors you can use for this look!
A Touch Of Silver
Don't neglect that cute silver polish of yours! We love the subtle touch of silver, adding instant glamour and shine! There are so many silver polishes out there, but we are loving Essie's No Place Like Chrome, the ideal metallic shade for this look!
Tiles
This doodle-inspired design is gorgeous, we would definitely wear this everyday! The pink and grey tiles look awesome for the summer on this crisp white base coat. All you will need is a fine Nail Art brush to draw on your lines!
Cherry Blossom
This is a truly unique design with a very deep meaning. Cherry blossom represents hope and happiness, and trust us, this look will leave you smiling from ear to ear. It makes the perfect spring and summer look, and will be a stunning design to have all day every day!
White And Gold
We can't get over this Chanel-inspired design, it is just too perfect! The gold glitter polish adds a brilliant finishing touch to your crisp white nails. The Born Pretty store has a fashion logo stamping plate to get this pretty design.
Floral Frenzy
Floral designs never go out of style, whatever the season. Moyou London has some gorgeous floral stamping plates that will do the job. Cut your nails into a squared oval shape to get an amazing salon-quality look. Why spend the money on nails when you can do this sweet look yourself?
Ahoy Sailor
We love rocking the sailor look whatever time of the year it is! You can chose your colors depending on the occasion – however, we think that gold and white turns your everyday sailor look into a stunning party style. For the sailor look, we recommend Moyou London's Sailor 01 stamping plate, for a spot-on design!
Ultimate Pairing
Mauve is now and officially in! It is flattering on all skin colors and you have to admit, looks cute with white. Get a dotting tool for accurate spots, giving you amazingly perfect nails. Why not try this look on acrylic nails?
Gold Star
Here is another white and gold nail art design for you to try! Why not use this glittery look everyday for a little sparkle in your life? Who said gold was just for parties? With a girly pastel pink sweater, you will blow everyone away!
Summer Flowers
This look is ravishing, and will get everyone staring at your perfect nails! Thanks to its crisp white base coat, these colors pop out and grab everyone's attention! We recommend China Glaze's shades Are You Jelly?, Thistle Do Nicely and Aquaholic to match these amazing colors!
China Pattern
We love this China-inspired pattern, reminding us of antique plate designs. They ooze class and simplicity, and will look lush all year round. Moyou London has got you covered with their brilliant stamping plates – our personal favorite is Asia 02!
Spots And Bows
This look is another mish mash of so many styles – the nautical look thanks to the color scheme and yet a girly style with the spots and bows. This will look pretty over the summer with a red off the shoulder dress and wedges!
Geometric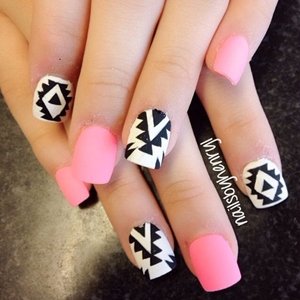 Black and white geometric designs are an inventive way of introducing a little twist into your monochrome look. A stamping plate is the tool you will need to get the most precise and jaw-dropping look!
Paint Splatters
Paint splatters are a creative way of adding white into your nail art. If you want to chose other colors, why not use turquoise and purple splatters instead of black? Both colors will make your nails look like abstract art!
Melting Nails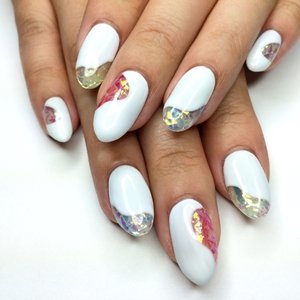 We love this style for its originality and use of texture. This design reminds us of delicious and soft icing! There is no way you can not love this different style – we think this would particularly look good on round or stiletto nails.
Nail Jewels
Glam up your water marble nails with nail jewels, in particular, rose gold. White and rose gold look stunning together, so you need to check out the Daily Charme website for flashy, expensive-looking nail jewels, that flatter any skin tone!
Triangular
Change up your white nail tips with a triangular look. It transforms your French manicure into something more! Add a coat of clear transparent polish for a finished look, as well as protecting your beautiful nails!
Black Outlines
This design is exquisite, making your nails literally stand out. You have to have a pretty steady hand for this design, and changes up your French manicure with jet black tips. We would recommend this design for the rock chick, with an all-black outfit!
Silver Sparkle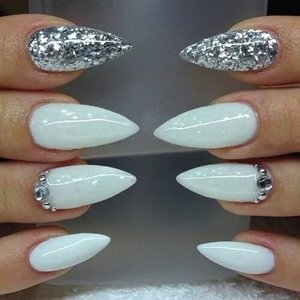 We have already shown you one silver look, but if you were missing your glitter, here is a little extra sparkle for you! China Glaze's glittery shade Nova is ideal for perfecting this party-ready style!
Criss Cross
This criss cross design is super chic, isn't it? Paint this pattern over a French manicure for a jaw-dropping design. It will change your nail art habits for ever! It is simple to do and easy on the eye thanks to its simple nude color scheme.
Call It Magic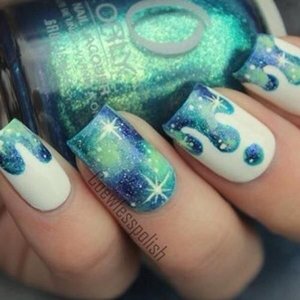 This is a rather magical design, that will make the most perfect nail art design for Halloween or for a fancy dress party. It is a spin on your favorite galaxy design, and looks pretty cool with the white background. If you want to know how to get this mystical galaxy effect, click here!
Flowers Forever
If you are a nail art expert, then why not try something a bit more complicated? We can't help but admire the amount of detail in this design, bringing a bit of summer into your nail designs, even when the weather isn't matching your expectations!
The Trio
If you are looking to impress, this is definitely a style to try out! White, black and wine purple are a sleek and smart combination that will make everyone green with envy. Adding gold is always the key to a chic design!
Disneyworld
We are big kids, we know, but we couldn't resist this Mickey Mouse design. It may seem difficult to do, but as always you can count on a trusty stamping plate to save the day! Aliexpress has so many Disney nail tools you can use to achieve this fun style!
Neon Pink
Neon pink and white are a vibrant duo that look absolutely stunning together! This will stand out with your favorite LBD at your next event or it could look lush for your first day in the office. Our favorite neon pink polish is China Glaze's Shocking Pink!
Nike Nails
Here is another brand-inspired design that really stood out to us. If you are a real Nike-lover, then why not get nails to match? There are so many brand-inspired nail designs out there for you to try out, but this is our absolute favorite!
Tie And Dye
Tie and dye is on trend this summer! Remember to use neon colors to brighten up your nails! It is simple, not too garish, and makes your white nails appear even whiter! This can be done in the same way as the water marble effect, but instead you paint out a different pattern – easy and not too messy!
[td_smart_list_end]