30 Best Sister Tattoo Ideas
Tattoos have so many various meanings and are a great way of remembering an event, your favorite quote or paying a tribute to your family member. Sisters Tattoos are very popular on social media and are a beautiful and touching way of bringing you closer to your sister and show your love and strong connection. No matter where you all are in the world, these tattoos will bring you even closer. We have found the cutest ideas for tattoos to get with your sister!
Long Distance Calls Sisters Tattoos
We love everything about this design! Colors in tattoos can sometimes risk looking tacky but the subtle pastel colors make this tattoo a real treat! Wherever you sister is, you will certainly think to ring her with this tattoo!
Flashback To Childhood
This really takes you back to your childhood when you and your sister played on the swings, this tattoo will really get you reminiscing. The years of birth are a sweet addition too. This will make a great wrist tattoo or even on your rib cage.
Pinky Promise Sibling Tattoos
Promise you will always be in touch and together forever with this perfect tattoo! It is small, simple and dainty. This design will remind you of all those pinky promises you have made and the most important memories you two have together. It will make a great arm tattoo, or even a wrist or ankle tattoo.
Paper Planes Sister Tattoo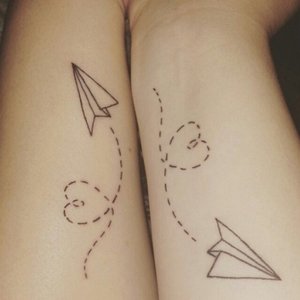 No matter how far away she is, make sure you write to her! This tattoo is so touching if your sister lives far away, or even if she is close. This will bound you two together for life! This tattoo also means you should throw your life in the air and go where the wind takes you, so be adventurous with your sister!
Sisterly Love Tattoo
If you are a bit nervous about getting a tattoo, then a small heart should do the trick. It's very discreet and you can have it put anywhere you want. We recommend the inner side of the wrists or the back of the neck as they are the least painful spots to get your tattoo!
The Same Heart
We love these heartlines! The feet are one of the least painful spots to get your tattoo, and plus they look great when you are on the beach with your sister(s).
Elephants Tattoos
If you're looking for meaningful tattoo ideas, This is a wonderful idea of a tattoo to get with your sister, as elephants symbolize luck, fortune and protection. The meaning is deep, and it will protect you and your sister wherever you two are. Plus, who doesn't love elephants? This is a great tattoo ideas if you're looking for brother sister tattoos.
Lil And Big Sister
This design is so cool and retro! It is sleek, and your sister can't possibly refuse this beauty! Get it on your arm or even on your thigh, as it is more private and intimate.
For Her I'd Risk It All
We love this idea of tattoos constructing a sentence. Chose a fancy cursive font and go with a lovely quote that represents your relationship with your sister. "For her I'd risk it all… Because of her I will not fall" is so heart-warming and moving.
We Go Together Like Peanut Butter And Jelly
Your favorite childhood sandwich, the cartoon drawing is fabulous and reminds us of Saturday mornings having breakfast in front of the TV. It looks so sweet on your ankle and is such a unique idea!
Birds Of A Feather
This tattoo is so fun and pretty. Birds are so special and the drawing is super cute! We adore the touch of color for the heart. Get this tattoo and start taking snaps with your sis and post them on Instagram for us, you will get likes within minutes with this trendy tat!
Ohana Tattoo
The concept of Ohana in the Hawaiian culture emphasizes the strong bond between family members. Ohana Tatto is a great tattoo for any member of your family, but especially for your special sister. Get this on your inner wrist or on the outer edge of your back to really show it off! It is a touching tribute to your whole family as well as your sister.
3 Sister Tattoos
There are some really different tattoo ideas, and we found this one! If you have got several sisters, why not get this tattoo? Not only can people see that you are sisters but also who is the eldest!
Russian Dolls Tattoos
An even more unique spin on the previous tattoo. Russian dolls allow people to see who is the eldest and who is the youngest, without going for the typical "sister". Plus, the drawings are so pretty, and also symbolize family roots.
Sisters Forever Matching Tattoos for Sisters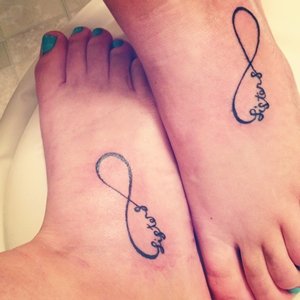 The infinity sign is the perfect tattoo to represent your relationship with your sister. Be sisters forever with this cute tattoo!
Sisters Forever Twin Tattoos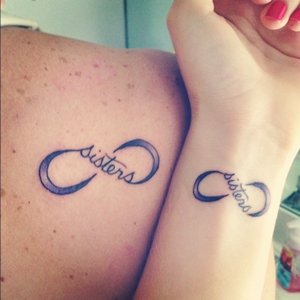 The infinity sign is slightly different here, but the message remains the same. This is a beautiful tattoo to share with your sister!
Heart Life Line Tattoo
You share the same blood, so get these pretty heart life line tattoos! You already have so much in common, so why not get sister matching tattoos?
House Of Cards Matching Sister Tattoos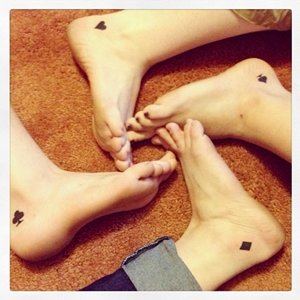 If you have three sisters, why not go for a card-theme tattoo? Chose your favorite symbol and get these super cute tattoos! Plus, it will allow you to spend quality time with your sisters!
To Infinity And Beyond Tattoo
Is Toy Story your favorite Disney movie? Look no further, you need to get this tattoo with your sis! It will bring back childhood memories but the meaning is so important here too. Get it done on your rib cage to show it off in the summer with drop arm vest tops!
Together Forever Tattoo
There are so many quote tattoos out there, but we think this is the best one to get with your sister.
"Together forever, never apart, maybe in distance but never in heart". We think the poem is just adorable and it probably reflects perfectly your relationship with your sister.
Big Sister And Little Sister
We love everything about this tattoo – the idea, the font, the simplicity of it, but also its beauty. Plus, if you are on the forgetful side, you have got your sister's birthday written on your arm, no excuse for forgetting now!
Flower Life Cycle Sister Tattoos For 3
This is such a clever tattoo to get, as it shows who is the eldest and who is the youngest. You can get this if you have one sister or several! In general, flowers represent love, birth and growth, so their meaning is important here too. You and your sister have seen each other growing up and becoming the people you are today, so this is a beautiful idea!
Love Matching Sister Tattoos
At times, one word can say it all. Get a beautiful love tattoo in a cursive font for a simple yet meaningful design. Despite the ups and downs, that you are bound to have, you wouldn't be siblings otherwise, you two really do love each other! Your sister is bound to love this one!
The Missing Pieces: Puzzle Tattoo
This is a great one for twins – get puzzle pieces! Your twin completes the puzzle when you are reunited. The brilliant thing about this is that you can also chose what is on your puzzle piece, it could be a date, a heart, something relevant that means something to you both.
Heart Sister Matching Tattoos
If you're looking for cute matching tattoos, Sometimes the simplest of tattoos are the classiest, we have fallen in love with this one! The font is girly and the heart is sooo cute! You can get this one done on your forearm thanks to its simplicity and its size, meaning that you can easily wear this in most workplaces and at college.
Cupid's Bow Tattoos for Sisters
Boyfriends can come and go, but you will always have your sister, get this tattoo done to reflect this! We recommend getting this one on your feet as not only does it look really cool, but its also less painful.
Two Is Better Than One
Two hearts, one family. This one is so perfect for two sisters! This looks amazing on your wrist or on your ankle. When you are on vacation with your sister you can totally show these off!
She's Your BFF Tattoo
Your friends are fantastic, but remember your sister is your very first best friend at birth! This quote is so adequate, "There is no better friend than a sister… and there is no better sister than you". We love rib cage tattoos!
Paper Birds Tattoo
We think this is a unique way of showing your bond with your sister. It is so cool and colorful! It is an original spin on a bird tattoo. Bird tattoos can represent love and peace but also family. We totally approve of the color choices too!
Twin Sister Quotes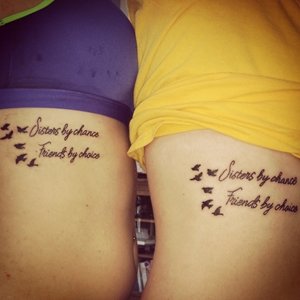 Another beautiful quote to have tattooed on your body with your sister… "Sisters by chance, friends by choice". Your sister will always be on your side no matter what, we think the birds are important here too as they can also symbolize spiritual protection and guidance. Sisters are there to help you in the darkest of times. This one is a great tattoo for twin sisters.
[td_smart_list_end]