Stiletto Nail Designs
There's no reason for your nails not to appear as glamorous as the rest of your OOTD. Slay up to the tiniest details! Here's how you can polish your nails to be the most stylish and eye-catching of all, and let these 35 pointy stiletto Nail designs inspire you to get that snazzy, pleasing upshot.
Rhinestone Pointy Stiletto Nails
For a more accentuated glitzy style, apply this rhinestone-inspired art to make your nails stand out even more. Choose which nail color complements your rhinestones and let your nails shine!
Blue Mandala Short Pointy Nails
Let your mood synchronize with the soothing effect of this mandala-styled nail effect! You can go for a comfy bohemian outfit and complete your whole look with these Stiletto Nails submerged in the calming hues of blue and white.
Silver Chrome Mirror Short Stiletto Nails
Fancy having that fierce superstar kind of getup? Try this one for a change. Once the silver chrome magic touches your nails, you'll be on your way to have that Lady Gaga-ish vibe.
Cannibal Pointy Red Stiletto Nails
Break that girly stereotype! Who says you can't achieve that bloody, grimy touch? If you're tired of seeing the usual bright or dark colors, here's one that would give you a unique shiver. Don't worry about scaring people off, you can always greet them with a different type of a wicked nail art.
Matte Black Stiletto Nails
Drop a bold statement! Color black doesn't only signify boldness but effortless sophistication. This powerful shade of dark will leave your nails looking as valiant and as mysterious as the night. Matte black will suit whatever outfit you wear as its neutrality brings a striking piece of style and elegance.
Neon Stiletto Nails
Illuminate your aura using the captivating vibrancy of neon colors on your nails. You can play with different shades of neon and see how its pulsating and lively vibes kindle right before your eyesight.
Galaxy Pointy & Short Stiletto Nails
Your artistic nature can be revealed on what's written on your very nails! Whether you take delight on the aesthetic allure of galaxies or nature— the call is yours.
Pointy French Nails
Sometimes, putting on too much on your nails can affect its appearance. There's no need to add extras to the point where it becomes helter-skelter. Well, a posh French manicure will always do.
Japanese-Art Pointy Stiletto Nails
This Japanese-Art stiletto design is simply entrancing! With a hint of Japanese aesthetic and the strong influence of the color black as the backdrop— everything is just perfection to the vision.
Glitter And Negative Space Pointy Stiletto Nails
With the help of glitters, you can always pull off every color or design ideal on your nails. This is but one of the many ways you can creatively apply glitter.
Vampire Fang Pointy Stiletto Nails
Excited for the Halloweens? Here's how you can prepare your nails to successfully match with your stylishly eerie outfit. If wearing vampire costumes is your cup of tea, you can have this vampire fang design and make your look all the way more serious.
Nude Stiletto Nails
Rock them off with the striking delicacy of nude stiletto nail color! Getting this simple touch on your nails is a fast and easy way to mesmerize anybody. Its sweet tantalizing effect brings warmth and swish to your overall appearance.
Geometric Pointy Stiletto Nails
If you enjoy exploring the art of creative nail designing, don't limit yourself to glitters or gold. There are tons of many exciting designs which you can put on your nails and one of it is Geometry designs, which can further give your nails an extremely detailed look.
Olive Matte Green Pointy Pink Stiletto Nails With Glitter
One lady's nail can never go ugly with the saving power of a matte color. Olive matte green matched with hues of pink along with a slight sweet glitter gives way to a very soothing combination.
Long Hologram Blue Mermaid Pointy Stiletto Nail
Who would want to mess with a woman having this ferocious, impressive nail color? If you love having that intimidating yet innately compassionate kind of look, let this Long Hologram Blue Mermaid design does the job.
Gothic-Art Pointy Stiletto Nails
Gothic Art will never go out of style even after many generations, and this design is a straight gift from the heavens. Express your Gothic spirit through putting enchanting details right on your nails!
Unicorn Horn Pointy Stiletto Nails
How to stop time? Have unicorn horn nails and be the cheerfullest human being ever! This nail design is not just very catchy but it is also extremely artsy! Time to unleash your creative side with this charming stiletto nails.
Black And White Striped Pointy Stiletto Nails
No need to spray unnecessary and dulling colors— stay as stark and rock with this black and white aesthetic. Sometimes, less is more!
Blue Glitter Ombre Pointy Stiletto Nails
De-stressing blue ombre complemented with invigorating glitters is equal to nail perfection. This simple yet marvelous combination is more than enough to be an eye-candy.
Watermelon-Art Pointy Stiletto Nails
You're never too old for watermelons!This refreshing and creative nail design makes your nails look ten times cuter than your plain ones. Shades of light red, neon green, and white forming into the shape of a watermelon enlivens your mood, and well, stomach as well.
Ombre Pointy Stiletto Nails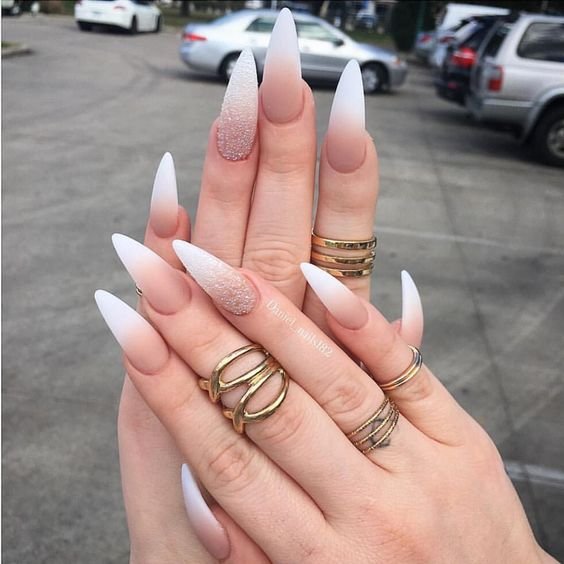 This Ombre look is what you need to give your fingernails the look of simple glamour. With the delightful features of nude on the lower part and white tone on the upper, your nails are in a perfect balance of light-colored stunner.
Pastel Summer Pointy Stiletto Nails
You don't need to always stick on your usual nail fashion statement— it's always good to have a variety of nail designs you can experiment on. This pastel summer design is one to consider if you want to break free from your bold and fierce red or black nail aura.
Mermaid Pointy Stiletto Nails
Isn't this design just the ideal nail style for every girl's inner mermaid-feels? With refreshing oceanic colors added by lovely charms of coral, your nails are about to be the topic of every girl's talk.
Pointy White Stiletto Nails With Glitter
The fascinating allure of the color white will never fade away. If you're one devoted lover of this pure color, one way to make it even look more interesting on your nails is through adding glitters.
3D And Textured Pointy Stiletto Nails
If having Pointy Stiletto Nails is not enough to give you that cunning, fierce look— putting on some 3D and textured effects will instantly make you look twice as savage and stylish as ever.
Simple Short Pointy Nails
One way to achieve a classy finish is to begin with a classy touch of any plain nail color. Color white will always give you the minimalist, elegant getup without overdoing or reducing the quality of your look.
Rose Gold Chrome Pointy Stiletto Nails
How about trying on the light nevertheless fierce color of rose gold intensified with chrome charm as a way to introduce yourself? Its shiny and buoyant combination is a total fashion slayer.
Light Grey Stiletto Nails
Isn't this drop dead fabulous? Cool. Sophisticated. Neutral. This cloud-covered color of ash and lead gives your nails the kind of timeless beauty it need. No need to stress on more details— its visual prowess is enough.
Christmas-y Pointy Stiletto Nails
Have this Christmas design on the holidays! Make each day feel like its Christmas time by putting on bright colors of red or green or white and finish it off with a sweet bunch of snowflakes.
Chameleon Indigo Pointy Stiletto Nails
You don't need to settle for the usual shades of blue. Experimenting on other similar colors is not a bad thing, especially when you have this chameleon indigo nails as the outcome.
Gold Foil Pointy Stiletto Nails
The tone of gold foil is best paired with nude colors to further emphasize the appeal of golden strike on your nails. Chic plus candid— this design is a real attention-grabber.
Marble Pointy Stiletto Nails
Putting on the same colors every time can sometimes be a bore and could take a toll on your fashion sense. You don't want that to happen, right? If you haven't heard about this marble trend, it's about time you shake hands with this fabulous one!
Doughnut Pointy Stiletto Nails
Oh my doughnut! Give your nails a playful look and put on some doughnut-styled vision. A little sprinkle from one side and on the other— surely, your nails will speak for your cravings!
Crystal Ball Glow In The Dark Ombre Pointy Stiletto Nails
You'll never have to worry again about getting your gorgeous nails unseen in the dark. Apply this Crystal Ball Glow in the Dark Ombre and see the magic!
Matte Pointy White Stiletto Nails With Gold Accent
'Simplicity is beauty' will never go cliche. Not much effort is needed for you to steal the show with the power of matte white and golden touch.
[td_smart_list_end]