35 Cute Casual Outfits
Nothing beats that feeling of knowing you have the hottest Outfit in town. It gives you confidence in a heartbeat for your first day back at school, that job interview or just for a fun day out with your friends. It can be hard to find inspiration, but we know for a fact that you will dazzle everyone you will meet with these gorgeous outfits!
Slouchy Yet Sleek
Destroyed jeans are a fun way to bring an outfit from dressy to Casual in a matter of minutes! We love these destroyed jeans and their straight-legged cut, making them super comfortable and loose. Do your best messy bun and slip on an oversized trench to compliment this simple but pretty outfit.
Understated Umbrella Skirt
The umbrella adds a touch of class to your casual outift, it defines your waist and is a perfect length, avoiding having to tug on your skirt all day long! So annoying! This look is understated yet suitable for all year-round, just add tights and ankle boots for the winter.
This Outfit's The Bomb!
Bombers jackets still haven't died out after their come back, and are now available in every color of the rainbow. Our particular favorite is this dusty pink bomber jacket – the Pink Ladies, eat your heart out! White sneakers make this outfit casual yet feminine, be sure to check out Asos' collection to find your dream pair!
Back To Business
Don't be afraid to layer this fall! You can't go wrong with a high-neck sweater and a collared shirt, keeping you warm and snug and well as fashionable. This would make the most perfect back to school look, and if you really want to keep in the theme, why not get yourself your own satchel? It is timeless and will work with the rest of your wardrobe too!
Back To Black
Black outfits flatter any body type and suit any skin tone. It is definitely a go-to color when you are lacking outfit inspiration. This outfit can be made even more casual with our favorite white sneakers or Cute Chelsea boots, as waddling in heels isn't easy, we know!
Double Denim
Double denim is a classic look! You can go for the same color denim, or we totally recommend going for a lighter denim for your collared shirt. Put on a white cropped sweater over the top to match these cute low-cut sneakers.
Wonderful White
White makes you look glowing and is an absolute must for any casual outfit! You don't need to be weary about white jeans as they make you look even more stunning, and also make you feel like the star you are! With that sun-kissed glow from the summer vacation and caramel highlights, you will make those passers-by stop and stare.
Dressy Tops
Dressy tops can still work with casual outfits, add a basic pair of jeans and sneakers, or other flats – beige brogues with this light-blue shade would make a cute outfit for a fun day out in town. Pastel shades are in all-year round and add a girly touch to your everyday style!
Stunning Stripes
If there is are two essentials you should get from this article, we would have to recommend a staple blazer, that is well-fitted around the arms as well as the waist, and a high-neck sweater. The sweater in particular will go with everything you own – a lacey cami, denim dungarees, or red jeans for a sailor-inspired look.
Cowboy Boots
Take a dressy outfit and add cowboy boots for a comfy everyday look. Check out our country-inspired outfits here for some seriously beautiful everyday outfits. You can get cowboy ankle boots or go for the knee-length ones if your style is already kinda country. Light colors are the key here for a fresh style.
Pretty In Print
Basic tee plus a printed skirt equals our dream outfit! Show off your luscious legs, girls! Free People have beautiful skirts in a similar style to this one, that are fitted yet suitable for everyday. They make wonderful office skirts too!
School Chic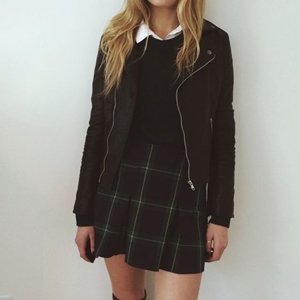 Knee-high socks, a tartan mini and a collared shirt may remind you of something out of a 90s music video, but you have to admit, they make a sweet outfit. Add a modern twist with a perfecto jacket and bright red lippy, to make sure you don't look like you are in uniform!
Winter Woolies
A huge jumper and leggings is your key to comfort and style. On your next shopping trip, you should definitely get a few oversized jumpers for those where your alarm doesn't ring, and you are in a rush – yes, we have had them too! Team them with Dr Martens and wooly socks to keep warm.
Beautiful In Burgundy
We are starting to sound repetitive but burgundy is hot! You can work that color all year and it looks gorgeous on anyone. It steers you away from boring and drab and compliments any skin tone. We recommend wearing it with khaki, oatmeal, light grey, dusty pink or black to really make that color pop out!
Lace It Up
Lace is a chic way of adding texture to an outfit! We can't get enough of it – seriously girls, if you haven't at least got one lacey top or one lace dress in your wardrobe, you don't know what you're missing out on! Y.A.S at Asos have some seriously chic high-neck lacey tops in emerald green, as well as your standard black and white! They are a bit on the pricier side but you get the most amazing quality. Don't be afraid to splash out on lace to avoid loose threads and thin material.
Paper Bag Pants
Loose, comfy, yet stylish, this outfit screams casual. As this model as done here, this outfit needs stand-out accessories such as a gorgeous handbag and a floppy hat, to make this go from cute to stunning. Pastel pink and light grey are a matchmade in heaven!
Skater Skirts
Skater skirts are a staple that can take you from day time casual to night time glam. If you want to make a skater skirt and top combo look a bit more casual, then wearing flats and keeping your jewelry to a minimum should do the trick. Shop Dixi has cute and original pieces to wear for all occasions, including the daytime.
Sweet Sweaters
Sweaters are so practical, just slip one on and you look like you actually spent time on your outfit. Whether it's with a skater skirt or with super skinny jeans and ankle boots, we can never have too many of them! Splash out on several colors that will work whatever the weather – this emerald green is stunning, especially on brunettes!
Denim Diva
Denim jackets are a must-have for any season, you may prefer an oversized boyfriend-style denim jacket, or a cropped, fitted one, there is one for everyone's style. They make a great cover up over a cute dress, like in this picture. Add some super cute ankle boots and you are ready to go!
Vision In White
This picture is another example of how you can work those white jeans! Who said all white was too much? Keep your accessories to a minimum, and with some super girly curls, this could be your favorite everyday outfit. Once the weather is heating up, you will turn everyone's head with this pretty ensemble.
Military Madness
Military jackets are back in for fall, we love them for their intricate details such as their buttons and shoulder details. Sling them over any look for a fashionable way to keep warm. We definitely want to show you one of the latest trends – the harness. See that little black strap under her white top? The harness can had a sexy side to your oh-so-caj outfit? Asos have you covered with their "Revive" harness!
All Beige
Strangely enough, quite a few people are skeptical of wearing for the fear it washes them out, but earthy tones such as khaki and beige bring out the color in you. With a touch of mauve, this outfit is sexy and casual, though kitten heels or flats would be even more ideal!
Short Shorts
Short shorts aren't just for the summer, like everything, just throw on a pair of tights to keep away those winter chills. We adore the color choices here, bringing warmth to your wardrobe on those colder days. We need those ankle boots in our lives * sighs *
Rock Chick
When we see this outfit, we think of Taylor Momsen, as it is definitely something that the Pretty Reckless singer would be seen wearing. These stockings add a sexy rock-chick edge to a laid-back outfit. If you love this look as much as we do, check out Pretty Polly for some gorgeous stockings!
Loving Layers
Why not reinvent an outfit by layering old clothes? It saves you time and money, as well as looking fab! We also love layering jewelry, a trend that many fashion vloggers are loving on YouTube at the moment, so get with the trend too! Mix up your long and short necklaces to add texture to your outfit.
Cutie Pie
This is the perfect summer outfit, dusty pink and light blue denim make the cutest combo. We also love the sporty twist with the baseball cap – Asos have all sorts of brands such as Adidas and Nike, making us reminisce over the 90s.
Biker Jackets
Biker jackets make an outfit! Bored of black? So many shops are doing different colors at the moment, you have probably seen Zara's yellow, powder blue and blush jackets everywhere! But dont you just hate it when everyone has the same one? We feel your pain! If you want to stand out from the crowd, Nordstrom has a lot more styles and color choices.
Bardot Tops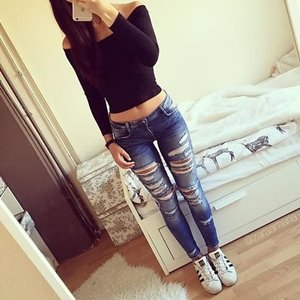 Don't be afraid to get a bit risqué with a Bardot style top. A cropped one with low-waisted jeans will show off your waist and give you a sexy shape. For the sneakers, go with Adidas' Gazelles or some Superstars, those are our favorites!
Light And Lovely
The whiter the better! White will go with anything and will make your best features pop out – if you're blonde, then white will bring out your hair color, or if you have hazel eyes.. the list goes on. Always wear natural low-key make up to keep your outfit looking caj and simple!
Fab Flannel
What would our wardrobes be without a flannel shirt? What? You don't have one? Well, it's lucky we are here to give you advice then! There are so many colors you can go for – though we do love this one, can you imagine this outfit with a pretty pink and blue shirt? The pink would definitely compliment the denim shorts!
Killing It With A Kimono
Kimonos are a light and fabulous way of covering up over the summer months. As you can see here, they will always look amazing with high-waisted pants or shorts, and of course a crop top. Pop down to your local Forever21 and discover their stunning selection of kimonos!
Cute And Cropped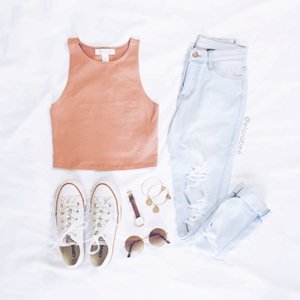 Dare to bare with a crop top and cropped pants! We think these cropped pants, with low Converse and a dainty anklet is so refreshing and cute for the summertime. Be more adventurous with your colors and try out camel, like beige and blush, it compliments every skin tone!
Floaty Shorts
For that first day of spring, this is a lush outfit! Nude colors will always be in and can be worn in a subtle way and less Kardashian-like. Plus, every girl needs a cute watch – instead of going for something bulky, leather-strapped watches are more practical as well as discreet for looking at the time during that boring class!
Dreamy Dungarees
You may be scarred for life after having to wear dungarees throughout your childhood, but trust us, dungarees can look contemporary and grown-up. We recommend dungarees with a skinny or boyfriend cut, that still cling to your thighs and brush against your ankles to avoid looking like you were dressed by your mom! Finally, wear a simple top and boots and let your dungarees do the talking.
Faux Fur Gilets
Last but not least, this outfit complete with faux fur gilet is classy yet casual. Tie up your hair, add some sunnies, and be ready to look like a star! Our favorite style icons such as Rihanna, Shay Mitchell from PLL and Katy Perry love their gilets, and totally pull them off, so why can't we?
You just read Girlterest list of 35 Cute Casual Outfits!
[td_smart_list_end]