35 Pink Nail Designs
Trying to find new and colorful Nail art designs can be a struggle. Trying to think of original ideas is time-consuming, especially in summer. Bored of the same old colors? Have you ever thought about pink? It may seem like a typical Barbie color but it adds a feminine touch to your outfit. It is perfect all year round and we have got you the best designs that will work for any season.
Pink Princess
You can't go wrong with pink and sparkles! It is a simple and elegant design that will look stunning at your next party or your next dinner date. It would look very sophisticated with a contrasting LBD and rose gold jewelry.
Mandala Madness
Mandala is a traditional design that is often used for temporary Henna or permanent tattoos, but it can be used for several other beauty looks too. Update it with a touch of girly pink and white for a fresh summer festival look. We recommend using a stencil kit to get the perfect design! Moyou London has the Mandala 01 kit that will help you to achieve this look.
Coral Crush
Though this look includes coral which is more of a mix of orange and pink, but we had to include this cute design! Coral is a great color to brighten up your outfit with, and is flattering on any skin tone. For a simple rose design we recommend Moyou London's Pro 17 kit that contains several rose stencils.
Stripe Style
We love this design as it gradually fades from purple to pink. It is ultra glamorous and chic with the silver stripes which can be done with silver striping tape. On the SallyBeauty website you can find the Cina Nail Creations silver striping tape at under 5$! It is a simple, elegant and cheap look!
Love Pink
This is a simple everyday look that will get you loving pink even you don't already! For perfect identical hearts, we always advise using a stencil kit, Moyou London has you covered with their Holy Shapes 14 stencil kit!
Bright Shapes
Coral and marine blue are perfect together as well as being summery! To get this gorgeous coral color we recommend the shade Tarto Deco by Essie, and for the dark marine blue you should go for the shade After School Boy Blazer also by Essie.
Lilac Love
Pink and lilac are a pretty casual concuction. Ideal for every day, the pairing still adds a little extra something to your nails. The color used here is Essie's Master Plan, and it really makes the bright pink stand out. Teaming pink with subtle colors is a perfect style for everyday – why not try pale blue too?
Pink Bear
For your inner child, give this look a go! Use a dotting tool for the spots, and of course, use a nail brush to draw on this adorable little bear! For the baby pink we recommend Essie's shade Lovie Dovie to get this girly look.
Silver Swirls
This style features a beautiful ombré of pink, purple and turquoise. You will definitely be "cool for the summer" with this cute look! For the silver swirls, UK-based site Sparkly Nails has got nail stickers (Arabian Swirls Nail Water Decals) that should do the trick!
Back To Black
Using two different polishes (matte as opposed to lacquer) can add texture and give you salon-quality nails. For the pink polish, pick Essie's Knockout Pout, for the black matte polish however, you should go for Sinful Colors' Back On Black.
Geometric Greatness
Geometric patterns make great nail designs for the summer.Vary the different pink tones for a lively look that will look like a piece of art! It makes quite an unusual design and will look cute with a black off-the-shoulder dress.
Marble Effect
This is not your typical marble effect, unlike others you have probably seen all over the internet, this is not what would be called a "water marble design". You will need your two polishes (so a light pink and a black polish), pins or needles to drag your lines out, and an old plastic bag.
1) Paint your base coat onto your nails, so here the light pink.
2) Put a bit of black polish onto the plastic bag and with a needle draw your lines by dragging out the "blob" of polish.
3) Once your base coat is dry, put your fresh pattern on your plastic bag onto your nail and lift it off. Repeat these last two steps for every nail.
Bow Manicure
Everyone loves a good manicure, but it can seem sometimes basic and a bit too easy. If you are daring and enjoy a challenge then you should try this bow manicure! Cut your nail into a squared oval shape or a stiletto shape for an extra-pointy tip!
Love Hearts
There is only a tiny bit of pink but the red and the white totally make up for it! This design is every girl's dream – hearts, stripes, dots, you want it, we've got it! Wear this with a denim jumpsuit for ultimate style points!
Chevron Print
Chevron print has been in every summer collection these last few years and it makes a wonderful nail design. Use tape to get those lines extra straight and even. Two China Glaze polishes have been used here – the shade What I Like About Blue from their summer 2016 collection was used for the light blue, whilst Neon Pink Voltage was used for the bright pink.
Criss Cross
This cute criss cross design is perfect for every day situations and it is so bright and pleasing for the eye. For the ombré base coat Butter London's Trout Pout Nail Lacquer and Kure Bazaar's Caicos. Coral and turquoise are very loud staple colors for summer so you need to try this out!
Stand Out
This unusual design will bring out the party princess in you! Be creative and do not be afraid to overlay different styles for a super original look. The glitter polish used here is from Butter London whilst for the pink we recommend their Flusher Blusher Nail Lacquer polish.
Under The Sea
We love this under the sea look that will look on point on any beach trip or any vacation. Impress your friends with your cute mermaid-inspired look and you'll be doing their nails before you know it! Plus, it involves one of our favorite patterns – the ombré.
Fine Lines
For this design you will need to get equipped! We advise you to get nail art pens as they will be the easiest option for drawing on the thin lines of this pattern – they are available on Amazon at under 8$ so you don't need to splash the cash to have a picture perfect design! All you will need now is to get yourself Essie's Pink-a-boo polish for the girliest pastel pink!
Icicle Melts
Nothing like some drop-inspired nail art to make you wish for ice cream! We love the fact that the drops were done in a matte polish for a sleek and smooth effect. For unique stencils, you should search Etsy, as they have everything you need nail art-wise! You can get the stencil you need for under 6$!
Wild Ideas
If you can't make up your mind, just go wild and try out everything! Go overboard with nail jewels, nail transfers, and stickers! For truly amazing nail jewels, we will always recommend Daily Charme as it has every shape, size and color you will need for your nail designs!
Pretty Pastels
Pastel colors will always look chic, whether it is in winter with that fave cable knit or in the summer with a maxi dress, you can never go wrong with them. That is why we picked out this one, a combination of pastel pink and another personal favorite of ours, lilac. The lilac shade is Zoya's Leah and the pastel pink is in fact another one of their shades, Brenna.
Classy Floral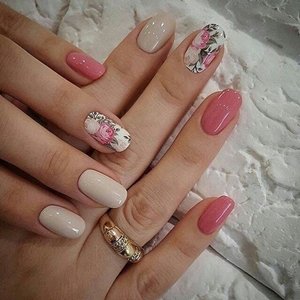 The nude addition adds class and elegance to this pink floral design. These nails will look stunning with an almond blue top and cream tailored shorts for the perfect garden party look. Keep the nails mid-length and cut into a rounded square for a minimalist look!
Ice Cream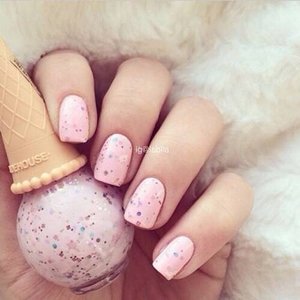 This cute speckled design was inspired by ice cream, so you can't possibly dislike it! Be inspired by your favorite ice cream flavor by using a dotting tool to paint on your favorite chocolate drops, or sprinkles! Create your own original masterpiece!
Pink Paws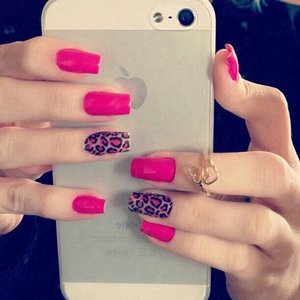 Leopard print in hot pink adds a girly glamorous edge to your nails. You have to admit, pink and black make an awesome pair and up your nail game! Add just a coat of pink polish on every other nail to keep it simple and classy.
Jewel Fever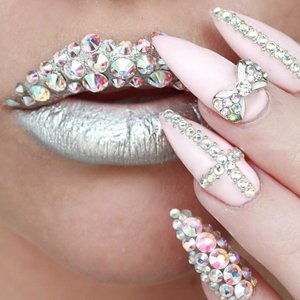 Pastel pink and silver jewels make a gorgeous party look. Team Daily Charme's Princess Bow Jewel in silver with an OPI polish in the shade Staying Neutral On This One to get this very glamorous look.
Pink Roses
Love floral designs? Why not take it to another level by getting flower nail jewels. These light pink roses are a great addition to your look and are perfect for any occasion. Aliexpress have the exact same ones as these and they are super cheap at under 1$!
J'aime Paris
For your inner francophile, try this design out! This design is original with the hint of leopard print yet girly with the bright pink. Draw on your favorite monument with a nail art pen for thin and sleek lines!
Half And Half
If you are bored of leopard print, then why not try another print? Zebra print is just a big right now and is simpler to do. Add a pink polish and a glitter polish for a feminine touch to your wild nail design!
Pink And Swirls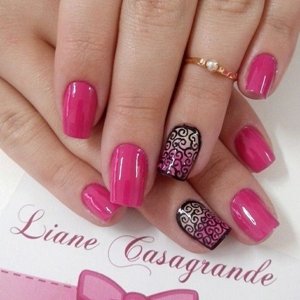 Pink and black make an epic pairing! For this fuschia color, we recommend getting an Essie polish in the shade Secret Story, for the swirls however, you should do a quick search on Aliexpress because, as always, they will have the swirls you need for the most original and perfect design!
Baby Blue
Don't these look gorgeous? Baby blue and light pink are so pretty together, so don't miss out on this design! Remember to add silver tape as a finishing touch. This look would look nice for any occasion as it remains simple yet colorful.
Turquoise Time
It is always difficult to know what to wear turquoise with, it sure is a vibrant color so finding a color with the same intensity isn't always simple. Try turquoise and coral for a fun summertime look that will grab any passer-by's attention! These Cult nail polishes are in fact matte which will leave you with a stunning professionnal look.
Heart Crazy
This is another heart design we know you will love! Made up of pink and a toned down turquoise, you have got another jaw-dropping summertime look here. Plus, you don't need to be an expert in nail art to do this one! You will definitely love this one!
Pink Marble Tips
A French manicure with a difference – for this we recommend wearing acrylic nails to achieve the length shown in this picture (unless you are very lucky to have very long nails!). For the tips, do your own water marble look with two different pinks for a beautiful and feminine feel. This style will get your nails party-ready!
Nude Pink
Last but not least, we have shown you bright pink and pastel pink but we haven't yet shown you a nude pink design! Nude pink is ideal for everyday if you don't want to worry about your nails clashing with your outfit. Add a white pattern for a subtle and casual look!
You just read Girlterest list of 35 Pink Nail Designs!
[td_smart_list_end]