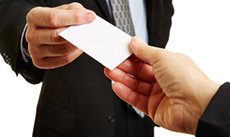 Business Cards are essential for networking, even in today's digital age. They are a tangible reminder of who you are and what you do. They help potential clients connect your name with your business and thereby increase sales.
On the other hand, prospects receive lots of business cards at networking events. It's easy for your card to get lost in the shuffle… unless you can come up with a design that is so creative, it's impossible to overlook. While there are lots of ways to make your business card stand out, two of the most innovative techniques involve changing up the card making process.
Try new materials
Business cards are traditionally made of Paper, so why not put a modern spin on your design? Metal, wood, and plastic are all far more durable than paper. And they offer some great creative options, like the ability to create a mini 3D replica of your products. Another 3D idea: hand out edible cookie cards at your next event.
If you want a paper card, don't choose flimsy paper. Clients prefer thick, sturdy stocks that can be customized with cool textures. You can also use recycled paper to reduce your carbon footprint; according to the EPA, the U.S. recycles 43 million tons of paper annually. Today's consumers, especially millennials, are especially interested in brands that participate in recycling initiatives and other eco-friendly practices.
Try new imprint methods
Most business cards are printed with ink, but most cardholders don't know what type of ink they're using or why it matters. In case you're wondering, there are two types. CMYK inks can create an infinite range of colors, perfect for putting a photo on your card. PMS inks are pre-mixed—meaning that while there's a limited number of colors available, PMS inks can match your brand colors exactly.
Textured imprints are another option—and one of the most fun. Foil stamping creates designs using a thin layer of smooth foil and offers vivid metallic options you can't pull off with ink. Embossing lets you create 3D designs that rise out of the paper, while letter pressing and debossing indent the paper to form text or images.
Each printing option comes with its own set of capabilities and limitations, so it's a good idea to work with a combination shop that can help design your business card and then manufacture it when you're done.
Manufacturing materials and imprint methods are two important parts of creating an effective business card—but they are not all you need to know. Check out this graphic to learn which contact information is right for you, how to format your card for the printer, and much more!