Difference Between Entrepreneurship vs Management
Both the terms are closely related terms in business but there is a considerable difference between both Entrepreneurship vs Management processes. An entrepreneur becomes a businessman in the long run. Management surrounds the large spectrum of organization studies. In simple management explain each aspect of the organization and it discusses organization and activity within an organization in order to achieve the desired set of objectives.
Entrepreneurship:
An entrepreneur is nothing but the person who starts or develops new enterprises by taking all other necessary resources together for the production to get started. In the long run, they also called as a businessman. An entrepreneur is a person who tries to transform an idea into reality by using available resources. The role of the entrepreneur is very vital, and they have full power and authority of the business. In short, entrepreneurship is the activity of setting up business or businesses, taking up financial risk in hope of profit.
Entrepreneur is a person who takes risk and uncertainty of business. Entrepreneur is the person who leads the organization in the market no matter how many competitors will come later but their position will remain untouched. Starting a business generally requires business concept, idea, service new technology, People for support, a process by which service or product will be delivered, money to run all activities.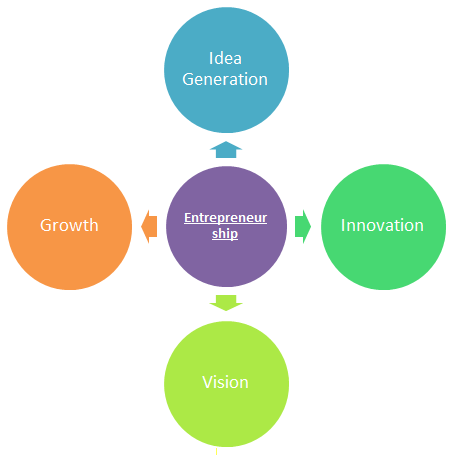 Entrepreneurship Activities:
Creating or planning the new product.
Entering into new markets and strategizing the next marketing move.
Finding a new business venture.
Taking an idea and executing them.
Entrepreneurship is the control and deployment of resources to create and innovative economic organization for the purpose of profit and growth under the condition of risk and uncertainty. The successful and sustainable business requires entrepreneurship and innovation. Entrepreneurship is a mindset an attitude and taking a particular approach to doing things. Entrepreneurship often requires creativity and innovation while addressing a new opportunity or concern in a new way.
Some of the Young successful entrepreneurs are as listed below –
Ritesh Agarwal – Oravel Stays Pvt. Ltd.
Farrhad Acidwalla – Rockstah Media
Advait Thakur – Apex Infosys India
Management:
Management is one of the arts of getting things done through and with people in the formally organized group. So management is an individual person or group of people that accept responsibilities to run the organization. Management generally brings all the' (Men and Women, Money, Machines, Materials, Methods, and Markets) together to run the business and to achieve the objective organization. Management is responsible to focus on business objectives and see that the work has been done as per planned.
Some of the key features of Management as listed below
Getting work done through people.
Result oriented.
Leadership skill.
Time management.
Its group activity and not an individual activity.
Separate from ownership.
Use a professional approach at work.
Reliability
So management is nothing but the process of running an organization with help of available resources and achieve goal or objectives which are set by an entrepreneur. So management is the employee of a company. Some of the primary functions of management are.
Planning
Organizing
Directing
Coordinating and controlling
The above-listed functions links directly to below mention skills in graphics.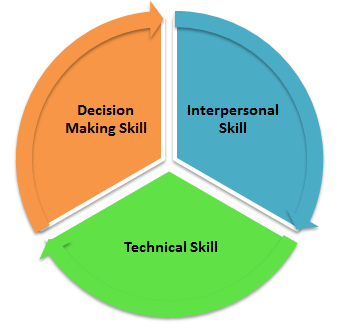 Management Skills
So management is simply directing employees what to do. Management overall is about an organization and its role is to ensure that a company's all moving parts working properly together and to guide the organization towards goal and achievement. So management is a critical element in the growth of an organization.
Head to Head Comparison between Entrepreneurship vs Management (Infographics)
Below is the top 9 difference between Entrepreneurship vs Management

Key Differences between Entrepreneurship vs Management
Let us discuss some of the major differences between Entrepreneurship vs Management.
Entrepreneurship is a process of creating enterprise by taking a financial risk in order to get the profit whereas management is an art of getting things done through proper planning, organizing, directing and controlling.
An entrepreneur is focused on new business venture whereas the main focus of management is to manage the ongoing operation.
Ownership of an organization stays with entrepreneur whereas management is an employee of the organization.
The entrepreneur will get profit as rewards whereas management will be getting paid for their work.
An entrepreneur is risk taker where management doesn't take any risk.
Entrepreneurs hold all the right to enjoy complete financial freedom of the business whereas Management doesn't enjoy complete financial freedom of the business.
An entrepreneur is an innovator whereas management executes the innovative idea.
Management is a Wide range of organization studies it includes all whereas Entrepreneurship is One of the parts of management.
Creditor vs Debtor Comparison Table
Let's look at the top 9 Comparison between Entrepreneurship vs Management
| | | |
| --- | --- | --- |
| The Basis of Comparison Between Entrepreneurship vs Management | Entrepreneurship | Management |
| Meaning | It is a process of creating enterprise by taking a financial risk in order to get the profit. | It is an overall business activity which is getting done through and with people in a formally organized group. |
| Function | Business start-up and venture | Look after an ongoing operation |
| Status | Owner | Employee |
| Rewards | Profit for risk bearing | Salary as a reward for work |
| Risk | A risk associated with entrepreneurship | Management does not accept any risk |
| Goal | Entrepreneur set the goal | Management implies the goal set by entrepreneur |
| Decision Making | Make a decision on personal perception and gut feelings | Make a decision after collecting detailed information and reaching an operative conclusion. |
| Fraud | An entrepreneur is not getting involved in fraudulent behavior | A manager may involve or cheat by not working hard. |
| Innovation | Is the innovator | Is the executor |
Conclusion – Entrepreneurship vs Management
After analysis of the above points, it is clear that Entrepreneurship vs management are two different terms of use in business. Management is concerned with the management of current operation with available resources, Entrepreneur focuses on the new venture and capitalizing new opportunities. Successful Entrepreneurship requires creativity and innovation in addressing new opportunities in a new way. Entrepreneurship is something which can't be taught in the other hand management can be taught. An entrepreneur is the backbone of the economic development of countries.
Recommended Articles
This has been a guide to the top difference between Entrepreneurship vs Management. Here we also discuss the Entrepreneurship vs Management key differences with infographics and comparison table. You may also have a look at the following articles to learn more.
Money Market vs Capital Market
Financial Accounting vs Management Accounting
Top Differences Of Stocks vs Mutual Funds
Comparison Between Assets vs Liabilities
The post Entrepreneurship vs Management appeared first on EDUCBA.