Divorce Certificate
Government of Punjab has taken many steps to make is sure that citizens can get Divorce Certificate with ease. In local language it is also known as Talaq Certificate i.e. Talaq mean Divorce in Urdu. Local Government and Community Development (LG & CD) issues divorce certificate. A person can also get the divorce certificate from his concerned union council. A Pakistani Citizen in Punjab Province has two options to get the divorce certificate i.e. first to go directly to the concerned Union Council and secondly go to e-Khidmat Markaz and apply to the same. If you go to Union Council the issuance of certificate takes 3 working days. If you go to e-Khidmat Markaz, the service delivery time is 7 days. Application processing charges at e-Khidmat Markaz are 100 rupees should be paid through National Bank of Pakistan.
Documents required for Divorce Certificate
Application Form
Receipt of Application Registration from Union Council / Court Order
Bank Challan
Divorce Certificate Application Form PDF Download
Click on the link below to download the form required for certificate
Divorce Certificate Form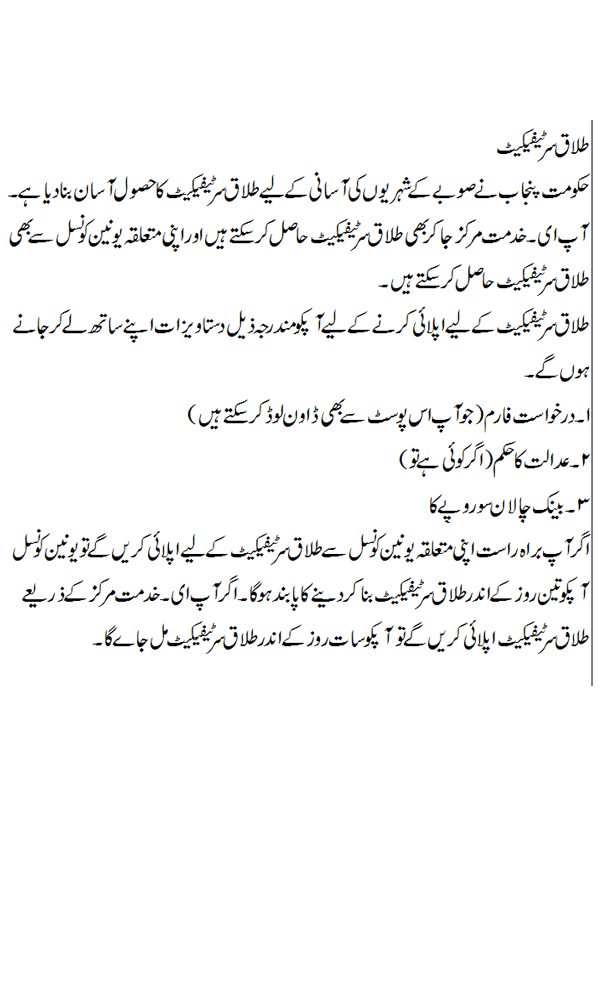 The post How to get Divorce Certificate in Punjab Pakistan – Guidelines in Urdu appeared first on Pakistan "The Land of Pure".