Networking in China for Expats
Expats who arrive in Shanghai to do Business often solely focus on the opportunities that already have been developed. Hopping on any kind of wagon in Shanghai is always a good idea for your professional evolution. However, what's even better is benefiting from the numerous other opportunities that haven't been explored yet. To achieve this, you'll have to get in touch with the right people, whether those are other expats or Chinese natives. You can always hope to run into these people coincidentally but in a city of over 24 million people, this might turn out to be quite hard.
Fortunately, Shanghai is a city that thrives on spontaneous entrepreneurial planning. Many corporations and individuals therefore organize Networking events. Like minded people can meetup here and lay the foundation of their future professional endeavors.
This guide is meant for those of you who are completely new to networking abroad or those who want to gain some more insights on selling yourself and your ideas in Shanghai. Networking in China is quite different to what you know, so definitely take some time to read this basic guide. At the end we also give you some websites that can be helpful to plan your networking events.
Expat to Chinese Networking
If you have been in Shanghai for a while you might have noticed that there is a big difference between what you know and what you experience here. This cultural difference extends itself to every aspect of your daily life, so definitely also to the business part. No matter if you are making the first contacts or are already into the further stages of your business talks, there are some things about Shanghai's professional scene that you need to know.
Business Card Etiquette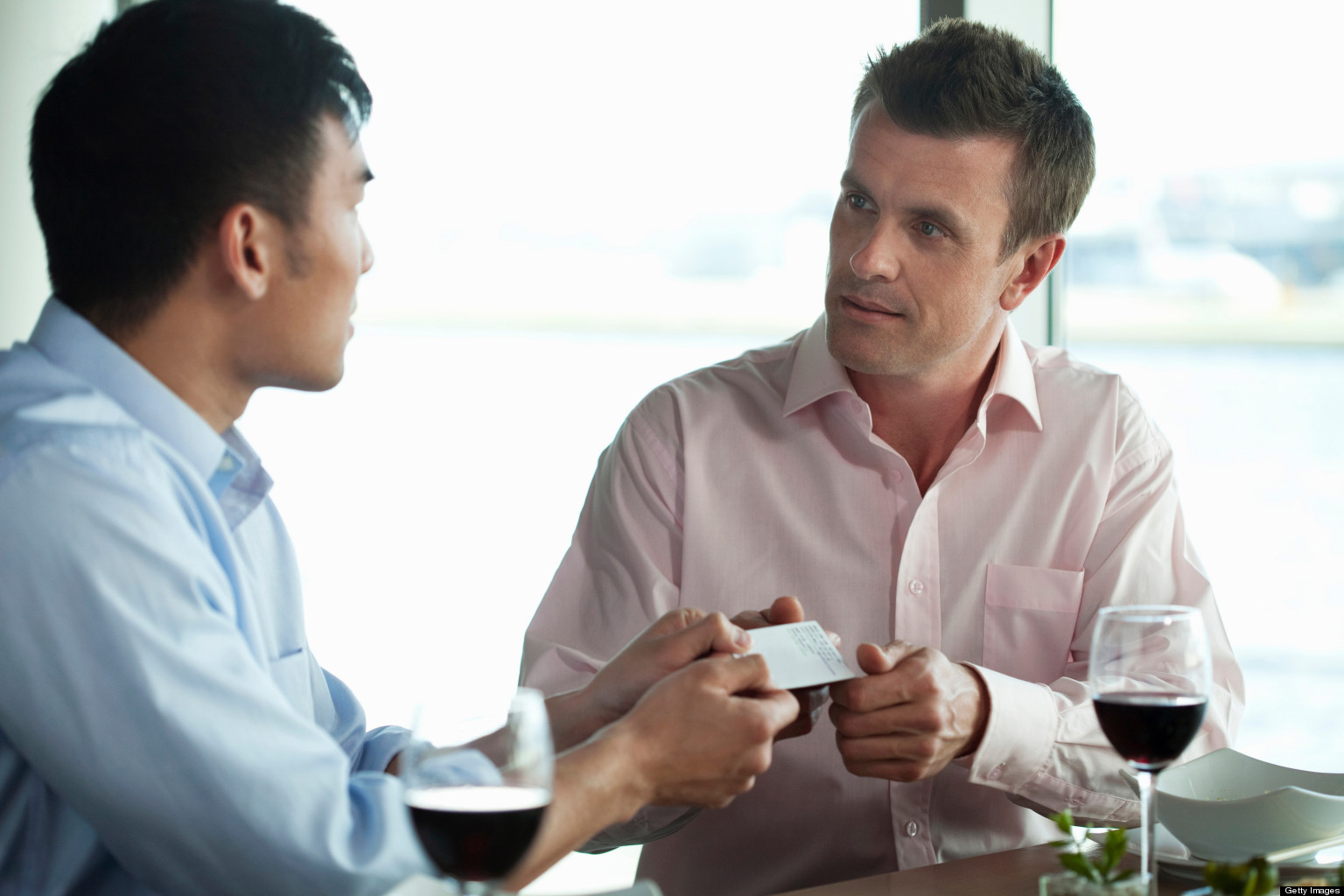 Receiving or handing over a business card comes with quite a few regulations. To make sure you don't embarrass yourself or the person you're connecting with, make sure you keep in mind the following social rules.
First of all, you should try to get a Chinese name. It doesn't only seem like you are more integrated, it might also help your conversation partner not to embarrass himself. As much trouble as we have pronouncing Chinese names, Chinese speakers don't have it any easier pronouncing western names. Therefore it's always a good idea to come up with a Chinese name and have the characters printed on your business cards. If you are taking Chinese classes you can always ask your teacher what your Chinese name might be. Otherwise a quick Google search might do the trick for you. Make sure to look this up on a trustworthy site though.
When the time arrives to hand over your business card, always make sure you are holding it with two hands. The text should be facing up so the receiver can read it. Keep your both thumbs on the corners and bend down your head a bit as you pass over your card.
When you receive a business card, always make sure you accept it with both hands as well. Again, bend down your head a bit as a sign of gratitude and never, never, just put it away. Take your time to read the information and give a compliment on the quality or design of the card. Don't ever put a business card in your back pocket! For Chinese professionals this means the same as taking a seat on their face. No need to explain how that can seem disrespectful. Store it in your suit jacket or shirt pocket or even place it in front of you if you are sitting down.
The Importance of Face
This is an important point. Losing face is one of the worst things that could happen to a Chinese entrepreneur. The difficulty about this is that it can happen in many different ways. For example, placing a business card you received directly into your back pocket is one way of losing face. Here are a few other ways to make sure your Chinese partner doesn't lose face.
If you really want to do business with Chinese entrepreneurs you should be willing to accept every invitation they extend to you. Most of the business talk is being done after you spent some quality bounding time together. Establishing a proper connection is important. To a Chinese entrepreneur there is no better way to achieve such a connection then by going to a restaurant or bar and eat and drink till you burst. If you flat out decline the invitation, this will cause loss of face.
Also if you are talking to a large group of people, the individual input of each member might be minimal. Don't think that they don't like your idea or that they are bored by your speech. In their fear to lose face they'd rather say nothing, than something wrong. If you really want to hear what someone has to say, talk to that person separately. They will open up to you, especially over a drink, and you'll find out immediately what they think or what you want to know.
Connections & Age
No matter what your professional goals are in China, you will need some local connections. To get stuff done, it's crucial to know the right people. An extended network is important wherever you do business, but in China this network should consist of some prominent Chinese entrepreneurs. You cannot penetrate the intricate business scene if you don't know and trust some local people. That's why networking in China is crucial if you want to reach your goals in China.
The difficulty by which you will obtain these necessary connections depends a lot on how old you are. No matter how well qualified you are or what kind of high-end institution you attended, at the end you'll be judged on how many years you have been active. The younger you are, the less credibility you will be given by your potential partners. This means that you will have to be extremely well prepared when the time arrives for you to pitch your ideas. Overwhelm your interlocutors with your professionalism and prove that age is nothing but a number.
In China seniority is a synonym for respect. Therefore you should show respect to any senior entrepreneurs you come across. Be polite to people that are older than you and show them the respect their culture allows them to enjoy. Seniority might also simply mean holding a higher position than you. So remember, no matter how casual the event might be, show respect where it is due and you'll develop a qualitative business relationship in no time.
Open Up
Probably one of the most important aspects of networking in China is your enthusiasm. Actively approach Chinese professionals and go into a conversation with them. Many westerners are taken aback by the language barrier but don't let this get in your way. Present yourself as an open-minded entrepreneur who is open to adapt to any culture he arrives in.
During a conversation give lots of compliments. This will make their fear to lose face subside and they will open up to you more. Once you notice the conversation is going smoothly, you can get really familiar with the person you're talking to. You will notice that when they start to treat you like a friend they've known for a while, you've broken through the initial barriers. When you've achieved this, you shouldn't be surprised when they ask you some personal questions. These questions can range from how much money you make to your family situation. It's only after establishing this level of familiarity that you'll be able to divert the conversation to business. Be careful not to do this too early. This will have an opposite effect on the conversation.
Expat to Expat Networking
A city with 24 million inhabitants in a country with the fastest developing economy in the world naturally attracts quite some foreigners. Shanghai is a famous city with expats because to a lot, it's so similar to what they know back at home. Of course everything is bigger, but Shanghai really offers all of the comforts that any western metro-pole does. Whether it is to gain advice or to actively push business proposals, it might be a good idea to get in touch with these expats that established themselves here. The only problem might be finding them.
Roam the Web
If you arrive in Shanghai without knowing anybody here, you'll need to get online quickly. Use a simple Google search (Don't forget your VPN

or be more specific by using LinkedIn to discover who else is in Shanghai at the same time as you. There are so many networking events being organized every week that you won't have to look long before you find something that could be interesting to you. Don't pick the first one you find either. Read every event description carefully, learn about the speakers and the industry focus of the event and check if it applies to your goals.
Continue reading and find out which websites and platforms contain the most valuable information.
It will be Casual
Networking events in Shanghai rarely take place in a office. It's mostly an organization that rents a venue, co-working space usually a bar, and arranges a happy-hour deal. People are thus invited to take drinks as well as go into conversation. You should attend these events with a mindset to socialize first, talk business second. Much like establishing a connection with Chinese entrepreneurs, expats in Shanghai expect you to engage in some small talk first. Not as long or as much as the Chinese natives but don't attend events thinking it will all be business. Many expats attend these events just to enjoy a drink and a conversation with like minded people.
Your Nationality Matters
Because many westerners develop some form of homesickness, they tend to troop together to reminisce over the home country. Besides nurturing their nostalgic feelings, these groups will also talk about what they are doing in Shanghai professionally.
This lead some business minded individuals to start up associations of young professionals. These are groups of people, from the same country, that engage in networking as well as event organizing. Their goal is to create social contacts but also to enhance professional development in Shanghai. Such an association can be of great help to you. You can meet other expats that are in Shanghai for the same reasons as you.
WeChat is your Business Card
Other expats will ask you for your business card as well but won't look at it the same way as Chinese professionals do. It's not really part of an official introduction, but is used predominantly to scan the QR-code you'll find on all of them. This code is a direct connection to your WeChat profile. Some people even add their Wechat QR code directly on their business cards for an extra modern touch.
WeChat will be your main way of communication while you are in China. Many applications we are used to in the west have been blocked and others, like a traditional e-mail, are just too slow. Make sure you have installed WeChat on your phone by the time you have arrived. Also, get accustomed to the app so you can quickly add someone or let someone add you when the occasion arises.
Through WeChat, people are also able to add you in groups or conversations that are helpful to you. It's the one application in China that brings all social and professional aspects of a chat app together.
Networking Channels
There are many websites that offer digital networking opportunities. Besides these you also have websites that simply list the several networking events they, or other organizations, prepare. It's very useful to browse through them and select a few that can be of help to you.
Below we offer you a list of websites that are definitely worth a visit if networking is one of your priorities while you are in Shanghai.
cn.swisscham.org: The homepage of the Swiss chamber of commerce. Their events page lists quite a few networking opportunities.
www.china.org.cn: Check out their opinions page to find out the latest relevant Chinese business news.
www.bencham.org: The website of the Benelux chamber of commerce. Check out their event page to find any relevant occasions worth a visit.
www.swissnexchina.org: Swissnex focuses on bridging the gap between Swiss start-ups and the Chinese market and investors. They organize quite a few events to bring both groups together.
www.spanishchamber-ch.com: The website of the Spanish chamber of commerce. Check out their agenda and find relevant events to visit.
www.cancham.asia: The homepage of the Canadian chamber of commerce. They organize a whole array of social and business occasions worth a visit.
www.swedcham.cn: Website of the Swedish chamber of commerce. Give their agenda a look and see how they promote partnership between Sweden and China.
www.china.ahk.de: This platform is home to the German chamber of commerce which aims to improve the relationship between Chinese and German industrial and commercial businesses. Go the Chamber page and you'll be able to see the events they organize.
www.sniec.net: Home of the largest Sino-German joint venue. They are a large exhibition center located in central Shanghai. They organize a whole array of events to bring together entrepreneurs from different origins.
www.slush.com: This organization organizes mass events that aim to bring together people who plan to do business in China.
The following websites are not linked to a specific country but aim to bring together people from the same nationality or with the same goals in mind.
www.fcclub.com: The Fortune Connection Club's goal is to warm up business minded professionals from all around the world to do business in China. They organize many networking events.
www.meetup.com: An interesting website for all expats. Sign up and you'll be able to join many groups no matter what your plans are.
www.internations.org: Internations is a platform for those who feel a bit homesick and want to communicate with people from their home country. Great way to meet people with a similar background as yourself.
The post Networking in China for Expats appeared first on Internships China.