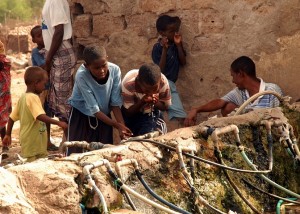 While Drinking sufficient water regularly to ensure that you are always fully hydrated according to your age, gender, personal lifestyle, climate, health condition and various other factors is important, it is even more important that you ensure that the water you drink is free of any toxins.
Unfortunately even tap water is not always that pure, even in first-world countries, and could easily contain various toxins including chlorine by-products, fluoride, pharmaceutical drugs and even traces of recreational drugs such as cocaine.
The best way to ensure that your drinking water is pure is to use some type of water Filter. There are various kinds of water Filters that you could use, including counter-top water filters, whole-house water filters, under-sink water filters, and jug water filters.
Another type of water filter is that which can be found in a water cooler, especially point-of-use (POU) or mains water coolers, which are plumbed directly into your main water line. The added benefit of purchasing a water cooler with a good water filter is that the water is not only Filtered and free of all toxins, but chilled as well. Some water coolers offer cold, ambient and hot water options, which means that you can make all your drinks with filtered water.
The benefits of drinking filtered water include:
Toxin-Free – Filtered drinking water is free of all toxins and mineral-rich;
Convenience – Whole-house filtration systems and water coolers are very convenient to use as all you have to do is turn open the tap to get a refreshing glass of pure, filtered drinking water.
Quality – You may think that drinking bottled water assures you of drinking pure water, but there is no way for you to control the quality of the water as there is with a water filter. Studies have proven that at least 40% of bottled water is nothing more than ordinary tap water.
Cost – While a water filtration system or a water cooler with a filter may initially cost a lot of money, it pays for itself via your good health, which means less time off work and fewer illnesses and doctor's bills. It will also work out far cheaper than drinking thousands of bottles of water in the long run; an added bonus is that water filters are better for the environment.
The post What are the Benefits of Drinking Filtered Water? appeared first on Living-Water.