How to plan the perfect do it yourself visit to the Blue Mountains.
The Blue Mountains is a world heritage wilderness that begins 60km west of Sydney. Spending a day visiting the mountains makes a great addition to a Sydney itinerary. The area is home to 400 different species of animals, 40 of them rare or threatened and covers over 11,400 km². The Mountains are not actually mountains but rather a valley that was formed over 50 million years ago.
The mountains are the perfect distance from Sydney for a day trip, which will give you a taste of the region but a full weekend is the ideal amount of time to experience the area.
This article will highlight the main sights and attractions that are located in my three favourite places in the Blue Mountains. Wentworth Falls, Katoomba and Leura and hopefully help you decide what type of visit is right for you.
Why are the Blue Mountains blue?
So let's start with the most common question I get asked about these mountains and get it out of the way! The mountains get their blue appearance and their name, from the oil in the eucalyptus trees which when dispersed in the air gives off a blue hue. Science is not my forte, so I am not going even to begin to go into any detail on this. Instead, I suggest you check out the science behind the Blue of the Mountains here
Planning your visit to the Blue Mountain region
How to get to the Blue Mountains?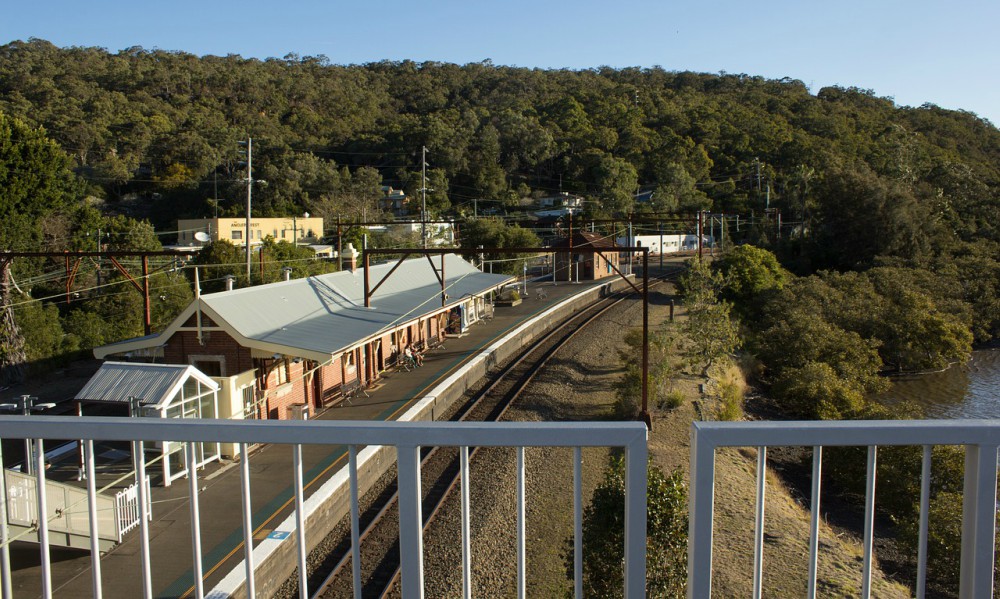 The main centre of the Blue Mountains is approx 120km west of Sydney city and takes approx 1.5-2 hours to reach depending on traffic and your mode of transport.
The three main towns of interest to visitors on a day tour are Katoomba, Wentworth Falls and Leura. If you have time to make a weekend of it, I would add Blackheath, Mount Victoria and Mt Tomah Botanic Gardens.
Train: Train from Central Station in Sydney takes approximately 2 hours to reach the mountains. Tickets are cheaper after 9 am or on weekends. The return trip can be made using a variety of tickets. The most economical is the off-peak return (purchased after 9 am) at $10.80 If you want to leave earlier than that the ticket is $15.60. On weekends all tickets are off-peak.
Tip: Go during the week for a less crowded experience. If you don't mind paying the peak fare there is an 8:50 am limited stops train that reaches Katoomba at 10:32 am. This is the first express train. If you fancy an early start there is a train around 7:20 am that will have you there at 9:20 am.
Car: It is about a 1hour 40 mins drive from the city in good traffic. You mainly travel via motorway although the last section can be quite slow. Sunday afternoon traffic can be particularly bad. Head up as early as you can to avoid the worst traffic and consider returning leaving after 5 pm if you can for a quick run.
Tours: There are over a dozen tours operating from Sydney to the mountains with a tour to suit almost every travel style or budget. I recommend one of the smaller groups as you will get to see and do more than the large bus tours. I have reviewed my favourites Blue Mountains tours if you think that is more your style.
What is the best way to get around in the Blue Mountains?
If you are heading up by train, it makes sense to pick up one of the two hop on hop off services to make exploring the mountains easier. You can get to most of the attractions by public buses (route 686), but it does require a bit more effort to make sure you can find the stops and bus routes you need.
2 HOHO tours are operating in the Blue Mountains, The old world Trolley Bus or the red Explorer Bus; both will get you round to all the key attractions although they have slightly different routes.
The Trolley Bus costs $30 and is a hop on hop off service, but you must only go around the loop once, so no backtracking. It covers almost all the same places as the more expensive explorer bus but which is best depends on how organised you want to be.
The Blue Mountains Explorer Bus has 26 official stops, but some of them are multiple stops in the same town. It covers all the main areas between Katoomba and Leura and has limited stops to Wentworth Falls. There are three ticket options, the basic ticket is valid for one day and cost about $44, there is also a ticket that includes Scenic World
When is the best time to visit the Mountains?
The Blue Mountain region can be visited year round. The temperatures are a little more extreme than Sydney and range from a daytime average of 16°C (60F) in winter and 29°C (84F) in summer. The area hosts several big festivals which can push accommodation prices and crowds up but are also a lot of fun to join in. The key events are the Blue Mountains Music Festival in March, The Winter Magic Festival in June, Christmas in July and Leura Garden Festival in October. You can check the region's festival calendar here.
How long do you need to explore the Blue Mountains?
You can get a good taste of the Blue Mountains in a day, albeit a rather long one if you are coming from Sydney, but if you here on a longer visit an overnight stay will reward you with some fantastic views and great memories. Keen bushwalkers can easily find enough to do here to stay for a week! For me a 2 or 3-day visit is ideal but if you don't have the luxury of time, then one day is still a great option.
The Top Blue Mountains Attractions
The Three Sisters – the number one attraction in the Blue Mountains
The Three Sisters, the iconic group of sandstone rocks at Echo Point, are a short drive or even a walk from Katoomba train station. They are the areas most visited attraction. Busloads of tourists flock here each day on day tours from the city, and it can get a little crowded sometimes, but it's still well worth a visit. The 'sisters' are floodlit from dark until 10.30pm each night. They look equally amazing no matter what time of day you visit and even a foggy day can provide a great photo of the rocks piercing the fog.
The rock formation gets its name from a Dreamtime legend that says the rocks were 3 young sisters whose father turned them to stone while he fought an angry bunyip. He lost the fight, and the girls were forever stuck in the rock. Well, that is the version I was told on my indigenous tour of the mountains years ago. Other stories are floating around and some controversy over which is correct. Check it out on Wikipedia
Wentworth Falls – my favourite Blue Mountains waterfall
There are numerous waterfalls in the Blue Mountains, but my favourite – and among the easiest to reach without a car is Wentworth Falls. There is a walk called Darwin's walk (after Charles Darwin) that begins at the station and ends at the falls. It takes a little under 2 hours to complete and is a pretty easy walk.
If you want to swim at the bottom of the falls, the Wentworth Pass Track will be the best one to follow. If you decide to eat in the area, the Conservation Hut offers good food with great views. There have recently been some landslides in this area so check the Blue Mountains National Park website before you plan any walk in this part of the park.
Scenic World – The Katoomba Scenic Railway & Skyway
Almost everyone who heads to the Mountains ends up at in Scenic World; it is by far the most popular man-made attraction here. The scenic world complex is home to 3 experiences.
The Scenic Railway – Ride the railway with the steepest incline in the world at 52 degrees. By far the most useful of the rides here as it saves you walking but up from the valley floor below. The railway was originally built as a way to bring coal from the Katoomba coal mine on the valley floor. The mine only operated for 21 years, and today this track, which travels 405 metres to the top of the mountain is used to transport visitors to the boardwalk below.
The Skyway – Travels 3/4 km across the Jamison Valley providing incredible views. The Skyway has a glass floor that allows views of Katoomba Falls and the valley below.
There is also a cableway which I have not personally tried yet that takes you down to 3km of a scenic walkway and at the end of the walkway is the railway to take you back up. This ride is wheelchair accessible as is the first section of the walkway.
Leura Village – Old World Charm in bucketloads
Leura village, located between Wentworth Falls and Katoomba, is a postcard-pretty village with beautiful gardens, a high street of quaint shops, and a variety of cafes and restaurants.
What to see in Leura
Sublime Point Lookout – Leura is the closest town to Sublime point that is just as its name says, sublime!
Leura Cascades – a lovely picnic ground and a beautiful short walk to the cascading water.
Garden lovers should try to time their visit with the annual Garden Festival held each Oct/Nov.
Everglades Historic Home and Garden – Tour this beautiful art deco house and garden
Gordon Falls Lookout – This waterfall plunges over a 200m drop, and the lookout has great views to Kings Tableland
Bygone Beauties – Check out the world's most extensive teapot collection while enjoying afternoon tea.
Leurella Toy and Railway Museum – Largest toy collection in the southern hemisphere
Where to eat in Leura
Solitary Restaurant – There has been a cafe on this site since 1913. These days you can either grab an all-day breakfast in the garden or dine in the restaurant. Great views.
Josophan's Chocolate – An experience for your eyes and your taste buds, we always stop off here for a little treat.
Katoomba Town Centre and Street Art Walk
The first stately homes were built in the mountains in the 1870s. Katoomba was developed in the early 1900s as a mountain resort area and quickly became popular with Sydneysiders wanting to relax in a cooler climate. The area took off in the 1920-1930s resulting in a good number of art deco styled buildings.
Katoomba main street is a good spot to stop for lunch with some fine examples of Art Deco and Art Nouveau architecture to explore.
What to see in Katoomba
Paragon Cafe – This heritage listed cafe, opened in 1916 features a glorious art deco style fit out.
Champagne Charlies – This cocktail bar in the Carrington Hotel
Waradah Aboriginal Centre – learn a little about Australian Indigenous culture at Waradah which is located about 50m from Echo Point
Katoomba Street Art Murals
Where to eat in Katoomba
Elephant Bean Cafe – We have always enjoyed the coffee here
Which Blue Mountains Bushwalk should you do?
Even if you have limited time, I think it's worth taking a short walk. You don't have to be super fit to walk here; there are walks to suit all levels of ability.
Walks starting at the Three Sisters Walk
Three Sisters Path – Moderate
Start Echo Point – 1.1 km return, this is an easy 45-minute walk. You can choose to climb down 123 steps and across a bridge to the inside of the Three Sisters. On completion, you recover your steps. Full details here
Echo Point to Leura Cascades – Moderate
This walk is a little over 3km and takes about 1 hour 45 mins. It brings in the Prince Henry Cliff walk about and also passes Honeymoon Lookout. There is a map with full instructions on the Wildwalks website.
Echo Point to Scenic World via Furber Steps – Moderate
Do you choose 1000 or 800 step staircase down to the valley floor below?
The Giant Stairwaytakes about 20-30 minutes to descend. This track takes you out and on to the three sisters themselves. You make your way down the stairs to the bottom of the valley and the Scenic railway. This walk is not suitable for anyone who is not fit. There are full details on Wildwalks guide to the Giant Stairway walk
The Furber steps are a little longer, but I think perhaps a little more comfortable. Several lookouts run off the walk.. don't miss Juliet's Balcony! Once at the bottom of the steps you can catch the scenic railway back up to the top. I have done this walk, and it's not that hard. I would rate it medium difficulty, make sure you wear sturdy shoes. This link has some great photos of the views along the Furber Steps Track. Wildwalks guide to walking the Fuber Steps
Walks starting at Scenic World
Katoomba Falls walk – Easy
This 4km walk begins at Scenic World and takes about 2 hours.
Prince Henry Cliff Walk – Easy
If you begin at Scenic World – this 7 km walk takes about almost 3-4 hours depending on how often you stop, but it is well worth it. The walk features three waterfalls and more than a dozen lookouts over the Jamison Valley. You can also begin at Echo Point to save some time and energy. More details here
To find details of some of the longer more difficult walks check out this article by Best Walks Sydney
Where to stay in the Blue Mountains
You can do it in a day, but it's even better when you take your time
If you plan to stay overnight in the mountains choosing which pretty village to stay in can be hard. If you do not have a car, then I would recommend Katoomba. There are lots of shops and restaurants and all tours and hop on services start here. It's also home to a great Youth Hostel (YHA) if you are travelling on a budget.
Leura is great if you are looking to stay for a few days… The town is very quaint, has beautiful old homes with lovely gardens, and there is enough to do to keep you busy if you need to be. Tripadvisor lists a bunch of options for vacation rentals. There are also some great pubs or houses further up the mountains in Blackheath and Mount Victoria (The Imperial)
Hydro Majestic at Medlow Bath
The Heritage listed Hydro Majestic is one of the iconic buildings of the mountains with an exciting past. The hotel, built by department store mogul Mark Foy, opened in 1904 and was made in a mix of Edwardian and Art Deco styles and includes a domed roof that was brought in from Chicago. During World War 2 the hotel was turned into a hospital for US Soldiers. Sir Arthur Conan Doyle was a guest here, Opera Singer Dame Nellie Melba performed here, and the country's first Prime Minister died here.
Over the last few years, the hotel has undergone considerable refurbishment, and the views from the public rooms are truly spectacular. Feedback on the hotel is varied so check the latest reviews on TripAdvisor and see if you the decor is your cup of tea.
Echoes Boutique Hotel
The views over the mountains from this hotel win me every time. We are partial to boutique hotels because we love the friendly feeling they offer. With just 14 rooms and helpful, friendly staff Echoes do this really well. The rooms here are more spacious than many of the older properties, and the facilities are excellent. I would stay here again in a heartbeat. Take a look at the spectacular views on the TripAdvisor reviews. I am sure you will as impressed as we were.
The Carrington
The Carrington opened in 1883 and was a favorite spot for Sydney's elite to escape the city. It was once said to rival Raffle in Singapore. The hotel continued to operate for over 100 years before closing for over a decade and undergoing six years of restoration. The refit is true to the period with lots of lovely details, and many of the public areas feel like you have stepped back in there. There are not a lot of mod cons here but there is everything you need for a comfortable stay and the location right in Katoomba is great for dining and exploring. Take a look at the photos and review on TripAdvisor for more details.
Peppers Fairmont Resort
If you prefer resort style accommodation to smaller old world properties, it is worth taking a look at Peppers Fairmont. The hotel is pet and family friendly with 200 rooms of varying styles. They have several restaurants and a spa to keep you busy when you are done exploring the many walks in the mountains or when the weather is against you. Check out all the great rooms and facilities on TripAdvisor
Blue Mountains YHA
You don't need a champagne budget to make the most of an overnight visit to the mountains. The YHA is a great budget choice with an excellent central location close to the station and shops for supplies. There is a pool table, a giant outdoor chess set and a large communal kitchen. The common room features a large open fireplace that is a perfect spot to curl up with a book in winter. The hostel has 200 beds and both dorms and private rooms. Read the latest reviews on TripAdvisor
We are heading up the mountains again next weekend so stay tuned for some new reviews soon.
Stay safe in the mountains
Check the weather report and bushfire risk
Do not walk alone
If you are doing an overnight walk tell some when you expect to return
Always take water and food
Have you been to the Blue Mountains?
Can you add anymore must visit places to my list?
Need free help planning your trip to Sydney? Join our Sydney Expert Facebook Group where you can ask questions, stay up to date with what's happening in Sydney and meet a bunch of friendly locals happy to offer their advice!
Powered by GetYourGuide. Become a partner.
The post How to visit to the Blue Mountains without a tour guide appeared first on .