Fethiye - Muğla - Turkey

GPS : 36°38'09.1"N 29°05'56.9"E / 36.635848, 29.099131

Paçariz Burnu Lighthouse
Fl G 3s 14m 4M
GPS : 36°38'28.5"N 29°06'04.5"E / 36.641251, 29.101247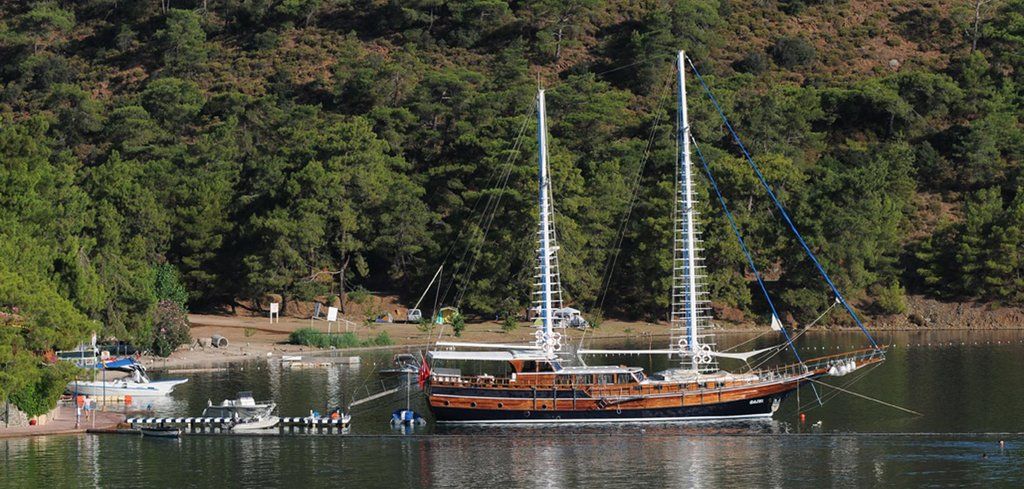 PHOTOGRAPHS ALBUM

The Club and Hotel Letoonia is located on the beautiful south coast of Turkey overlooking the Aegean Sea. The hotel is an exclusive retreat has three private beaches that stretch along one and half miles of gorgeous coastline, and features its own marina with space for approximately 30 yachts. The beach haven of Fethiye is two miles away and the popular Ölü Deniz is 15 miles away.

Letoonia Marina
The 'marina' here is simply a boat park on a concrete quay (without laid moorings) and not a very salubrious one at that. It is composed of a port section on the bay under Paçariz bay and short port. It is about one hour far from Dalaman International Airport.

Capacity : 30 yachts

There is water and electricity supply, restaurant and bar on the coast.
It can be filled with fuel tanker in the town of Fethiye.

You can anchor in 10-15 meters on the west of the marine. You can anchor on the rowing club on the west end of Fethiye Port.

The Letoonia Hotel offer 111 guestrooms and 495 bungalows all of which have much needed air-conditioning and a balcony, some with a classic Ottoman design. The hotel has truly first class facilities that include a superb selection of sports and activities, exquisite dining options, a spa and plenty of hotel run entertainment for all ages.

There are swimming pools for both adults and children, six tennis courts, a fully equipped gym, a traditional Turkish bath, a sauna, steam room, massage and beauty treatments and therapies, a boutique shop, a hair salon, a TV and games room and down on the beaches; a whole host of water sport activities. To keep young guests entertained there is a mini club (4 to 8 yrs), a kid's club (8 to 12 yrs) and junior club (12 to 16 yrs). Family friendly activities, entertainment and games are organised throughout the day and evening. The hotel has three a la carte restaurants, three buffet restaurants and many bars.

A visit to Fethiye is highly recommended and there is a regular shuttle bus service there from Letoonia. Fethiye is a maze of winding streets with superb shopping options and plenty of bars and restaurants. The harbour area has a pleasant palm lined promenade that provides the perfect place to relax with a drink and watch the world drift by. Fethiye is also known for its vibrant nightlife scene.

Guests may choose to take the All Inclusive option that includes breakfast, late breakfast, lunch, snacks, 5pm tea, dinner, and night snacks. For the a la carte restaurants with reservation in advance is required. Local and imported alcoholic and non-alcoholic beverages are available. Drinks at the Nargile Bar are with extra charge. Suitable for Couples and Families. The Club and Hotel Letoonia will be ideal for those looking for high quality beachside accommodation in a beautiful area with plenty of privacy and excellent facilities.

Swimming pools
The property has one hotel pool and two club pools each one with a separate children's section. There is also a thalasso therapy pool, and in the mini club two children's pools, one with waterslides. Complimentary sun loungers, parasols and beach towels are available.

Accommodation
All have - bathroom/shower - WC - TV - telephone - air conditioning - balcony/ottoman style balcony - safe - minibar - hairdryer - (certain amenities may be payable locally)

Eating and drinking
The hotel has three has three a la carte restaurants (seafood, traditional Turkish, sushi), three buffet restaurants, and three snack bars. There is also the Marina Bar, the Marine House Bar, the Dolphin Beach Bar, the Champagne Beach Bar, the Agora Bar, the Panorama Bar, the Moonlight Disco Bar, the Nargile Bar and the Turkish Cafe.

Use of the Marina, A la Carte Restaurants, Babysitting, Smoking the Narghile or Hubbly Bubbly pipes at the Hookah Cafe, Laundry and Dry Cleaning, Hairdresser and Beauty Saloon,
Photographer, Vehicle Rental Service, Photocopy and Fax, Market, Boutique, Gift Shop, Leather Store, Jeweller, Doctor and Nurse, Ambulance

FISH RESTAURANTS
Fish Restaurants are very famous with their fishes, cooking and services. Fishes available due to seasons.

FISHES
Levrek (Sea bass), Çipura (Sea Bream), Hamsi (Anchovy), Palamut (Atlantic bonito), Lahoz (Waker), Orfoz (Gouper), Sinağrit (Dentex), Kırma Mercan (Pandora), Çizgili Mercan (Striped bream), Has Kefal (Striped mullet), Sivriburun Kefal (Sharp noise mullet), Sarıyanak Kefal (Golden mullet), Kalın Dudaklı Kefal (Thick lipped mullet), İnce Dudaklı Kefal (Thin lipped mullet), Benekli Kefal (Grey mullet), Lüfer (Bluefish), Karagöz İstavrit (Scad), Sarı Kanat İstavrit (Horse Mackerel), İskorpit (Red Scorpion fish), Lipsoz (Annular Sea Bream), Uskumru (Mackerel), Barbunya (Red mullet), Karagöz (Two Banded Bream), Sarpa (Sauppe), Mezgit (Whiting), Mavi Mezgit (Blue Whitting), Tekir (Striped Red Mullet), Orkinos (Blue-Fin Tuna), Kılıç (Sword fish), Dil (Common sole), Sarıkanat Lüfer (Bluefish), İstakoz (Lobster), Kalamar (Calamary), Ahtapot (Octopus), Karides (Shrimp), Yengeç (Crab), Deniz Tekesi (Prawn), Midye (Mussel), Hani (Painted Comber), Isparoz (Annular Bream), Sardalya (Gilt sardine)

FETHİYE MUSEUM
The Fethiye Museum, which is very rich in ancient and more recent artifacts, displays and testifies to the successive chain of civilizations that existed in the area, starting with the ancient Lycians.

TRANSPORT
Minibus : Karagözler - Fethiye
Bus : Fethiye - Antalya, Muğla, Burdur, Dalaman
Ferryboat : Fethiye - Rhodes (Greece)
Airport : Dalaman International Airport

WEATHER FORECASTS

Mgm Weather Forecast
World Weather Forecast
Accu Weather Forecast
Wunderground Weather Forecast
Weather Forecast
Yahoo Weather Forecast
Weather Channel Forecast
Foreca Weather Forecast
Msn Weather Forecast
Holiday Weather Forecast
Bbc Weather Forecast

LOCATION SATELLITE MAP



WEB SITE : Letoonia Marinet

MORE INFO & CONTACT
E-Mail : [email protected]
Phone : +90 252 614 4966
Fax : +90 252 614 4422

These scripts and photographs are registered under © Copyright 2016, Letoonia Marinet. All Rights Reserved.