Göcek, Fethiye - Muğla - Turkey

Göcek Island Lighthouse
(Fi (2) 10s 8 M

GPS : 36°45'00.0"N 28°55'35.0"E / 36.750000, 28.926389

VHF Chanel : 72
Call Sign : " TANGO ALFA LIMA 207 "

Club Marina Lighthouse
Fi WR 7-4 M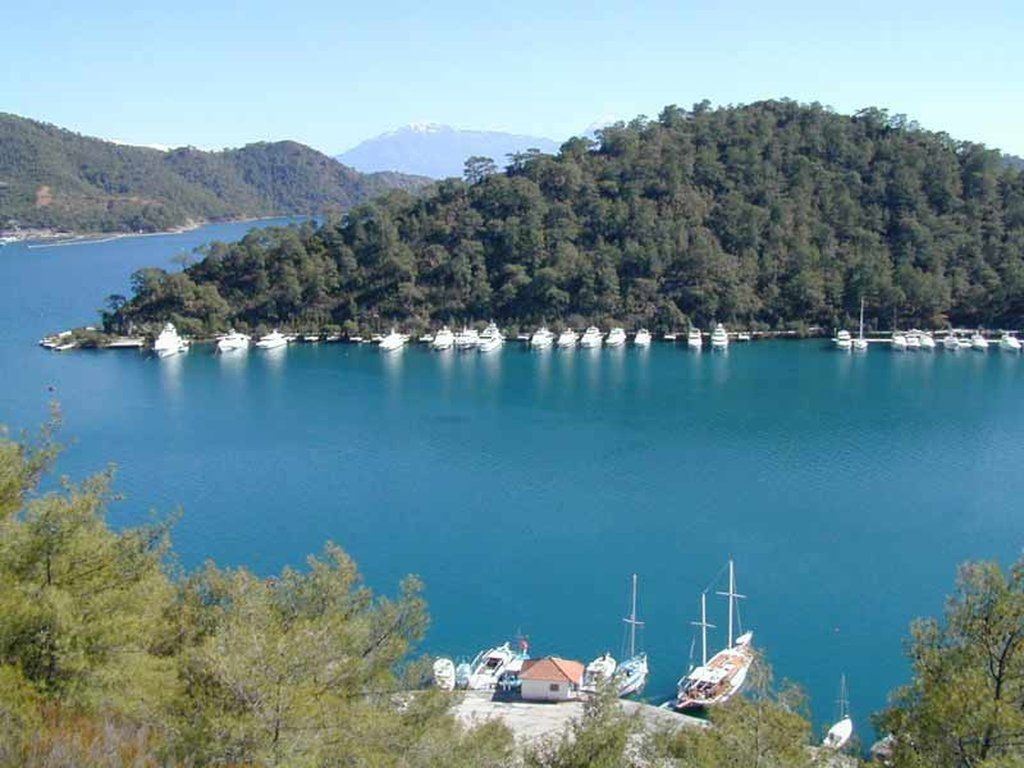 PHOTOGRAPHS ALBUM

Göcek is a small town in Fethiye district in Muğla Province, Turkey. Göcek is situated on Dalaman-Fethiye highway. Göcek has all the necessary infrastructure, capacity, and amenities expected in a tourism center, yet it is renowned as a much more peaceful and quiet settlement than some other tourism areas.

It was named "Kalimche" in ancient times, and is located between Fethiye - Telmessos in ancient times - and Dalyan - Caunos in ancient times. According to the legends, it is in the Göcek area that Icarus landed in the sea after his famous flight trying to escape from the tower where he is imprisoned. Göcek was used as a harbour for the ships loading chrome ore collected from the mines in the mountains around during the Ottoman period.

A prominent characteristic of the town is the fact that it harbors islands and coves located in a large and secluded bay. Owing to its location, it naturally enjoys a high potential for yacht tourism. In 1988, Göcek was declared a Registered Area of Special Protection. Therefore, multi-storey buildings are not allowed, the tourist accommodation facilities are two-storied hotels, motels, apartment hotels, and pensions situated in the town center and its periphery.

With its secluded bay, the harbor is quiet and safe, especially for long-distance travelers arriving from international waters. Göcek coves and the 12 islands, which are described as a hidden paradise, with clean Mediterranean water, green pine forests, and beaches, have rendered Göcek an indispensable destination for seafarers.

MARINA

Club Marina is the first natural and private marina of Turkey and provides service in a 44,998.32 m2 area in total and is the safest natural marina of Turkey by its position. Club Marina
is the unique Marina able to host Mega Yachts in Göcek. We provide not only all the technical infrastructure and special security you need but you may also take advantage of our beach, restaurant, cafe, bar, Turkish bath and accommodation facilities which are conceived to add value to your relaxation and holiday program.

Approaching
When approaching from the Ölü Deniz direction, you can reach the Göcek harbour by following the Göcek Island route. First proceed by keeping the "Dökükbaşı Burnu" on the starboard side and the Göcek Island Lighthouse on the port side. As soon as you pass Göcek Island you will be in the inner harbour of Göcek. The Club Marina Lighthouse will be visible on the port side. When you continue, keeping this lighthouse on the port side, two gigantic green coloured fuel containers, belonging to Mopak, will be seen ahead of you.

After passing the Club Marina Lighthouse, turn 90 degrees to port and this will bring Club Marina into sight. Club Marina is a private marina founded at Büngüş Bay, which is one of the most beautiful and natural bays of the Mediterranean. Göcek village is in the area of Fethiye Town.

Berthing Capacity : 205 Yachts

SERVICES

Marina Office : Customs and Harbour Procedures Department, Exchange office, Daily weather forecast, Villa reservations, Postal service
Security Services : Club Marina is surveyed 24 hours by our Special Security Team.
Environmental Services : Solid waste collecting points, Wasted engine oil collecting points, Recycling collection points
Mooring Services : 24 h escorting services for the boats in marina, entries and exits and mooring back-up.
Service Boat : Our service boat provides you free transportation service from/to "Marina A" Club Marina and Skopea Marina between the hours of 07.45-24.00 in the summer. Operating hours of the service boat are seasonal and all the necessary information is may be obtained from our information boards or our marina office.
Diving Services : Please contact our front office for more information.
Electricity : Club Marina has an efficient electric distribution network and a 875 kWh generator. There are also 134 switch boards in our marina and a total of 226 outputs on the switch boards. General power distribution : 71 three phase + Mono phase 230 V - 400 V, 63 Mono phase 200 V - 250 V (Providing 16 - 250 ampere power )
Water : Water connection is provided from the existing panels. Each panel has 2 water outputs.
Shower & WC : You can use our showers with hot water and WCs 24 hours on 4 different points of the marina.
Supermarket : You can shop from Carrefoursa between the hours of 08:00 - 21:00.
ATM and Banks : All ATMs and banks are in Göcek centre.
WI-FI : Our marina provides 24h free internet service. Please contact our office for the passwords.
Fuel oil : Our filling station equipped with high-tech pumps provide 24h service all the year round. Our station has the possibility and capacity to collect your wasted water during the fuel purchase.

Accommodation
There are 10 villa-type bungalows in our marina. You will be able to find the quiet and peace you are looking for in our studio flats, suites and ultra-luxurious suites with sea and pinewood view. All our rooms have kitchen, air-conditioning, telephone, internet service, shower&WC and we provide room service. You may stay in the Bungalows within our marina. We also have a private beach, a restaurant, a captains' café, a supermarket, a Turkish bath and many other facilities in there.

Beach
Our marina includes a private beach.

Restaurant & Cafe-bar
There are some restaurants and café-bars in our marina.

Fire Safety
A 7.30 m fire safety boat with foam and sea water fire fighting systems and equipped with dry chemical powder systems are non-stop ready for 24h for any emergency. Our safety boat may be used for towing, rescue and disembarkation. All our jetties are equipped with dry chemical powder fire fighting systems of various dimensions which are periodically maintained.
Our filling station has a separate fire fighting unit.

Ferry Service
Free ferry service is available between Club Marina and the Skopea Marina (Downtown Göcek) starting from 07:45 am until Midnight during the summer season. Ferry Service schedules are on a seasonal basis and displayed on the information boards and in the Marina Office

TECHNICAL SERVICES
Blues Yachting Technical Services

PARKING
Parking is available upon request.

ACCOMMODATION

Bungalows
Eight lovely villas nestle in the pine trees surrounding the Marina. Club Marina provides luxurious accommodation possibilities with its 10 villa-type bungalows within the marina. In Club Marina bungalows, you will have many choices to meet your requirements. You will be able to find the quiet and peace you are looking for in our studio flats, suites and ultra-luxurious suites with sea and pinewood view. All our rooms have kitchen, air-conditioning, telephone, internet service, shower&WC and we provide room service. Our experienced staff is permanently ready for service.

Restaurant & Cafe-bar
There are some restaurants and café-bars in our marina.

Beach
Our marina includes a private beach.

GÖCEK FACILITIES
Accommodation : Hotels, Motels, Pensions, Apart Hotels, Holiday Villages
Dining : Restaurants, Cafes, Buffets, Bakeries
Beach : Swiss Hotel, İnlice, Sarıgerme, İztuzu
Entertainment : Bars, Discotheques, Night Clubs
Health : Hospitals, Health Centers, Doctors, Nurses, Pharmacies, Dentists
Shopping : Hipermarkets, Supermarkets, Shops, Markets, Stores
Communication : Post Office, Phone, Internet, Wi-Fi
Hair dresser
Laundry
Bank
Repairing & Maintenance Workshops : Göcek and Fethiye
Technical Equipment Shops : Göcek and Fethiye

FISH RESTAURANTS
Fish Restaurants are very famous with their fishes, cooking and services. Fishes available due to seasons.

FISHES
Levrek (Sea bass), Çipura (Sea Bream), Hamsi (Anchovy), Palamut (Atlantic bonito), Lahoz (Waker), Orfoz (Gouper), Sinağrit (Dentex), Kırma Mercan (Pandora), Çizgili Mercan (Striped bream), Has Kefal (Striped mullet), Sivriburun Kefal (Sharp noise mullet), Sarıyanak Kefal (Golden mullet), Kalın Dudaklı Kefal (Thick lipped mullet), İnce Dudaklı Kefal (Thin lipped mullet), Benekli Kefal (Grey mullet), Lüfer (Bluefish), Karagöz İstavrit (Scad), Sarı Kanat İstavrit (Horse Mackerel), İskorpit (Red Scorpion fish), Lipsoz (Annular Sea Bream), Uskumru (Mackerel), Barbunya (Red mullet), Karagöz (Two Banded Bream), Sarpa (Sauppe), Mezgit (Whiting), Mavi Mezgit (Blue Whitting), Tekir (Striped Red Mullet), Orkinos (Blue-Fin Tuna), Kılıç (Sword fish), Dil (Common sole), Sarıkanat Lüfer (Bluefish), İstakoz (Lobster), Kalamar (Calamary), Ahtapot (Octopus), Karides (Shrimp), Yengeç (Crab), Deniz Tekesi (Prawn), Midye (Mussel), Hani (Painted Comber), Isparoz (Annular Bream), Sardalya (Gilt sardine)

TRANSPORT
Dalaman International Airport 22 km, Fethiye 33 km, Kaş 138 km, Marmaris 100 km, Datça 160 km, Bodrum 230 km
Minibus : Göcek - Fethiye
Bus : Antalya, Muğla, Burdur
Ferryboat : Fethiye - Rhodos (Greece)
Airport : Dalaman International Airport

WEATHER FORECASTS

Mgm Weather Forecast
World Weather Forecast
Accu Weather Forecast
Wunderground Weather Forecast
Weather Forecast
Yahoo Weather Forecast
Weather Channel Forecast
Foreca Weather Forecast
Msn Weather Forecast
Holiday Weather Forecast
Bbc Weather Forecast

LOCATION SATELLITE MAP



WEB SITE : Club Marina

MORE INFO & CONTACT
E-Mail : [email protected]
Phone : +90 252 645 1800
Fax : +90 252 645 1804

These scripts and photographs are registered under © Copyright 2016, Club Marina. All Rights Reserved.