Spanish Food doesn´t always mean Tapas. Often misunderstood some refer to all Spanish food as Tapas. However there are lots of aother kind of Spanish food to discover. The way food is served, portion size and the type of dish determines it´s name.
It could be a
Plato (dish)
Racion (portion)
Tapa (snack)
Pintxo (food on a stick)
Montadito (food on bread)
Tapas vs Raciones
Tapas are snacks offered alongside a beer, wine or soft drink in many areas of Spain. Usually a small quantity of food is offered to accompany the refreshment. This tradition goes way back in time, although it is unclear exactly when. Tapas may even pre date the 15th century. The word Tapa means lid. It is thought that the snack was used to cover the top of the glass to prevent flies going into the wine or drink. The first tapas covered the top of a glass and later became increasingly elaborate as time went on.
World Tapas Day
The third Thursday in June is World Tapas Day and this typical Spanish custom is celebrated across the world with showcooking, special events and menus. Lookout for it if you like Spanish cuisine. This year it is on Thursday 15th June 2017.
Free Tapas
In Southern Spain there are some cities which are known for their free tapas. I´m lucky to live in one of them: Granada. Also nearby the cities of Jaen & Almeria also offer complimentary snacks with drinks.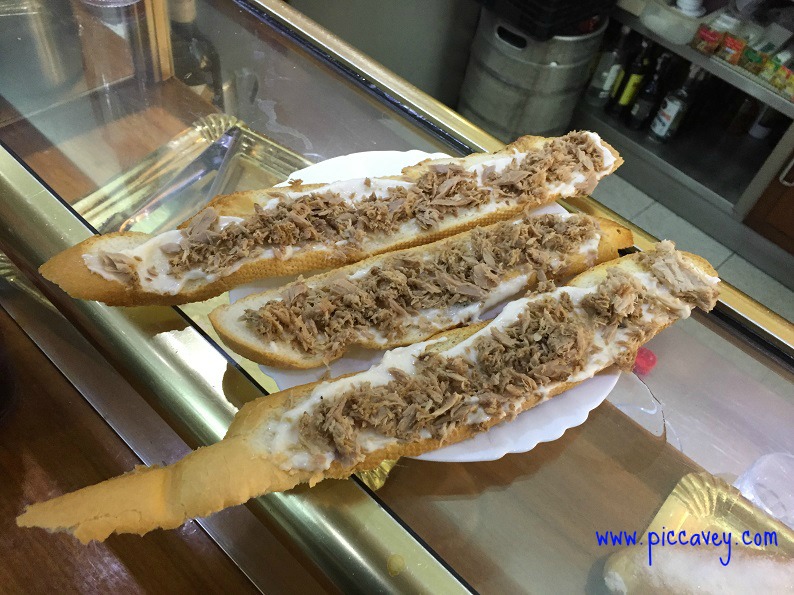 Often when you arrive to a place offering free tapas with the drink they give you what that have that day. There isn´t a choice. As you drink a second or third round the tapa offered is different. This photo above of Guacamole on white bread with some cold cuts and olives was a complimentary tapa in Granada which we didn´t select ourselves.
Then some other places have a different system, they have blackboards or menus with lists of Tapas that you can ask for. You choose. This menu pictured above is from Casa Puga in Almeria. The free tapa I choose is shown below, this was warm Burgos cheese with blueberry sauce. Depending on the bar if there are a few of you some don´t like to prepare four different tapas for four people, but they don´t mind to do 2 kinds of one type for a group. It just depends if they are busy and how they are organised really.
The ´free´ tapa is usually accompanied by beer or wine which costs anything from 1.50 euros to 2.20 euros depending on the place. (Current prices I´ve seen in Granada this Aug 2012) But you can also purchase tapas seperately in most places. This is known as ´Tapa Extra´ This is great if you are hungry or don´t want to drink too much. Some places don´t offer a free tapa at all. Yet do offer tapas to buy seperately from the drinks. This is a good way to have a taster of something and try new food. Or have an aperitif before dinner.
This is a double edge sword as some diners just stick to the free tapas and don´t ask for other items from the menu. This style of dining often doesnt scractch the surface and you are not getting the house speciality or the best quality food from the kitchen through the complimentary tapa.
Be sure to ask the waiter about the most popular dish in the restaurant, once you have had the first tapa. It may be a delicious ´racion´ for 8-10 euros. Usually locals have the tapa as they intend to go home for lunch or dinner. It´s just a social thing to have a quick beer on the way home with a friend or colleague. It´s not something they do everyday.
Racion or Media racion
This is a portion of a food. Spanish ham, jamon serrano is typically seen served this way. Selecting raciones is a good way to have lunch or dinner with a group by ordering in this way as people share the dishes in the centre of the table. You can eat a little bit of what you most enjoy. The photo below is a ´racion´ of Buñuelos de Bacalao (Cod fritters) in Granada
Raciones are often ordered after first sampling a tapa in a bar or restaurant. If you decide to stay and want to eat more you can select a few raciones or half raciones instead of having a formal restaurant meal. Below is a racion of Patatas a lo pobre in Enix, Almeria. (Fried potatoes +green peppers)
The raciones are usually varied and typically have fish, meat and vegetable dishes depending on the place. Below is a fried fish bar in Cadiz and their racion of Octopus and Russian Salad. Yum!
Pintxo
In the North of Spain, Asturias, Navarra & Cantabria you will often see the typical Pintxos. These are similar to tapas but are usually more elaborate and have a stick in them. The price is usually all the same and you pay the bill based on how many sticks are left on you plate. There are many bars around Spain selling this type of food. One of my personal favourites used to be Maitea in Barcelona. When I lived in Barcelona I spent many evenings there with friends.
What is a Montadito ?
This is something served on a slice of bread. The photo below is a perfect example of a montadito. These were served in Granada but you can find these yummy montaditos all over Spain. They can be topped with Ham, cheese or even guacamole as the one at the top of this post. It´s like an open sandwich really, served on white bread, similar to baguette bread. These are most typical in Northern Spain and it´s where you will most easily find them.
Across Spain chain restaurants like Lizarran and other Basque eateries have made them more popular and available outside of San Sebastian.
I hope that the next time you hit the Spanish bars you´ll be less confused you get the menu or tapa list handed to you. This mini guide may prevent surprises when you order next time…..
Want to read about even more food? Check out my Spain foodie posts
The post A Spanish Foodie glossary – Pintxos, Tapas & Raciones appeared first on Piccavey.