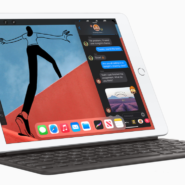 Tweet
!function(d,s,id) {
var js,fjs=d.getElementsByTagName(s)[0];
if(!d.getElementById(id)) {
js=d.createElement(s);js.id=id;js.src="https://platform.twitter.com/widgets.js";fjs.parentNode.insertBefore(js,fjs);
}
}
(document,"script","twitter-wjs");
Featuring the A12 Bionic with Neural Engine, the most popular Ipad model delivers an even more powerful experience
The eighth-generation iPad features the powerful A12 Bionic with the Neural Engine, a beautiful 10.2-inch Retina display, and so much more.
Cupertino, California — Apple today introduced the eighth-generation iPad, featuring the powerful A12 Bionic chip that brings the Neural Engine to the entry iPad for the first time.
Continue reading Apple introduces eighth-generation iPad with a huge jump in performance at Imaging Insider.