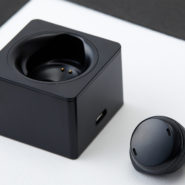 Tweet
!function(d,s,id) {
var js,fjs=d.getElementsByTagName(s)[0];
if(!d.getElementById(id)) {
js=d.createElement(s);js.id=id;js.src="https://platform.twitter.com/widgets.js";fjs.parentNode.insertBefore(js,fjs);
}
}
(document,"script","twitter-wjs");
by Gregg Ellman
(@greggellman)
I've never seen anyone go around showing off their new Hearing Aid. But often I see people bragging about their new earbuds. The Olive Smart Ear has the appearance and style of a single earbud in but does the job of a hearing aid.
I'll start off with some information supplied by the parent company, Olive Union, which caught my attention before I even opened the box.
Continue reading Gadgets :: July 1, 2020 at Imaging Insider.