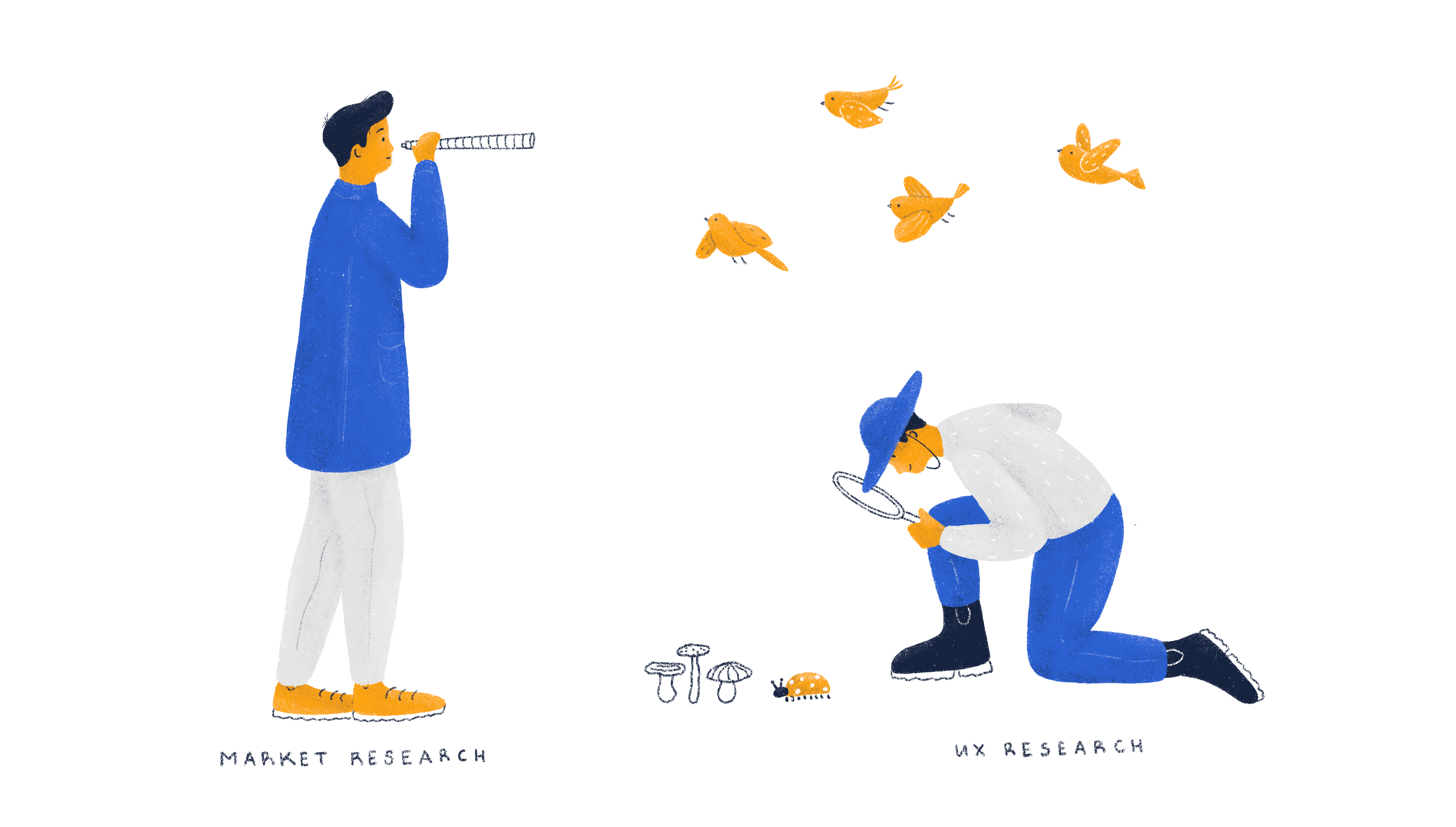 Market research vs UX research: What's the difference? It's a common question. This is especially the case amongst founders looking to explore new Market and product opportunities. And with global spending on CX estimated to reach $640 billion in 2022, it's no wonder CEOs want to get their head around these terms.
There are many similarities between market research and UX research. So much so, that the terms are occasionally used interchangeably. At their core, both research types focus on the customer experience. That said, there are also some key differences in their applications and Business goals.
Read on to discover the similarities and differences between these two types of research. Plus, we'll look at how to integrate them for better business results.
Definitions: Market research VS UX research
Let's dive right in with some definitions.
What is market research?
Market research is the process of learning about customers' needs and buying preferences. The goal is to determine whether a product is worth launching.
Market research utilizes large-scale surveys and data analysis to define a market for a product, narrowing it down to a specific audience that is most likely to buy your product. In doing so, your business can determine if a product is worth launching or not. What's more, companies use this information to create targeted ads and messaging to connect with the target demographic.
While Steve Jobs may have famously not been a fan of market research, the industry's global revenue exceeded $76.4 billion in 2021. That's over double since 2008.
What's UX research?
UX research is essentially a methodical study of users designed to inform and improve a product team's decision-making. This empowers teams to be more user-centric and actionable.
UX relates to the in-product experience, falling under the umbrella of customer experience (CX). Interestingly, better UX design can yield conversion rates of as much as 400%.
UX research employs qualitative and quantitative research methods to uncover:
How customers use a product

What issues users experience

Where the product isn't meeting users' needs
UX experts use the results to come up with design solutions that must then undergo iterative testing. As a result, your business can improve common issues, such as high drop-off rates, low customer satisfaction scores, or other usability complaints.
UX research focuses on getting to know an existing audience better. That information is then used to tailor the product to make it more desirable to the target demographic.
Although UX principles can be applied to any product, UX is most typically associated with software. Conversely, market research can be applied to any product; physical or software.
Recap: Both market research and UX research form a specific (and equally important) part of the product development and design process:
Market research → focused on understanding buying behaviors and preferences

UX research → aims to understand how users interact with a product.
Put another way, market research tells you who your audience is and UX research reveals how to make the product more desirable to them.
When to carry out market or UX research
Now let's talk about when these research types are used.
UX research is almost always applied when there is at least a rudimentary prototype ready for user testing. Having said that, it's technically possible to carry it out without having a product.
We'll elaborate.
Since there's a broad spectrum of research methods, UX research can be carried out throughout the full product development life cycle.
In contrast, market research almost always precedes a product launch or major update.
Summing up: Market research is typically done before a product launch or update. UX research, on the other hand, can technically be carried out throughout the product development cycle.
Market Research vs UX Research: Applications and goals
Do you remember when we said there were some differences in the application of market research vs UX research? Good. Here's a closer look.
We've broken down our process when conducting each type of research.
Market research
Generally speaking, market research focuses on understanding purchasing behavior and user preferences. Put simply, it's oriented toward selling products to customers. During market research, we want to answer the following 3 questions:
Is there a market need for the product?

Who would buy the product?

How can you reach the target buying audience?
In essence, market research uncovers the viability of the product, informing the market strategy your business should take.
During market research activities, we recommend focusing on:
Market size

Defining pricing

Market trends

Testing concepts

Gauging competition
UX research
As we know, UX research studies users to gain insights into their needs, expectations, and behaviors. In other words, the interaction between users and products. Generally speaking, UX research should aim to answer 3 key questions:
What do users want?

What do users need?

How do they use your product?
During the UX research process, the goals are:
Define personas and user journeys

Understand users' needs and goals

Identify bottlenecks in the user journeys

Test the potential for new features

Pinpoint optimal information architecture & onboarding

Determine areas for experience improvements
Compared to market research, UX research is carried out on a much smaller scale. In fact, the majority of usability issues can be identified in test groups with just 5 or 6 participants.
Review: As you can see, we have very different purposes for each research type. For instance, market research tends to look outwards (market, competitors, etc,). Meanwhile, UX research typically looks inwards at the product itself. That said, the end goal remains very similar; build an incredible customer journey.
Market research vs UX research methods
Now let's get back to the similarities between these two types of research.
Both market and UX research use practically identical research methods. These include:
Surveys

Focus groups

Personal interviews

Observation & Field trials

Competitive research

A/B testing
Let's be clear, though. Despite these methods being almost identical, the context that we apply them to is different.
This brings us back to goals.
Market research leverages the methods above to determine how marketable and viable a product is for the business. By contrast, a UX researcher employs the same methods to learn about and analyze user behavior.
Despite sharing many research methods, some are more commonly used for a specific type of research. For instance, UX research utilizes techniques such as usability testing, heuristic evaluation, and eye tracking.
While these methods are part of UX research, the insights uncovered may be valuable for the market research team too.
Here's an example.
Let's say your UX research uncovers the potential for a new product or feature. Market research will help you gain deeper insights into that opportunity. As such, they are still tightly connected.
Similarly, certain activities like social media listening and analyzing sales data are generally better suited to market researchers. However, they may also be employed by UX researchers to understand the interaction between the customer and product better. In short, there is a strong overlap between the tactics used for both market and UX research.
The bottom line: Market and UX research share a plethora of identical research methods. Even though there are some methods that are better suited to a specific research method, a strong overlapping remains. Therefore, there are no clear lines of separation between the methods used for each.
Market research vs UX research: Which do I choose?
Unsure which type of research is best for your business? We suggest first identifying the business problem you want to solve.
Let's say you have launched a new product.
Despite being marketable, it is still not fulfilling business goals. In this case, UX research will help you better understand how your customers are interacting with your product. As such, you're more likely to get the answers you're looking for.
Now let's imagine a different scenario.
If your business has concerns over the marketability of your product, market research will deliver the answers you need.
Here's our two cents.
At Adam Fard, we don't really differentiate between market and UX researchers. Instead, our researchers both integrate research types for more holistic insights.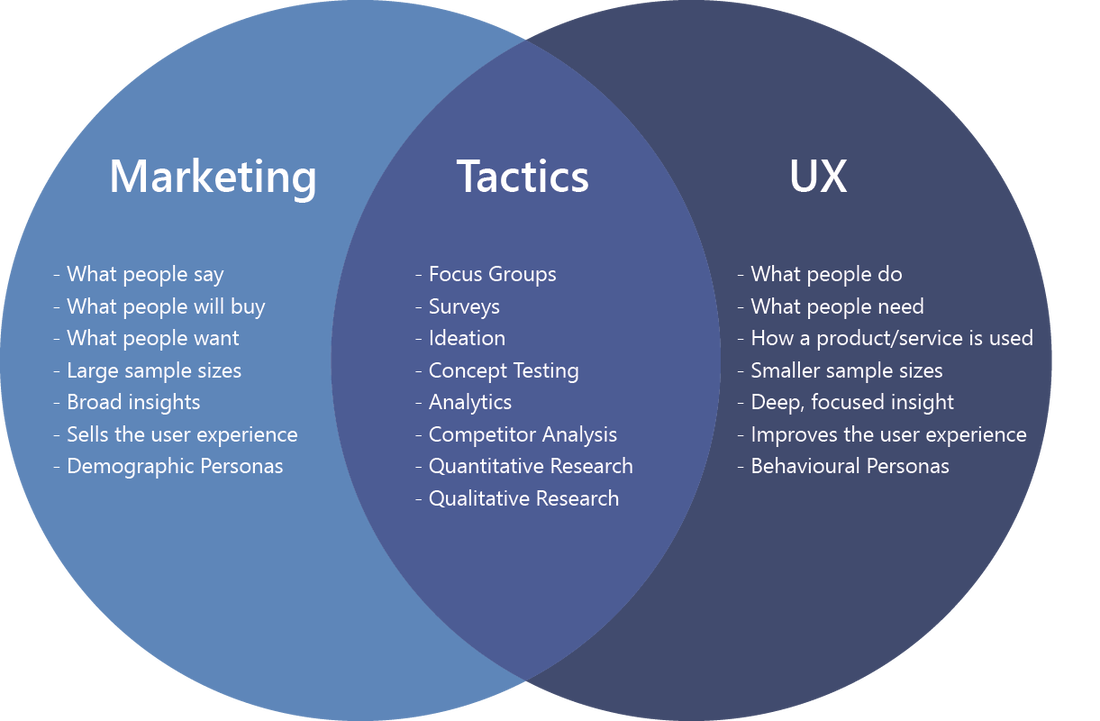 Source
Integrating UX & Market Research
As we've just seen, there is a huge overlap between these two types of research. As such, it doesn't always make sense to have a wall between the two activities. In fact, doing so can result in an inefficient workflow with a sub-par result.
Here's why.
Firstly, separating market and research will lead to duplicating work. Since there are so many similarities, it's highly likely that your teams will carry out the same subactivities twice.
More importantly, allocating one part of the research process to marketers and the other to design experts disjoints the customer journey. As a result, the overall customer journey will lack cohesion. Considering 89% of businesses compete primarily on the basis of customer experience (CX), this is a risky move.
Things are changing.
The research landscape is evolving rapidly. In fact, the Walker 2020 Progress Report forecasted that customer experience would become the key brand differentiator by 2020. As such, businesses can no longer rely on clever marketing or low pricing to win over customers. Instead, they need to offer customers a thoughtfully-designed product that is seamless to use.
This evolution in research has seen an even bigger overlap between market and UX research. UX research opens the doors to a deeper understanding of your customers' engagement with your product. By finding this out, your business can pinpoint where it needs to invest its energy and where it is succeeding.
The Roundup
We hope this has given you a better understanding of market research and UX research and the benefits to your business. Both market and UX research form vital parts of the design and development process. Although they are almost identical in some ways (research methods, business objectives, etc.), they approach business problems from different angles. As such, we believe integrating both research types offers better holistic insights.