Summer marches on at a breakneck pace. Not only is the time going by far too quickly, but the school year will be starting in just over two weeks. Summer has been wonderful even if I've only made a small dent in the plans I had for this time. Here in the Midwest, the weather has been on the hot and humid side. Yes, I know that's what summer in the Midwest is like, but the hot and humid seems to cling to the days like static cling to polyester.
Grilling is still the cooking style of choice, but Mama and Papa can't live by the grill alone. Once in a while we want pasta. I do not intend to put pasta to the "Can You Grill It?" challenge, at least not in its uncooked state. There is certainly the possibility of grilling the sauce ingredients and that's what I did not long ago.
It really started because I had some tomato bruschetta ( click here for more about bruschetta) left over. It met all the pasta sauce requirements. Tomatoes in a highly flavorful liquid complimented with red onions, basil and garlic. I also had some Chicken Italian Sausage and zucchini (it isn't summer without it). I had just enough whole grain penne left to make it a meal.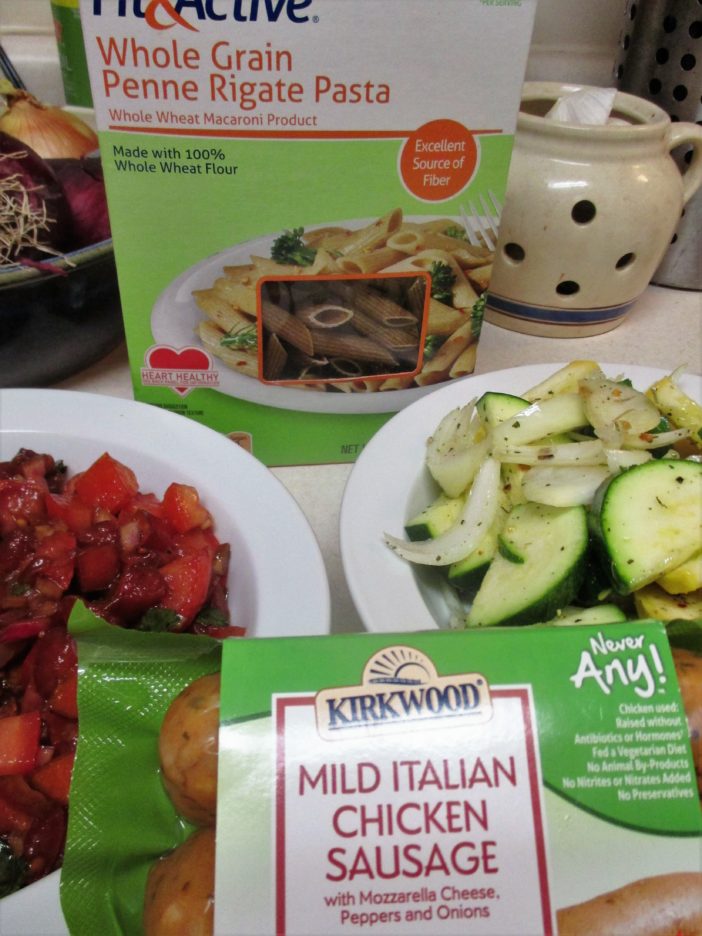 So the main characters were assembled and the sausage and zucchini begged to be cooked on the grill. Well, I may have had something to do with their decision. The whole grilling process was pretty quick since the sausage was already cooked and the zucchini (combined with some onions and dressed with some olive oil and Italian seasoning) doesn't take long to char lightly.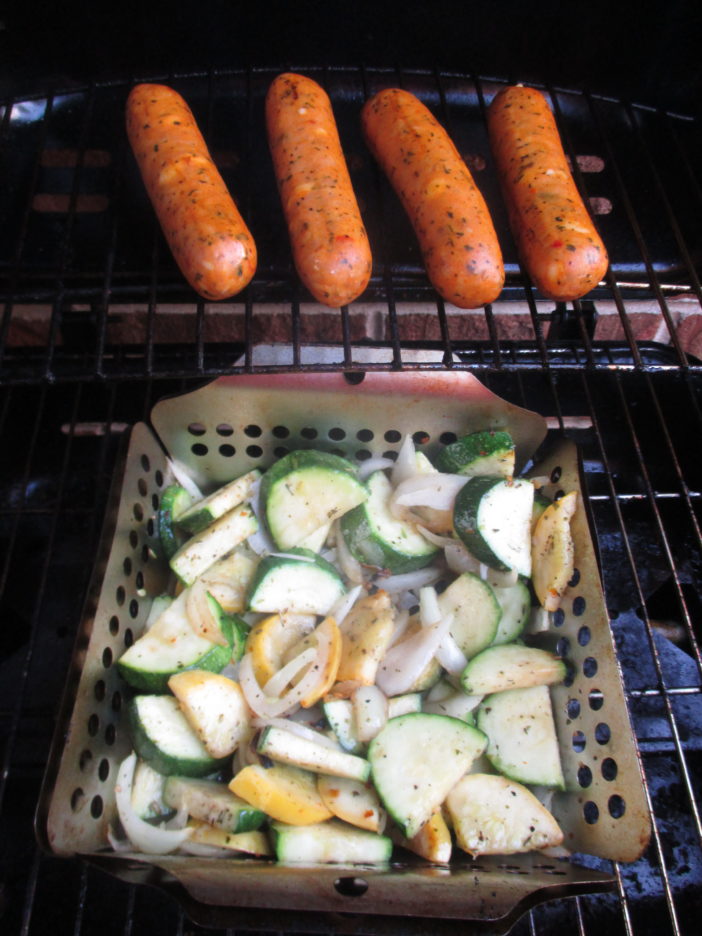 While everything was cooking I pondered what else might make this dish even better. A little fresh mozzarella and a hearty handful of basil seemed like the perfect additions. These were already on hand so it was one of those "no brainer" choices.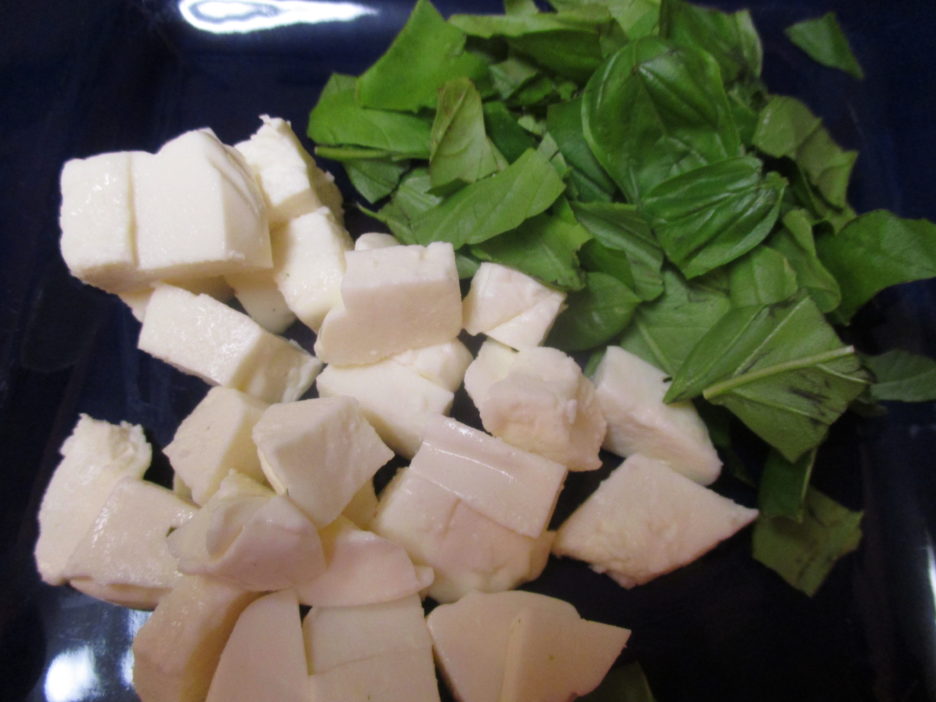 When the pasta was cooked to my liking, I saved several ladles of the pasta water to give the sauce a little more "umph" Everything came together in rapid fashion and a simple yet delicious supper was on the table.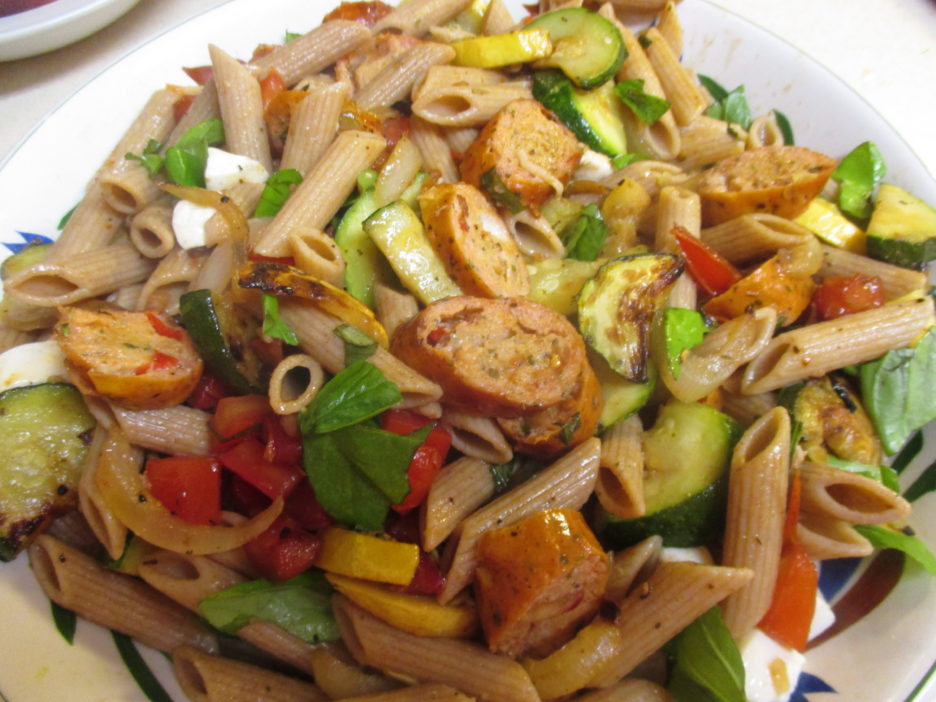 Bruschetta

Pasta

with Grilled Sausage and Zucchini

Ingredients
2Medium ZucchiniSliced
1/2Cup Sliced Sweet Onion
1Tsp. Italian Herb SeasoningI used McCormick Grinder
1Tbsp. Olive Oil
12Ounces Chicken Italian sausageThe cooked type works well
7Ounces Whole Grain Penne Pasta
1-1/2Cups Tomato BruschettaHome made or store bought
3Ounces Fresh MozzarellaCubed
1/2Cup Torn basil
Instructions
Combine the Zucchini, Onion, Italian Seasoning, and Olive Oil in a bowl. Toss to mix and set it aside.

Heat a large pot of water to boiling and season generously with salt. Add the pasta and cook to your favorite level of "al dente" Reserve about 1 cup of the pasta water and drain the pasta.

While the pasta cooks, heat your grill to medium high. Place the sausage on the top rack. Heat a grill basket and add the zucchini onion mixture. Grill until the sausage is browned and the zucchini is lightly charred.

Slice the sausage into 1/2 inch thick coins.

Combine the drained pasta, sausage, zucchini and the reserved pasta water in a large skillet over medium heat. Toss to mix everything together. Add the mozzarella and basil and toss once more to combine.

Transfer to a large bowl and serve.
This is a wonderful way to use the bounty from the garden or the farmer's market. Use whatever sounds or looks perfect to you. There is never a right or wrong when it comes to a supper filled with freshness and love.