Do you still doubt that Ketogenic Diet can give you real results?
Go no further, because I am starting a very exciting Ketogenic diet results series, where I talk to real people who lost a bunch of weight on ketogenic diet.
Today my guest is Nicole. I found her on an incredible r/keto Reddit community, where she shared her progress pictures. When I saw her amazing progress, I wanted to interview her right away. She has lost 71 pounds so far!
If this number does not inspire you, I don't know what will.
Hopefully, this interview will shed some light on a ketogenic lifestyle, and what real people do every day to achieve such great ketogenic diet results.
Here is Nicole: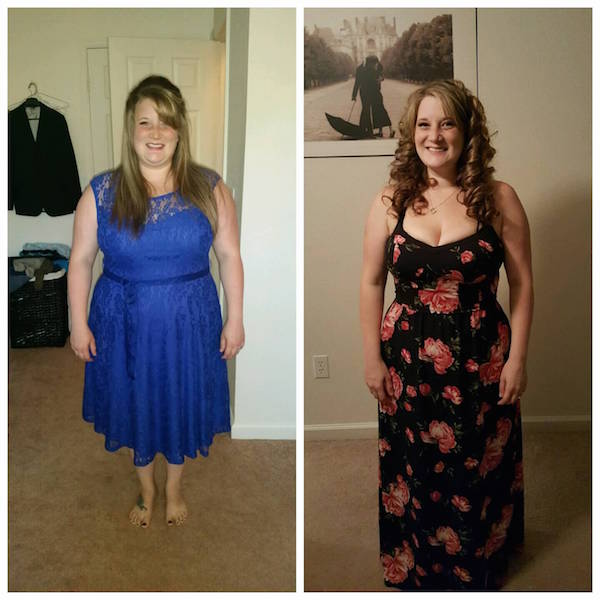 Bio:
Height:5 foot 3 inches (163 cm)
Start Weight: 236 pounds (107 kilos)
Current Weight: 165 pounds (75 kilos)
Goal Weight: 140 pounds (63 kilos)
Daily Macros:
Fats: 136 grams
Carbs: under 20 grams
Protein: 74 grams
Calories: under 1600

Interview
What was the last straw that made you change your lifestyle?
I visited some family that I haven't seen in a while and they were quick to mention the weight I put on. I had a child a year and a half prior and I kept using that as an excuse, but it was well beyond a year and I couldn't keep using that as a crutch. It was not a pleasant thing being reminded of how "thick" I was looking and it gave me that well-needed kick to push me to make that change.
Could you take us to the story that brought you to keto?
My husband had a childhood friend who did Keto and posted his progress picture, I was amazed at the change and I wanted it for myself! We did some research on it and also found the subreddit r/keto, Seeing everyone posting there was so encouraging and really got me excited to start this new journey.
What mistakes have you made while starting keto?
Honestly, stressing out about every little thing I put into my body. The first few weeks were really hard because I would over think everything. But as I got the hang of what works and what doesn't things just seem to flow and I had a lot of fun with trying new foods and recipes. I am also terrible about weighing myself every day. When the number on the scale doesn't go down I get really discouraged but I keep reminding myself that it's normal.
Can you share with us your typical grocery list?
Meats
Ground beef
Chicken
Salmon
Tuna
Bacon
Beef sticks
Salami and ham
Vegetables
Mostly broccoli
Green beans
Cauliflower
Romaine lettuce
Mushrooms
Side items
Cheddar cheese
Cheese strings
Eggs
Mayo
Butter
Pork rinds
Peanut butter
Atkins meals/snacks.
Have you had any plateaus, and how do you deal with it?
Most of the plateaus I've encountered only last 5 days to a week at most, which is really hard when you are constantly looking at the scale (Don't do it, seriously!), but changing a few things around, such as drinking more water or fasting got me back on track.
Do you exercise on keto? If so, what is your exercise routine?
I haven't started to exercise yet, I usually go on a nightly walk that's about 2 miles but that's more of a leisure than any kind of exercise. I am planning on starting to use the treadmill, walk about an hour and jog a mile a day.
Could you share your favorite keto recipe?
Keto Lasagna is seriously the best thing in the world! My entire family LOVES it. I use thinly sliced zucchini as the pasta.
I brown a pound and a half of ground beef with some Italian seasonings, salt, pepper and minced onion. Once that's done I throw it in a bowl with 1/2 cup of ricotta,1/4 cottage cheese, and 1 tablespoon cream cheese, mix it up with a few more spices to taste.
Butter up a pan and start layering with sliced zucchini, meat, cheddar cheese, and a low carb marina, and repeat; In the oven, it goes for about 30 mins at 400 F. I originally found something similar on Pinterest and tweak it to my liking.
Most of the recipes I use I found on Pinterest, Reddit or ruled.me
How weight loss impacted your life the most?
I am a lot happier and more confident. I recently went home for a family wedding and took everyone by surprised. It was such a boost and exciting! Health wise, I also feel a lot better, my skin is clearer, I have more energy, I sleep better; I feel fantastic, which is needed these days to keep up with my 2 energetic children!
What keeps you going?
My husband has been the best support throughout this whole thing. He started keto with me at the beginning to help me and it worked.
Every day he reminds me of how well I am doing and it means the world to me. I am mostly doing this for myself, but I want him to be proud of me as well (even though he repeatedly reminds me of how beautiful I am no matter what).
Seeing my own progress and the progress of others keeps me going strong too. As I get closer to my goal, I'm cheating a lot more' I'll give myself a few days to enjoy all the things I shouldn't be having, and get back on r/keto to push me back on track.
r/keto is an amazing community with absolutely gorgeous people who get you to be the best you can be.
Also, running into some friends I haven't seen in a while and hearing their comments about how great I am looking keeps me from steering too far as well!
If you are amazed by Nicole's progress and want to start with keto, here is my free 7-day ketogenic meal plan.
If you want to share your incredible ketogenic diet results, just comment below or email me at [email protected]