This fruit studded Gluten Free Cranberry Cornbread Recipe is soft, subtly sweet and 100% delicious. Everyone at the table will be asking for seconds!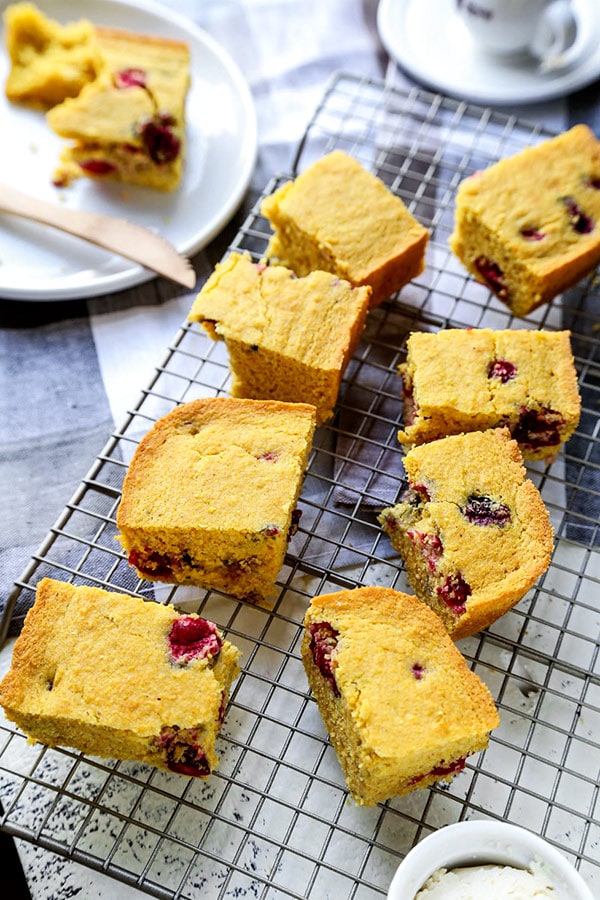 Gluten Free Cranberry Cornbread
Look…
When I send out my holiday meal invites, I get into it!
I want to know everything. Can you make it to dinner? Who would you like to bring? What's your favorite drink? And, most importantly, are there any dietary restrictions I should be aware of before hitting the grocery store?
In years past, the one reply I would get that would put the fear into me was that an attending guest followed a gluten free diet.
You see, I had lots of experience with vegetarian and vegan recipes. However, omitting wheat to keep things gluten free is a lot more than just not using wheat. It's also avoiding sauces and mixes that contain wheat.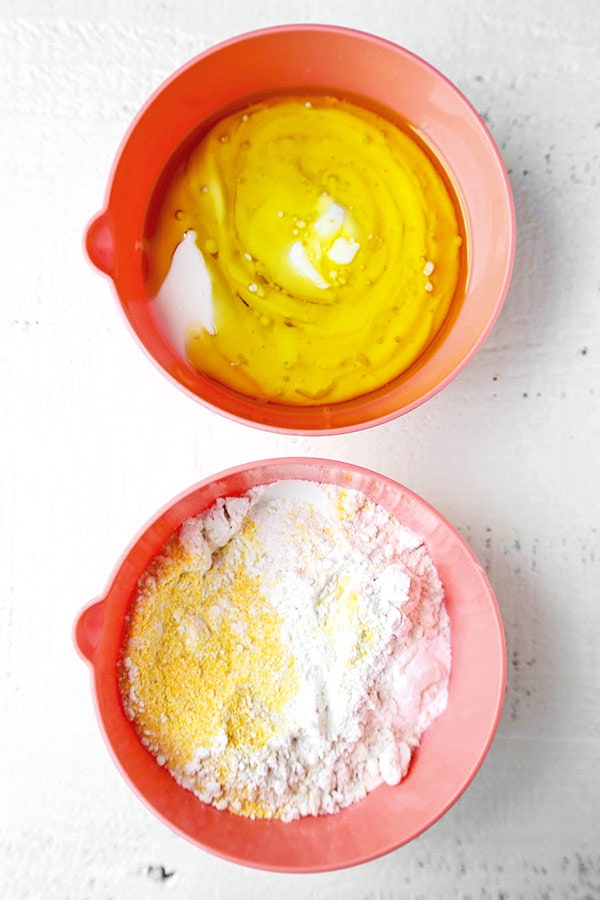 Well, thankfully I'm a lot more familiar with preparing gluten free recipes now!
I think you'll agree with me that making sure everyone that comes for Thanksgiving dinner at your place is satisfied at the end of the meal – regardless of dietary restrictions – is job numero uno!
Well it turns out that this fruit studded homemade cornbread recipe is slightly sweet, obscenely delicious and totally gluten free.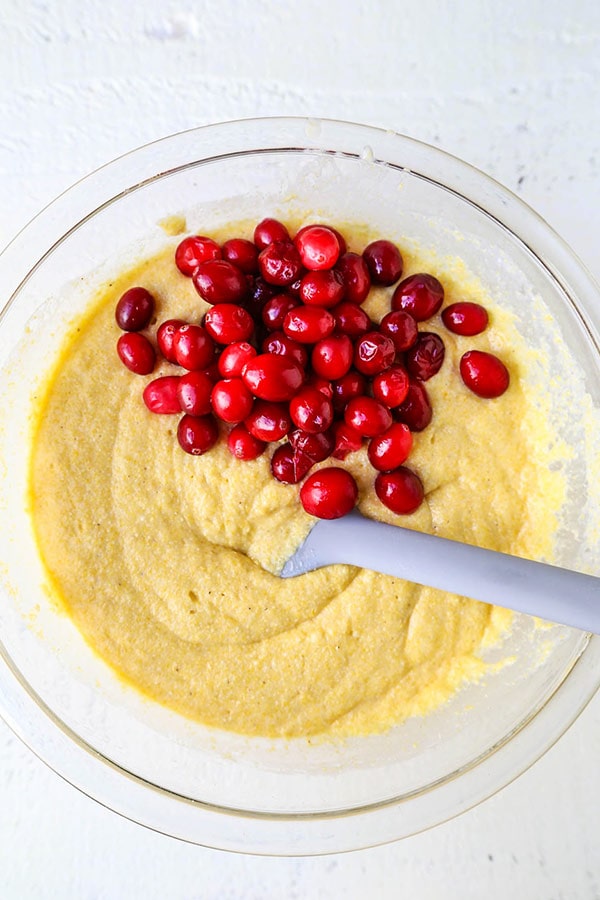 It's baking season!
It's fair to say that I'm a big cornbread fan. And it doesn't have to be a holiday meal like Thanksgiving or Christmas for me to whip up a delicate and moist cornbread recipe. Any day will do!
However, the holiday season does seem like the perfect time to have the whole house smelling like baked goods. Pulling a tray of cupcakes or cornbread muffins out of the oven on a cold, snowy day just has a cozy, cinematic feel to it. It's prime winter!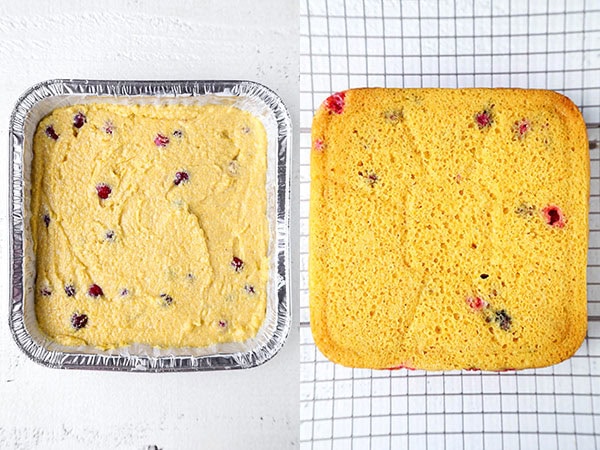 How does this gluten free cornbread taste?
The difference – from a flavor perspective – between most easy cornbread recipes and this cranberry dotted gluten free cornbread is the balance of tart and sweet.
I used maple syrup as a sweetener instead of sugar. It adds a subtle sweetness to the mix without being cloying or overpowering. You could totally eat this gluten free cornbread with savory elements of your dinner.
And baked-in fresh cranberries deliver a zing that is out of this world! The interplay between exquisitely sour and understated sweetness is a one-two punch of flavor perfection.
I made a batch last weekend and spread the fresh-baked goodness around the building. Between velvety bites, my neighbors said it was the best cornbread recipe they had ever tasted. Yep – it's fair to say their praise had me blushing!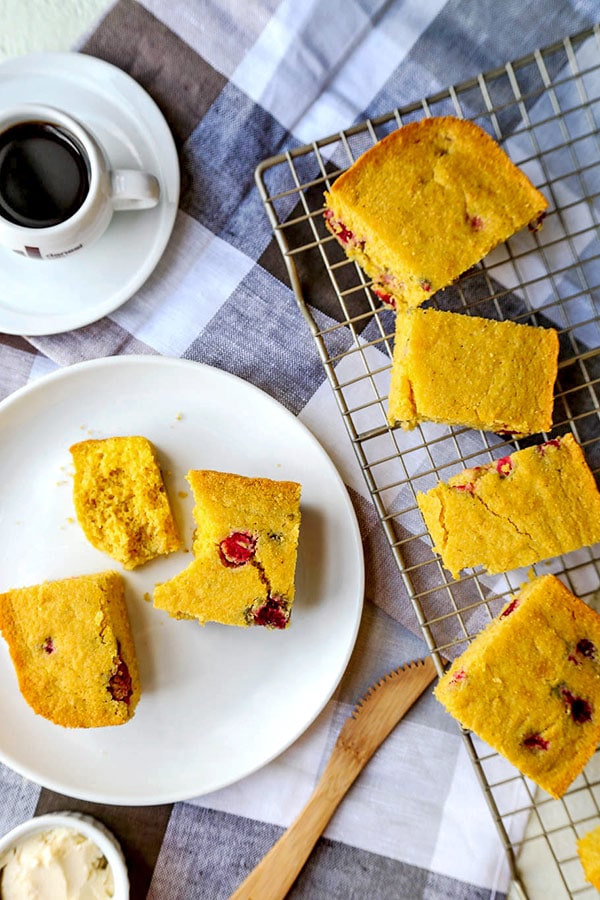 How to make cornbread gluten free
This sounds simple – but has pitfalls to watch out for.
Cornmeal, in it's purest form, is gluten free. So, you should be able to just NOT use wheat flour and be good, right?
Well, sort of.
Many of the manufacturers that produce cornmeal also process wheat on the same machinery. So it's important to buy cornmeal that was produced in a gluten free facility to avoid cross contamination if you want to make a truly gluten free cornbread.
Also, many cornbread recipes and pre-made mixes contain wheat flour.
Therefore, make it from scratch – with a truly gluten free cornmeal and gluten free all purpose flour – and ALL of your guests will be happy with this delicious recipe regardless of dietary restrictions!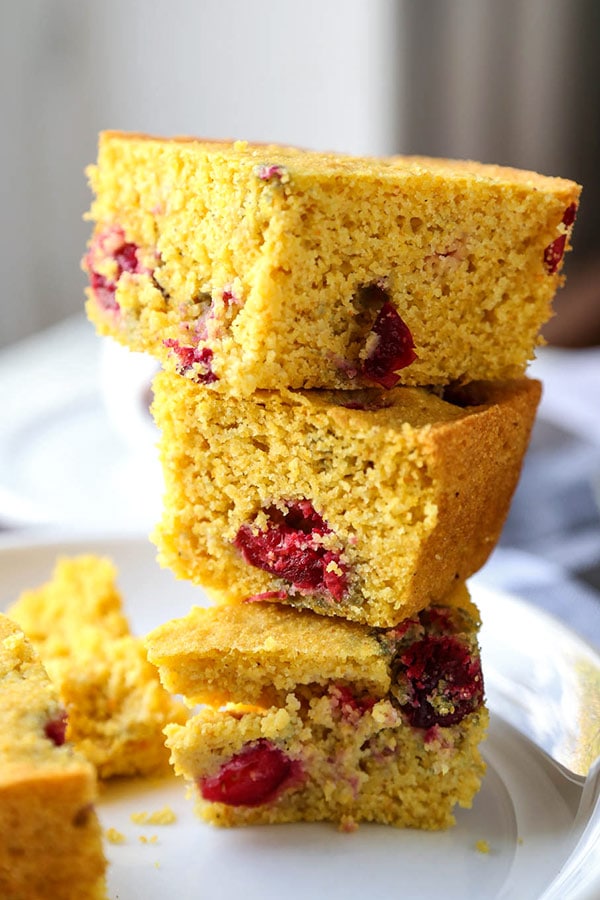 Holiday YUM!
This year, aside from my vegan stuffing and Ben's full dairy green bean casserole, there will be some gluten free options as well. This slightly sweet and sour gluten free cornbread will hit the spot for everyone – regardless of dietary restrictions! What about you? Is there a holiday side dish that you make at your place that is a big hit every year? I'd love to hear about it in the comments section below!
Other simple, delicious, mostly vegetarian Thanksgiving side dish recipes:
Tarter Than Sweet Cranberry Relish

10-Minute Pumpkin Dip

Garlic Parmesan Spaghetti Squash With Mushrooms

Lightened Up Corn Casserole

Sweet Potato and Squash Puree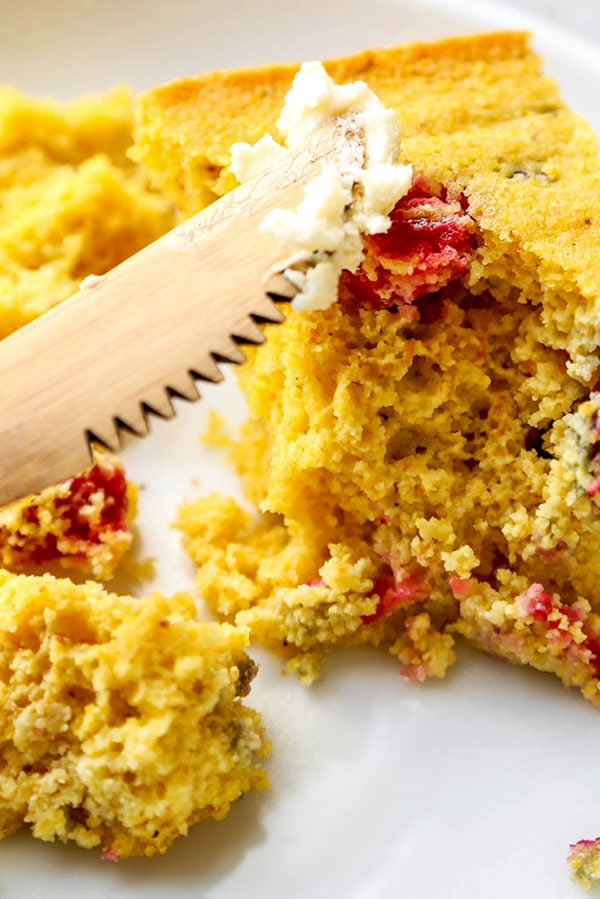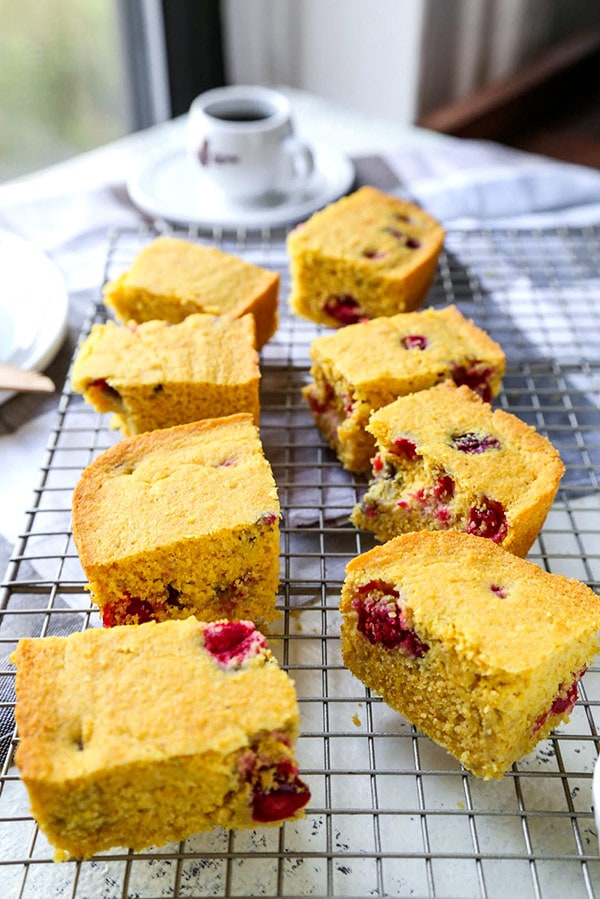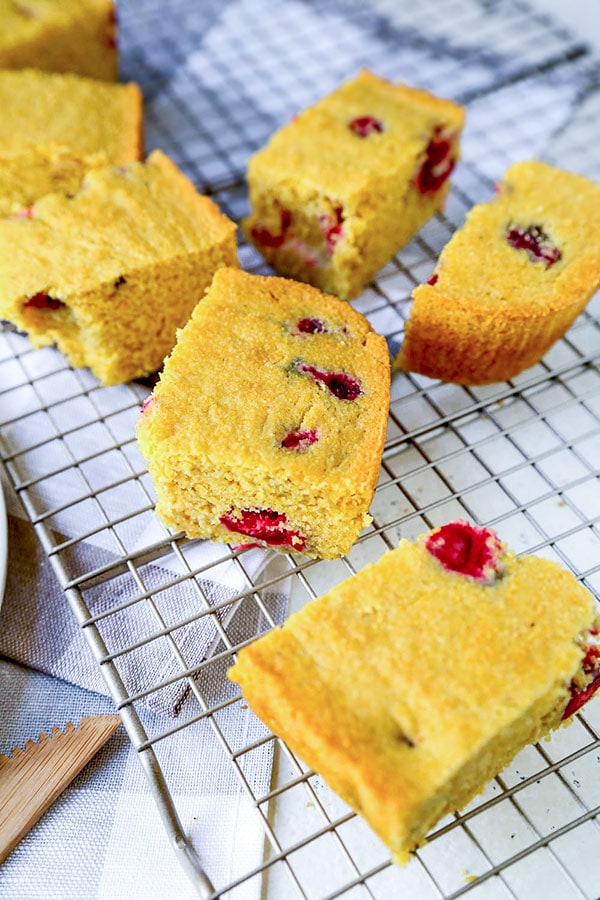 Did you like this Gluten Free Cranberry Cornbread Recipe? Are there changes you made that you would like to share? Share your tips and recommendations in the comments section below!
Gluten Free Cranberry Cornbread
1 1/2

cups

gluten free cornmeal

1/2

cup

gluten free all purpose flour

1

teaspoon

kosher salt

1

teaspoon

baking soda

2

teaspoons

baking powder

1

large egg

whisked (alternatively, for vegans: substitute egg for 1 tablespoon ground flaxseed mixed with 2 tablespoons water)

4

tablespoons

extra virgin olive oil

1 1/2

cups

low fat buttermilk

(alternatively, for vegans: substitute unflavored almond milk)

1/4

cup

100% pure maple syrup

1

cup

fresh cranberries
Line a 13x9" baking dish with parchment paper or nonstick spray.

In a large bowl, whisk cornmeal, all purpose flour, salt, baking powder and baking soda.

In another bowl, whisk egg, olive oil, buttermilk and maple syrup.

Add wet ingredients to the dry ingredients and stir until well blended.

Add cranberries and gently fold into the mixture.

Pour the mixture into the baking dish and bake for 25-30 minutes, or until brown around the edges. Test the center with a toothpick; the cornbread is ready when the toothpick comes out clean.

Let cool to room temperature and serve.
The post Gluten Free Cranberry Cornbread appeared first on Pickled Plum Food And Drinks.