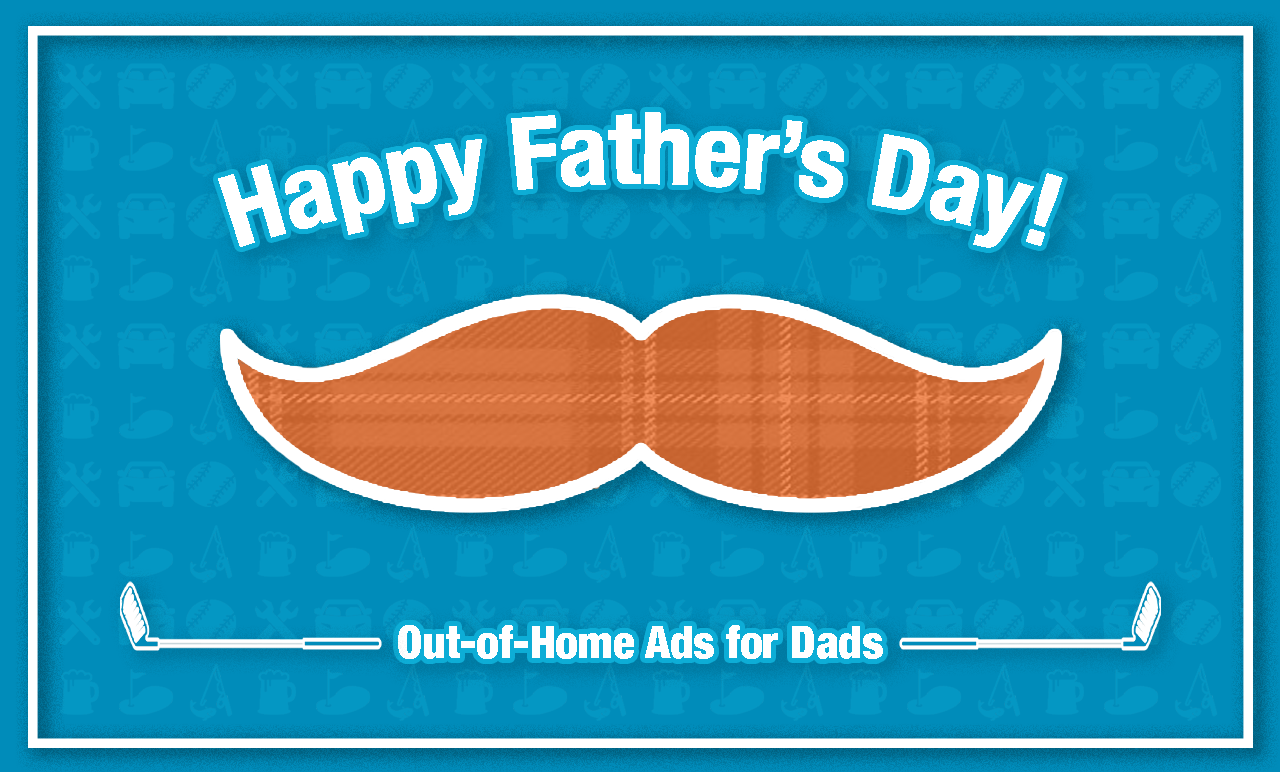 This year, Americans are expected to spend around $18 billion on gifts to give dad on his big day. Father's Day is an awesome opportunity to utilize OOH and inform buyers about the gifts that Dad really wants. This post will highlight some OOH ads, and do so with a certain amount of dad-ittude!
For Thirsty Dads…
Some genius #marketing from #Carlsberg in #Shoreditch today ~ Billboard dispenses free beer #advertising pic.twitter.com/oi8sXrAwXt

— Average Janes (@tweetjanes) April 8, 2015
We realize that placing this great billboard at the top of our father-friendly list of ads sets the bar for the rest very high. After seeing this ad, we really do hope the others won't pALE in comparison. Not only does this particular ad offer something of true value to its viewers, it also utilizes Carlsberg's signature branding to help communicate an already impactful message. With this ad gaining such great exposure, it should come as no surprise when Carlsberg wants to order another round.
For Fishin' Dads…
Minnesota fishing opener fast approaching! This billboard was only a mile from my house back in '06! pic.twitter.com/EdwGQjPGLa

— Mary Netta Abe (@NettaAbe) May 3, 2016
This particular bulletin caught our attention hook, line, and sinker. Its minimalistic design will reel in viewers, and its prominent logo placement is sure to help build Brand Awareness. Adding additional design elements to a conventional board, such as a horde of fish-hungry cats, is a great way to hook an audience and amplify the impact of an already memorable OOH advertisement. Any Dad Lucky enough to see a board this cool on Father's Day really should consider it quite the catch!
For Sporty Dads…
Kansas City Royals baseball billboard pic.twitter.com/b1bv3bJX3f

— Brilliant Ads (@Brilliant_Ads) March 29, 2014
Right off the bat, it's easy to see that the Kansas City Royals hit it out of the park with this truly striking billboard design. This creative artwork is a home run. It delivers a concise message, easily attracts attention, and throws viewers a slight curveball by utilizing its vinyl canvas in such an unconventional and exciting way. This ode to America's pastime will be well within most dad's ballparks and is a perfect example to showcase when discussing the versatility of OOH.
For Handyman Dads…
Trust in your Hands – Impressive billboard for Craftsman Tools… #engineering #craftsman #tools #tool pic.twitter.com/G60qqIKX2C

— Anvil Tooling Ltd (@Anvil_Tool) June 2, 2015
This billboard hits the nail right on the head. It does an excellent job demonstrating just how valuable of a tool that OOH can be. The messaging is both concise and memorable. The logo extends beyond traditional billboard borders and enhances memorability, and the massive add-on throws a real wrench into convention and effectively utilizes every inch of room that the space provides. Billboards help build strong brand awareness among consumers, and this particular board will sure to appeal to any dad lucky enough to see it.
---
Father's Day is truly an exciting OOH opportunity. Head on over to DOmedia, host of the largest database of OOH vendors in the US, and start planning an outdoor campaign to capitalize on it today!
The post Out-of-Home Ads for Dads appeared first on DOmedia | The Out-of-Home Media Blog.